En la planta baja se ubicará los locales comerciales dejando el resto de la finca para desarrollar el programa de viviendas.
La propuesta se articula en torno a un patio central que se escapa hasta el rincón del solar que forman las medianeras tal y como exige la normativa de la zona. Este patio se convierte en el elemento que da sentido a las circulaciones tanto desde los espacios comunes como desde el interior de las viviendas.
El acceso al edificio se produce desde la calle Guillem Sorolla, más transitada y de mayor anchura. Desde aquí se establece una secuencia espacial que pasando por el zaguán nos conduce hasta el patio. El núcleo de comunicaciones está abierto al patio en continua relación con este y permite el acceso a las tres viviendas con las que cuenta cada planta.
El tratamiento ajardinado del patio donde se plantará un árbol garantizará un ambiente amable en todo el deambular por el espacio interior de parcela.
En la planta baja se van produciendo diferentes retranqueos, ensanchándose las aceras en una zona de la ciudad donde las dimensiones de estas son muy escasas. Esta operación conseguirá también abrir nuevos ángulos de percepción de la calle.
El análisis de las edificaciones vecinas ha determinado la solución propuesta; alturas variables de cornisa, proporción vertical de los frentes de fachada - responden a las parcelaciones anteriores, ritmo vertical de huecos y acabados de fachadas mediante revocos y carpinterías de madera.
En particular, y en relación con la normativa del PEPRI que indica como frente máximo de fachada 14m., y al tratarse de una actuación que supera este límite se ha planteado dos operaciones: marcar diferentes líneas de coronación reflejando las tres viviendas que aparecen en planta y matizar los tonos de los revocos de fachada dentro de una misma gama cromática acorde con las del entorno.
Estas diferentes alturas de coronación pretende también conseguir que las cubiertas den respuesta a las parcelaciones existentes anteriormente.
En la definición del hueco se ha buscado una dimensión constante solo ensanchada ligeramente en las piezas de estar situadas en la esquina y en las piezas colindantes con las edificaciones vecinas, de esta forma se consigue por una parte reforzar el valor de la esquina y por otra establecer un diálogo más directo con las edificaciones colindantes. Las alturas de los huecos siempre de suelo a techo persigue relacionarse con las proporciones de los huecos del resto de edificaciones del barrio.
Se ha buscado la mayor diversidad tipológica posible en el desarrollo de los programas de viviendas, contando con viviendas de uno, dos y tres dormitorios.
Esta situación unida a la voluntad de que los huecos se relacionen con los espacios de circulación de las diferentes estancias propician el movimiento de algunos de los huecos de la fachada. La ubicación de los huecos en los espacios de circulación de las estancias permite el mayor aprovechamiento de estas dado que se trata de viviendas de dimensiones mínimas.
Se ha planteado el desarrollo de las viviendas siempre buscando que todas las piezas cuenten con ventilación e iluminación natural.
The commercial premises are placed on the ground floor, leaving the rest of the building for the housing.
The design revolves around a central courtyard that extends to the corner of the plot formed by the party walls, as required by the regulations for the area. This courtyard is the element that gives meaning to the circulation areas, both from the shared areas and from the interior of the flats.
The entrance to the building is from Guillém Sorolla street, the wider and more bustling of the two. A spatial sequence leads from the entrance through the hall to the courtyard. The stairwell opens onto the courtyard, in a continuous relationship with it, and provides access to the three flats on each floor.
The courtyard, where a tree will be planted, is treated as a garden to ensure a pleasant atmosphere throughout the interior of the plot.
The ground floor is set back at various points, widening the pavements in a part of the city where they are very narrow. This will also open up new angles of vision in the perception of the street.
An analysis of the neighbouring buildings led to the proposed solution of variable cornice heights, façades vertically proportioned and echoing the previous plot divisions, vertical rhythm of the openings and wood joinery and plaster finishes on the façades.
In particular, as the PEPRI regulations have a maximum façade width of 14 m and the site width is greater, two methods of differentiation were adopted: different roof parapet lines that reflect the three flats per floor and different tones of plasterwork, within a single colour range, blending in with those around.
A further reason for the different parapet heights is so that the roofs reflect the former division of the plots.
The definition of the openings aims for constant dimensions, widened slightly only in the living rooms, located at the corner, and the rooms adjoining the neighbouring buildings. This draws attention to the corner and sets up a more direct dialogue with the adjoining buildings. The window height in all cases is floor to ceiling, in keeping with the proportions of those of the other buildings in this quarter of the city.
The housing brief layout seeks the greatest possible diversity in a combination of one, two and three bedroom flats.
Together with the desire to relate the openings to the circulation spaces in the various rooms, this has led to a shift in the position on the façade of some of the openings. As these flats are of minimum dimensions, placing the openings in the circulation areas of the rooms makes the best use of the available space.
The layout aims to ensure natural light and ventilation in every room.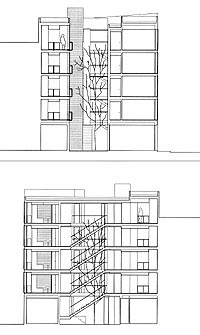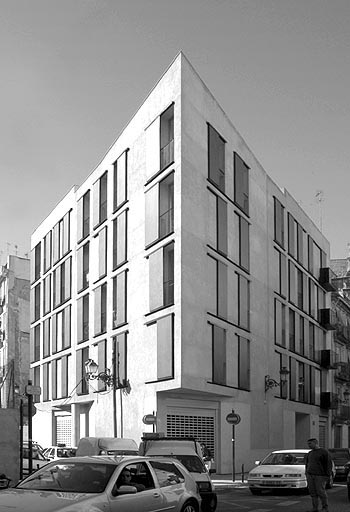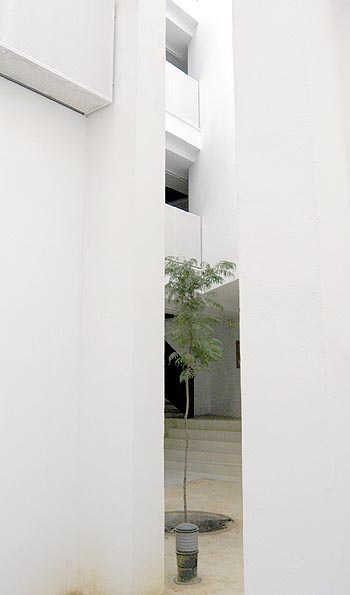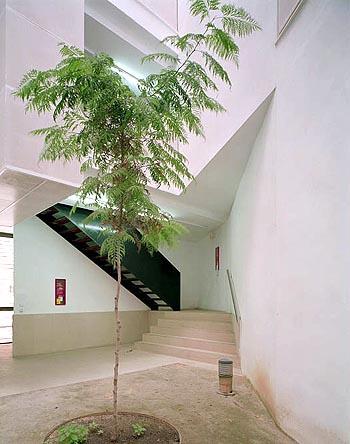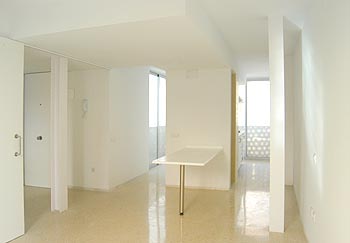 Colaboradores / Collaborators: Antonio Carratalá
Colaborador/Assistant:
Francisco Hidalgo. Arquitecto técnico/ Technical architect

Promotor/Client:
Aumsa. Actuaciones urbanas de valencia.

Constructor/Builder:
Marcala Construcciones s.l.

Situación/Location:
C/ Guillem Sorolla 3 y Maldonado 6 y 8 en el barrio de Velluters. Valencia/
C/ Guillem Sorolla 3 and Maldonado 6 y 8 in the Velluters quarter of Valencia

Fecha proyecto/Project date:
Marzo 1.998/ March 1998

Fecha construcción/Construction work date:
Mayo 1.999 - octubre 2.002/May 1999 - October 2002

Fotógrafos/Photographers:
Rosa y Bleda, Fernando Aranda