La demolición de la Escuela de Estibadores, situada en la playa de Pinedo, en Valencia, dejó al descubierto un barco de hormigón que debería haberse utilizado para las prácticas de carga y descarga, en el caso de que la escuela hubiera llegado a funcionar. La Dirección General de Costas de la Generalitat Valenciana, decidió recuperarlo como Centro de Información de la Zona Marítima del Parque Natural de la Albufera. Encontramos, pues, un barco de hormigón varado en la playa que tras al impacto de su poderosa imagen, descubría un espacio interior lleno de sugerencias: la cubierta, perforaciones hasta la enorme bodega, rampas, etc.

Explotar el espacio interior, continuo y dinámico, resolver el cerramiento exterior buscando la penetración de luz natural, potenciar las condiciones de la cubierta como espacio de estancia, paseo y observación del medio natural, y poner en valor la materialidad original del barco, hormigón visto con encofrado de tablas de madera horizontales, han sido los objetivos principales que han guiado la intervención.

Dos prismas de vidrio de control solar, uno longitudinal sobre la rampa interior y otro cúbico sobre el hueco que se extiende hasta la bodega, emergen de la cubierta y resuelven el cerramiento exterior, iluminando el espacio interior al tiempo que lo amplían y establecen un contrapunto a la masa del casco, matizado por la pérgola de madera que acondiciona ambientalmente la cubierta y se transforma en observatorio privilegiado sobre el paisaje.

La intervención respeta y potencia la continuidad del espacio interior, apoyándose en las rampas como elemento dinamizador y en las perforaciones de la cubierta y del plano intermedio como necesaria entrada de luz y comunicación visual, ubicando los espacios cerrados, sala de audiovisuales y laboratorio, en la proa.

Pavimentos y particiones interiores de madera, cerramientos de vidrio y carpintería exterior, cerrajería y accesorios de acero inoxidable son los únicos materiales utilizados, con la excepción de las construcciones auxiliares de hormigón ejecutadas con encofrado metálico modular y el pavimento de la plaza de hormigón lavado al ácido.

Los accesos, inexistentes originalmente, y la ordenación del entorno próximo, se han resuelto con la construcción de un volumen adicional de hormigón visto en la popa del barco que enlaza la cubierta con una doble rampa que arranca desde la plaza y un plano plegado de hormigón que se empotra en el casco a estribor.
When the Stevedores School on Pinedo beach (Valencia) was demolished, a concrete ship that would have been used for practising loading and unloading if the building had ever been used was left in the open. The Valencian regional government's Directorate General for Coasts decided to convert it into an Information Centre for the Sea Area of the Albufera Nature Reserve. Following the strong impact of its powerful image, this concrete ship grounded on the beach reveals a fascinating interior space: deck, openings down to the enormous hold, ramps, etc.

The main design objectives were to make full use of the continuous, dynamic interior space, to seek a solution that would bring natural light into the external envelope, to enhance the deck as a place to rest, walk about and view the surroundings and to foster an appreciation of the original material of the ship: horizontally board-marked exposed concrete.

Two glass sun control prisms rise out of the deck. One is longitudinal, placed over the interior ramp, while the other is a cube over the opening that extends down into the hold. They provide a solution to the external envelope, giving light to the interior and increasing its spaciousness; they also provide a counterpoint to the mass of the hull, softened by the wooden pergola that shades the deck and makes it a privileged vantage point for viewing the landscape.The project respects and enhances the continuity of the interior space, using the ramps as a dynamising factor and the openings in the deck and the intermediate level as a much needed source of light and visual communication. The enclosed spaces, the audio-visual room and laboratory, are placed in the prow.

Wooden flooring and internal partitions, glass roofs and stainless steel external joinery, metalwork and fittings are the only materials used apart from the ancillary concrete constructions, built with modular metal formwork, and the acid-washed concrete paving of the square.

The originally non-existent access and the layout of the immediate surroundings have been solved by building an additional exposed concrete volume at the stern that links the deck to the two ramps leading from the square and a folded plane of concrete that joins the hull on the starboard side.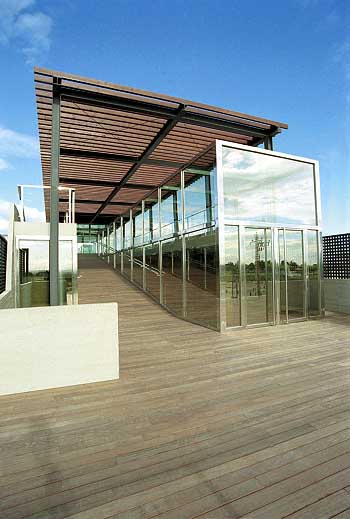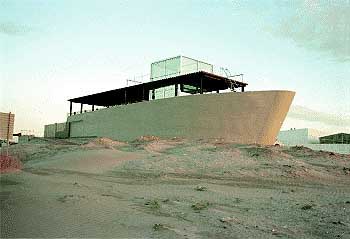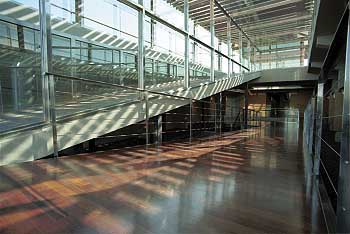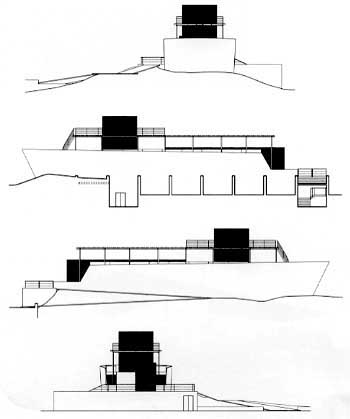 Alzado este/East elevation
Alzado norte/North elevation
Alzado sur/South elevation
Alzado oeste/West elevation
Promotor / Client:
Dirección General de Costas de la Conselleria d´Obres Públiques Urbanisme i Transports de la Generalitat Valenciana / Valencian Regional Government, Ministry of Public Works, Urbanism and Transport (COPUT), Directorate General of Coasts.
Director del Proyecto: (COPUT)/ Project Manager (COPUT)
Ignacio Gil Pérez, ingeniero de caminos / civil engineer
Colaboradores / Project assistants:
Pepa Solernou Sanz, arquitecta / architect
Manuel Pérez Saavedra, estudiante / student
Jorge Montesinos Fernández, arquitecto técnico / technical architect
Ingeniería Instaladores / Engineering fitters:
Pedro Torrero Gras
Asistencia Técnica Estructuras / Structural consultant:
Proyex Valencia S.A.
Arquitectos en dirección de obra / Executive architects:
Vicente Corell Farinós, Joaquín Monfort Salvador, José Vicente Palacio Espasa & Francisco Solves Lázaro
Fecha de proyecto / Project date:
1997
Fecha Fin de obra / Completion date:
2000