La Piscina de La Vall d'Uixó constituye la primera fase del proyecto ganador del concurso "Complejo Deportivo en La Vall D'Uixó" convocado en Junio de 1997.

Al nuevo complejo debía incorporarse el pabellón deportivo existente en la parcela de actuación. Decidimos integrarlo en la propuesta junto al nuevo polideportivo, de tal modo que apoyándonos en sus bloques auxiliares podríamos desarrollar los espacios conjuntos de control, circulaciones y servicios públicos que envolvieran a ambos pabellones. De este modo la disposición de las pistas nos permitía obtener una sucesión de tres campos deportivos: el existente, el nuevo pabellón y las pistas al aire libre. El bloque de la piscina, con diferente gestión, se separaría de los pabellones, creando un nuevo espacio abierto de relación entre los equipamientos del complejo y cerrando la parcela al sur.

Como pequeño fragmento de la ciudad, la propuesta introduce tanto al exterior como al interior, la jerarquía de calles y plazas, espacios comprimidos y expandidos, vacíos y llenos. No se construye por tanto un recinto ajeno a lo que le rodea, si no que la relación con el entorno se manifiesta a través de los nuevos espacios de relación.

La presencia de las grandes edificaciones que suponen los habituales recintos deportivos se reduce al adaptar el asentamiento del edificio en el terreno y al utilizar la planta baja de acceso a los edificios como espacios públicos de mayor acumulación de personas. Los espectadores arriba dominan los nuevos recintos deportivos. Los deportistas, se concentran abajo en el uso deportivo y se envuelven entre muros de hormigón blanco y vidrio con visuales e iluminación controladas.

Es por tanto a partir del lugar y la escala desde donde elaboramos la propuesta, adecuando las rotundas formas a la función propia de las necesidades del programa deportivo.

El recinto de la piscina se construye desde la sección y los cerramientos. La relación entre el espacio de actividad hacia dónde mirar y el área pública de espectadores, se establece a través del plano superior horizontal que comparten. El falso techo de madera crea así un efecto de continuidad que además comprimirá el espacio arriba, dirigiendo la atención hacia el foco central abajo en el agua. Los gruesos muros de hormigón blanco envuelven el recinto materializando el espacio y se abren al sur filtrando la densa luz al interior que iluminará el espacio principal.

Desde el vestíbulo de entrada accedemos al área de recepción y a la planta pública (nivel 0.00) donde se incorporan las gradas, la cafetería y los servicios públicos. La organización de los vestuarios responde a criterios de funcionalidad y racionalidad contemplados por la normativa de la Consejería de Deportes. Entre los muros estructurales se organiza el bloque lineal de vestuarios que define un primer área de pies secos con las diferentes zonas de cambio. Desde ellas accedemos al pasillo común de taquillas, que funciona como distribuidor hasta llegar a la zona húmeda de aseos y duchas. Los dos vasos, polivalente y de enseñanza, se sitúan dentro de la sala deportiva. Al adaptarse a los límites de la parcela, presenta un desarrollo irregular en planta. La superficie triangular, tiene un desarrollo menor en altura libre de 3.5 m. y su cubierta perforada con tragaluces recupera el nivel de la calle. La gran caja de hormigón blanco que asoma al exterior en una altura de 5m., acoge al interior el área principal de las piscinas, las gradeas, el área de recepción y la rampa.

El ámbito público de las gradas, de diferentes demandas energéticas, se separa del deportivo por medio de un gran muro de vidrio. Al sur la gran sala se abre y el muro de hormigón da paso a un gran pórtico que al interior incorpora un muro cortina que actúa como filtro acumulador de energía. El control energético pasivo se completa con las celosías abatibles exteriores. El recinto deprimido de la piscina se enmarca por el muro curvo que recoge el patio interior que incorpora a nivel un solarium, área ajardinada de expansión.

Desde el vestíbulo la escalera que desliza por el muro límite al norte nos conduce a la planta de administración que incorpora los despachos, aseo, almacén y sala de reunión. Este bloque que se desarrolla en la crujía paralela a la gran nave destacará sobre el resto de las edificaciones cualificándose con el cambio de material de revestimiento, aligerándose con las planchas de metal perforado e introduciendo con su mayor abertura, una referencia en la distancia.
The Vall d'Uixó Swimming Pool is the first stage of the project that won the "Sports Centre for La Vall d'Uixó" competition convened in June 1997.

The existing sports pavilion on the same site had to be incorporated into the new complex. We decided to integrate it into the design next to the new sports centre, using its auxiliary volumes as a basis for the shared control, circulation and public services areas surrounding both pavilions. This arrangement of the facilities gave us a series of three sports areas: the existing pavilion, the new one and the open-air sports grounds, while the swimming pool block, under separate management, is separated from the pavilions, closing the site to the south and creating a new open space that connects the different parts of the complex.

Like a small fragment of the city, the proposal introduces the hierarchy of streets and squares, compressed and extended spaces, full and empty, into both the exterior and the interior. Consequently, the precinct is not set apart from its surroundings: the relationship with its setting is manifested by new areas that relate them.

The impact of the large buildings that are normally associated with sports facilities is reduced by adapting the siting of the building in the grounds and using the ground floor for the entrances to the buildings and the public spaces where the greatest number of people congregate. The spectators above dominate the new sports precincts. The sportsmen and women assemble below in the sports areas, moving between white concrete and glass walls with controlled views and lighting.

Consequently, the proposal is designed around place and scale, fitting emphatic forms to their function, the requirements of the sports brief.

The swimming pool precincts are based on section and envelope. The relationship between the public spectator space and the activity space to be viewed is established by the upper horizontal plane that they share. The wooden ceiling creates an effect of continuity that also compresses the space above, directing attention to the central focus in the water below. The thick white concrete walls envelop the enclosure, materialising space, and open to the south, filtering its dense light into the interior to illuminate the main space.

The entrance lobby leads to the reception area and public area floor where the stands, cafeteria and public services are located. A ramp prolongs the stands and reception desk bay and leads to the sports floor .

The layout of the changing rooms follows the functional and rational criteria laid down by the Sports Council regulations. The linear block of changing rooms that forms the first "dry feet" area, with various changing zones, is placed between the structural walls. This leads to the corridor shared with the ticket offices, with doorways off it along the passage to the "wet area" of toilets and showers. This area, set at right angles to the block of changing rooms, extends beyond the stands area and leads to the poolside area. The service areas are placed at the end of the changing room bay, leading to the services gallery below the poolside area.

The two pools, multipurpose and learners', are located in the sports hall. This has a stepped floor plan in order to fit in with the edge of the site. The triangular area is 3.5 m lower in height and its roof, pierced by skylights, is at street level. The large white concrete box that stands 5 m high on the exterior holds the main swimming pool area, the stands, the reception area and the ramp.

A large glass wall divides the sports area from the public area of the stands, which has different energy requirements. The great hall opens up to the south, where the concrete wall gives way to a large portico, inside which a curtain wall acts as an energy-accumulating filter. The passive energy control is completed by movable screens on the exterior. The sunken area of the swimming pool is framed by the curved wall that encloses the interior courtyard. This has a solarium, a garden extension area, at ground level. The staircase that follows the north boundary wall leads from the lobby to the administration floor, with offices, toilet, store room and board room. This block rises above the other buildings in the bay parallel to the great nave. It is distinguished by a change in the cladding material, lightened by the use of perforated metal sheets. Its greater openness introduces a reference point from a distance.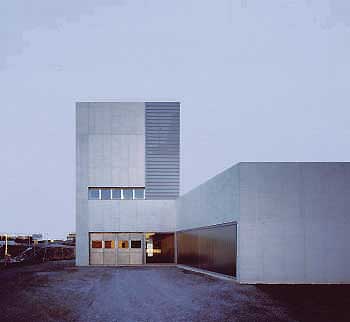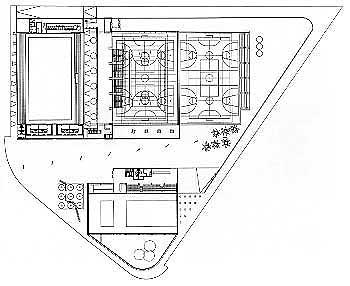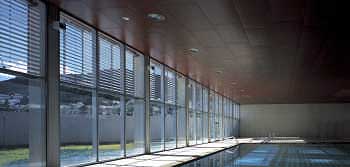 Ingeniería y Diseño de estructuras / Engineering and structural design
Ideee S.L. (Proyecto estructuras / structure design)
Eduardo H. Díez Guerrier (arquitecto coordinador / coordinating architect)

Instalaciones / Installations:
J.G. Asociados (Ingenieros consultores / consulting engineers)
Emilio González Gaya, (ingeniero industrial / industrial engineer)

Colaboradores proyectistas/ Design assistants:
Javier Sánchez Rodríguez
Mario Sanjuán

Mediciones y presupuesto / Quantity surveying:
Juan José Núñez del Río (arquitecto técnico / technical architect)

Dirección de obra / Executive architects

:
arquitectos / architects: Javier Fresneda Puerto y Javier Sanjuán Calle
arquitecto técnico / technical architect: José Antonio Barrachina

Empresa Constructora / Contractor: Foconsa

Jefe de Obra / Site manager: José Antonio Remolar (arquitecto técnico / technical architect)

Fotografías / Photographs:
Pablo Álvarez Causo