Propuestas preliminares para la creación de un parque de relajación en el término municipal de Torrevieja

Construcción de una pequeña colina

Se plantea la construcción de una colina de pendiente suave cubierta por un paisaje verde. El paisaje evoca a la naturaleza en su estado pristino recreado para proveer un lugar que responda al contexto siguiendo la geografía y las formas onduladas haciendo eco del entorno de la Laguna de Torrevieja y de la Mata.


Arquitectura ligera como el viento

La arquitectura se asemeja y funde con el flujo del ondulante paisaje. La intención de que la arquitectura no se imponga contra el paisaje hará conciliar la construcción con la naturaleza. La creación de una arquitectura ligera y sutil participará respetuosamente junto a la naturaleza brindando nuevos significados y funciones al sitio.


Cuerpo humano en armonía y descanso

Se propone crear lugares para el bienestar y la salud tanto del cuerpo como de la mente humana.

Esto se logra a partir de la sintonía entre el espacio otorgado por la Laguna y el espacio construido que busca recrear la naturaleza.

Al proponer distintas funciones y espacios variados se permite crear una fluidez a favor de los visitantes, otorgándoles distintos recorridos y paisajes que les permitan comunicarse con el entorno. Los recorridos forman parte del ejercicio y conciencia del cuerpo.


Materiales

Se busca crear un paisaje en consonancia con las actividades humanas y con las características del lugar. Esto se logra a partir del uso de distintos materiales tales como luz natural, tierra, arena, piedra, vegetación y árboles, permitiendo que el sitio se enriquezca con los cambios naturales de cada material y con el diálogo entre ellos.
Preliminary proposals for the creation of a Relaxation park in the municipal area of Torrevieja

Creation of a gentle hill

With its gently rolling greens, the landscape evokes an abandoned nature to be re-created. It will provide a place for relaxation for the citizens. The shape of the hill, similar to sand with its ripple pattern, responds to the geographical features of the surroundings of the Lagoon of Torrevieja and la Mata


Architecture of airy lighteness

The architecture assimilates and blends with the landscape in its wavy spreading flow. The intention of minimum treatment of architecture derives from the concealed aesthetic sense of nature, giving new functions and meanings to the place.


Human body in natural relaxation and rest

It is the gift of the lagoon to provide places for healing the human mind and physical body. Placing various functions and places apart from each other enables people to walk around in the park and commune with nature. The walks also form part of the exercise and treatment of the body.


Materials

It is intended to create a natural landscape in conspiracy with people's activities and the characteristics of the place. This will be achieved by using various materials such as natural light, soil, sand, additional green, stone and trees in such a way that they change continuously and still relate.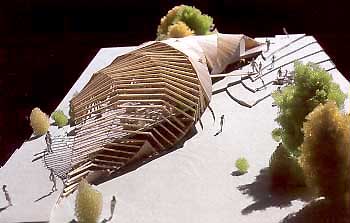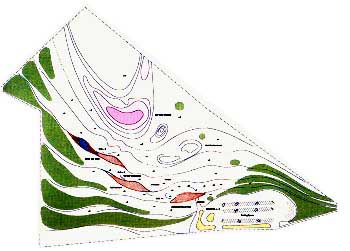 Emplazamiento / Location:
Enclave Laguna de Torrevieja / Torrevieja lagoon (Alicante)
Superficie de parcela / Site area:
80.900 m2.
Promotor / Client:
Excmo. Ayuntamiento de Torrevieja / Torrevieja Town Council
Fotografía / Photographs
Alberto Mengual