El edificio y el parque son el centro social de la principal competición de regatas del mundo, establecida en Europa por primera vez en 150 años despues de que el equipo suizo de Alinghi venciera al equipo de Nueva Zelanda en 2003 y fuera seleccionada Valencia como sede.

El edificio Veles y Vents, pieza central en la reorganización del puerto industrial de Valencia, se constituye como la base para todos los equipos de la Copa de America y sus esponsors, asi como un lugar para que el público vea las competiciones de la Copa. El edificio Veles e Vents conecta directamente con un nuevo parque construido sobre un aparcamiento, y con una hilera de muelles elevados para espectadores, que se extienden desde el edificio por el puerto, con bares, restaurantes y puntos de información. Los muelles tienen vistas hacia un nuevo canal que enlaza el puerto con el recorrido de las competiciones.

Al norte, un nuevo parque de 100,000 m2 enlaza la ciudad con el nuevo frente marítimo. El edificio de 10,000 m2, en cuatro plantas, se compone de una serie de planos horizontales apilados que se desplazan y que proporcionan sombra y vistas ininterrumpidas que se extienden hacia el mar. La planta baja funciona como area de recepción para los servicios VIP y tiene un restaurante abierto al público con vistas al canal. La planta primera es pública y se abre al aire libre, con pequeños comercios y una generosa terraza con vistas que conecta con el parque. La segunda y tercera planta albergan servicios VIP; El 'Foredeck Club', un restaurante, un centro de bienestar y salas de dirección para la Copa de America, Louis Vuitton y el Consorcio Valencia 2007. El edificio es una estructura de hormigón con grandes vuelos que crean las terrazas con vistas ininterrumpidas y en sombra que rodean todas las plantas.

El edificio utiliza una reducida paleta de materiales; acero pintado de blanco remarca los ejes de la estructura de hormigón, el falso techo se construye con paneles metálicos blancos que incorporan una iluminación lineal oculta, los suelos exteriores son de tarima de madera y los interiores de resina blanca. La blancura predominante del edificio se compensa por el sencillo mobiliario de colores brillantes.
David Chipperfield Architects and Barcelona-based b720 Arquitectos completed the new centre for the America's Cup - the Edificio Veles e Vents in Valencia - within a remarkable 11 months of receiving the commission in June 2005. The building and its accompanying park were successfully opened in time for the preliminary regattas, staged in May and June 2006. The building and park are the social focal point for the world's premier offshore racing competition, staged in Europe for the first time in over 150 years following Swiss Team Alinghi's win over Team New Zealand in 2003 and the selection of Valencia as host city. The climax will be the Louis Vuitton Cup and the 32nd America's Cup Match in 2007.
The centrepiece of the reorganisation of Valencia's industrial port, the Edificio Veles e Vents provides a central base for all America's Cup teams and sponsors, as well as being a venue for the public to view the cup races. The Edificio Veles e Vents connects directly to a new park built above car parking, and a 'tail' of elevated public spectator decks stretching out from the building into the port, with bars, restaurants and information points. The decks overlook a newly excavated canal that links the port to the offshore racing courses.
To the north, a new 100,000m2 park links the city to the new seafront. The 10,000m2 four-floor building is composed of a series of stacked and shifting horizontal planes that provide shade and uninterrupted views extending out to sea. The ground floor acts as the reception area for the VIP facilities and has a canal-facing restaurant open to the public. The first floor is public and open to the air with retail facilities and a generous viewing deck that connects to the park. The second and third floors house the VIP facilities; the 'Foredeck Club', a restaurant, a wellness centre and lounges for America's Cup management, Louis Vuitton and the Consorcio Valencia 2007. The building is a concrete structure with deep cantilevered floor slabs creating the unobstructed and shaded viewing decks that surround all the floors.
The building utilises a reduced palette of materials - white painted steel trims the edges of the concrete structure, the ceiling is constructed of white metal panels incorporating linear recessed lighting, the external floors are solid timber decking and the internal floors, white resin. The predominant whiteness of the building is offset by simple brightly coloured furniture.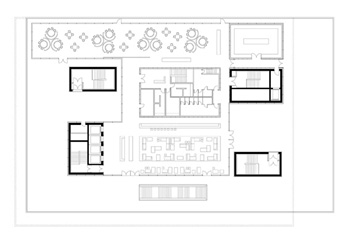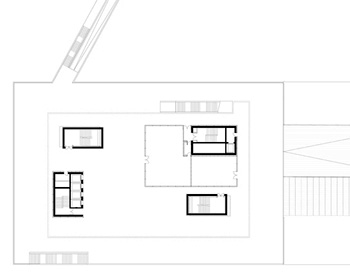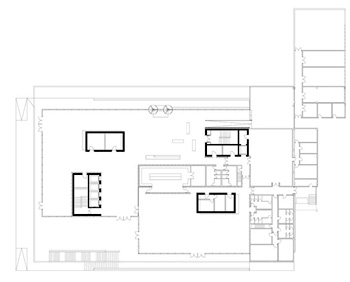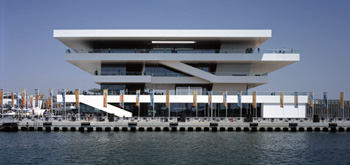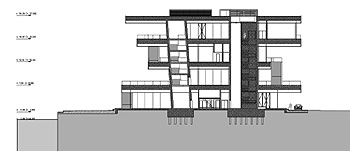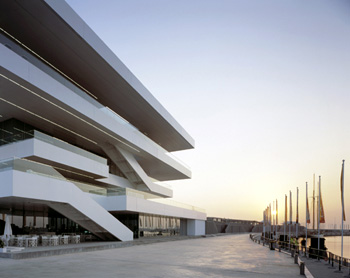 Equipo de arquitectos/Arquitects Team:
David Chipperfield, Marco de Battista, Mirja Giebler, Jochen Glemser, Regina Gruber, David Gutman, Melissa Johnston, Andrew Phillips
Situación/Location:
Puerto de Valencia
Promotor/Developer:
Consorcio Valencia 20070
Arquitectos asociados/Associate Architect:
b720 Arquitectos - F. Vázquez, A. Buendía, P. Mulet, A. Casaní, L. Lindberg, M. Ostornol, S. Khourian, J. Aibar, A. Caffaro, A. Celaya, J. Cunill, G. Kayser, J. Luaces, F. Marques, A. Rodríguez, J. P. Porta, A. Zanchetta, M. Rivas, C. Bernadas, D. Valdés, Y. Roma, M. Santos, F. Vigano, C. Koster
Contratista/Contractor:
Ute Foredeck (Acciona, LIC, Rover Alcisa): Javier Ceres
Unidad Móvil Polivalente/Multi-purpose Mobile Unit:
esteva.com
Obras y servicios/Building Services:
Alcolara
Fotógrafos/Photographers:
Hisao Suzuki
Richard Walch
David Chipperfield Architects