Criterios de ordenación del conjunto:

La Plaça Santa Isabel, la calle Obispo Tormo y la Replaceta de la Fregassa constituyen uno de los principales ejes peatonales de la ciudad. Con su peatonalización se completa el circuito peatonal de ida y vuelta que fluye desde el ensanche hacia el centro histórico y se contribuye a potenciar tanto los valores histórico-culturales como las actividades de consumo que convergen en este recorrido monumental-comercial.
La Plaza de Santa Isabel es un vacío urbano en el que confluyen varios de los monumentos más importantes del casco antiguo: la Basílica Cristiana, la Calahorra y la Muralla Islámica. En el transcurso de las excavaciones arqueológicas previas a la ejecución del proyecto se produjo un hecho de gran trascendencia: el hallazgo de los restos de un palacio de época mozárabe del siglo XII que fue denominado Casa del Gobernador´. Al situarse el estrato de la excavación un metro por debajo de la rasante actual decidimos de acuerdo con los técnicos de Patrimonio preservarlos en su nivel original, reproduciendo sobre los mismos la traza de la antigua edificación. Con dicha idealización incorporábamos las ruinas al proyecto sin comprometer la coherencia de la intervención y configurábamos este testigo arqueológico como un accidente topográfico accesible a los peatones. Los muros de la Casa del Gobernador, idealizados a través de bloques macizos de travertino romano, se recortan sobre la superficie continua del adoquinado de la plaza y muestran la distribución de la vivienda, a la vez que configuran un nuevo lugar de recreo en torno a la traza del patio, donde se reinterpretan los parterres y la alberca descubiertos en la excavación. Los bloques se hunden a ras del suelo en la zona cercana al lienzo de la basílica de Santa María para permitir la continuidad tanto de tráfico ocasional de vehículos como el paso de los peatones.
La tierra apisonada que se extiende a los pies de la torre de la Calahorra marca la traza de la muralla almohade, y se dispone un pequeño jardín de naranjos en un fragmento de solar entre medianeras a la espera de la expropiación de las casas colindantes. Desde dicho jardín se disfruta de suficiente perspectiva para contemplar los volúmenes traseros de la basílica de Santa María que hasta ahora permanecían ignorados.
Un panel explicativo dispuesto sobre un atril a modo de motivo escultórico ayudará a la compresión y puesta en valor de los hallazgos arqueológicos.
La calle Obispo Tormo evita repetir la sección de un vial rodado tradicional: acera-calzada-acera.y reproduce el criterio unitario de toda la intervención: la superficie del suelo se concibe como un fondo continuo oscuro adoquinado de 'gris pulpis' sobre el que se recortan superficies claras de travertino romano, a modo de alfombras enrasadas con el fondo y delimitadas por juntas drenantes. A su vez disponemos la iluminación lineal colgada con catenarias en forma de cubierta lúdica que favorece la percepción del zócalo comercial. La libre disposición del mobiliario completaría este efecto de desorden controlado que genera percepciones sorpresivas.
La replaceta de la Fregassa es el centro del centro. Una plaza triangular que hasta ahora ejercía de aparcamiento 'atirantada' por tres importantes vértices: la Glorieta, Santa María y el Mercado . La concebimos como un espacio flexible y multiusos, generador de actividades relacionadas con el comercio y el ocio, a modo de punto de encuentro. Tras respetar las circulaciones perimetrales acumulamos en el vacío central gran cantidad de cubos-banco y cubos-jardinera cuya disposición aparentemente aleatoria ofreciese una imagen que nos remitiera al topónimo del lugar. Dichos cubos podrían reubicarse en otras configuraciones alternativas cuando la organización de acontecimientos lúdicos demandase un mayor espacio libre central.
En el vértice suroeste de la plaza se prevé una toma de agua-luz-saneamiento para la instalación en el futuro de un kiosco-bar .
Saliendo de la Replaceta de la Fregassa por cualquiera de sus dos vértices superiores: San Jaime hacia el Mercado o San Pedro hacia Santa María, experimentamos de nuevo diferentes configuraciones del pavimento-tapiz y de iluminación colgante, que acaban de completar esta sucesión de calles y plazas aparentemente alfombradas y cubiertas, que nos remite a las imágenes de los zocos orientales.
La intervención queda concebida así como un intenso recorrido por diversas experiencias visuales donde la nobleza de los materiales empleados reflejan la imagen de solidez y permanencia propia de los centros históricos y la distribución aparentemente aleatoria de la iluminación y el mobiliario trasmiten el dinamismo que caracteriza a las actividades comerciales.
Criteria:
Plaza de Santa Isabel, Calle Obispo Tormo and Replaceta de la Fregassa constitute one of the city's main pedestrian axes. Their pedestrianisation completes the pedestrian circuit between the new town and the old and helps to enhance both the historical and cultural value and the consumer activities of this shopping and sightseeing itinerary.
Plaza de Santa Isabel is an empty urban space where various of the major sights of the old town converge: the Christian basilica, La Calahorra fortress and the Moorish walls The archaeological digs that preceded the work produced a major find: the remains of a 12th century Mozarabic palace that was given the name of Casa del Gobernador or Governor's house. The stratum where it was excavated is one metre below the present ground level. In consultation with Heritage officials it was decided to preserve them at this level and reproduce the lines of the former building over them. This idealised representation incorporated the ruins into the project without compromising its coherence: the archaeological markers became a topographical feature, accessible to pedestrians. The walls of the Governor's House, idealised in solid blocks of Roman travertine, rise above the continuous cobbled surface of the square, showing the layout of the house while shaping a new recreation area around the lines of the courtyard, where the sunken gardens and the water reservoir discovered during the excavation are reinterpreted. The blocks sink to ground level in the area beside the wall of the basilica of Santa María to allow both pedestrians and the occasional vehicle to pass unimpeded.
The beaten earth at the foot of the Calahorra tower marks the course of the Almohade walls. A small orange grove has been placed in a fragment of a plot between party walls, awaiting the compulsory purchase of the adjoining houses. This garden gives a sufficiently long perspective from which to view the rear of the Basilica, which had hitherto been obscured.
An explanatory panel on a stand, like a sculptural motif, will help the understanding and appreciation of the archaeological finds.
Calle Obispo Tormo avoids repeating the traditional roadway section of pavement - road - pavement and reproduces the unitary criterion of this pedestrianisation project: the ground is seen as a continuous dark cobbled background of Gris Pulpis marble on which light-coloured Roman travertine surfaces stand out like carpets, level with the background and marked out by drainage joints. At the same time, the linear illumination is hung from catenaries, like a festive roof, encouraging the perception of the commercial dado. The free arrangement of the furniture completes the effect of a controlled jumble that creates surprise perceptions.
Replaceta de la Fregassa is the centre of the centre. This triangular square, which has so far been used as a parking place, is 'pulled' by three important vertices: the Glorieta square, the basilica of Santa María and the market. We see it as a flexible multi-purpose meeting place that generates leisure- and shopping-related activities. Retaining the perimeter circulation, we have accumulated a large quantity of bench-blocks and planter-blocks in the empty central space in apparently random order, presenting an image that harks back to its toponym, recalling the old pottery market. The blocks can be rearranged when festive events demand more open space in the centre.
The south-west vertex of the square is provided with water/light/sanitation connections for the future installation of a snack-bar.
Leaving the Replaceta de la Fregassa by either of its two upper vertices, San Jaime street towards the market or San Pedro street towards Santa María, we have again experimented with new arrangements of the carpet-paving and hanging lighting to complete the succession of apparently covered and carpeted streets and squares that calls up images of oriental souks.
The whole is conceived as an intense itinerary through different visual experiences where the use of fine materials reflects an image of the inherent solidity and permanence of historic town centres and the apparently random distribution of the lighting and furniture conveys the dynamism of commercial activities.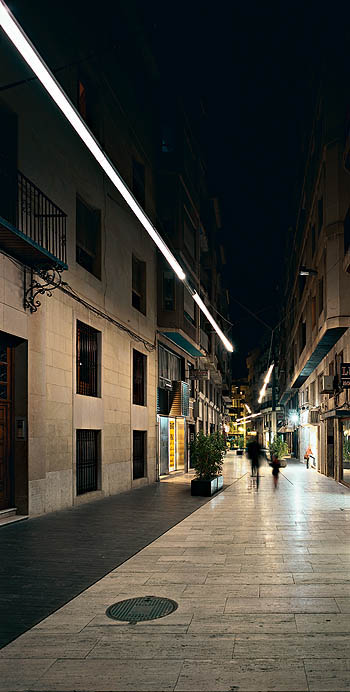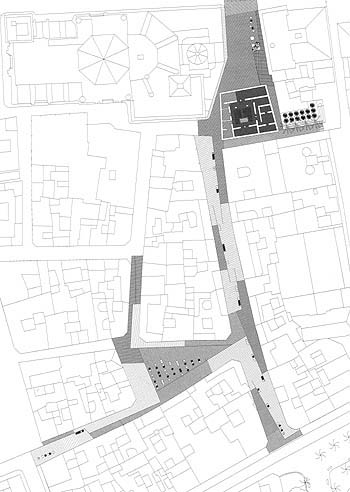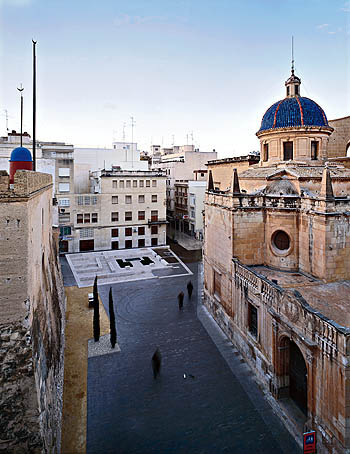 Situación/Location
Elche/Elx

Promotor/Client:
Aigües d´Elx S.A.

Aparejador/Surveyor:
José Vcte. Carpena Ortega

Colaboradores/Collaborators:
Luís Rubiato Brotons, arquitecto/architect
Belén Castaño Maciá, arquitecto/architect
Elena Rogel Ruíz, arqto. técnico/tech. architect
Candela & Suay, ingeniería/engineering
Eduardo López Seguí, arqueólogo/archaeologist
Sergio Ortiz Jiménez, delineación/draughtsman

Empresa constructora/Contractor:
Ilidexsa

Financiación/Funding:
Aigües d´Elx/Ajuntament d´Elx

Aigües d´Elx water company/Elx city council

Fotografías/Photographs:
Proyectar- J.M.Cutillas