La ubicación del Centro de Salud de "Elx-Centro", en el camino de Felip, al final y dentro del Palmeral confiere a este proyecto un atractivo especial... Diríase que no es posible construir un edificio de 2.250 metros cuadrados, estrictamente modulado, normatizado, como corresponde a un centro de salud, en esta parcela... sin cambiar de lugar las palmeras, declaradas por la UNESCO "Patrimonio de la Humanidad".

En el lugar está el problema y, en él, está el valor y la singularidad de esta arquitectura. La arquitectura es orden... también aquí. Pero ahora resulta prioritario encontrar el orden en medio de tan bello caos, el silencio necesario que permita escuchar... Otra vez se impone desaparecer, adoptar una actitud humilde frente a tal grandeza.

Tres son los instrumentos que generan esta singular pieza... entre palmeras: el muro, la estructura y los patios.

El muro, de hormigón ocre, que rememora las técnicas de tapial árabe, se desarrolla entre las palmeras, buscando las continuidades, las posibilidades de acoger la edificación. Su trazado es irregular, sin ninguna ley geométrica.

Ahora, en el lugar, están las palmeras y el muro... como en el Palmeral. Sobre ellos, se impone implacable el orden de la estructura... frío, racional, estricto, sin concesiones. El proyecto está generado. El silencio de los patios termina por encajar las piezas y darle el ritmo adecuado.

El conjunto se desarrolla principalmente en la planta baja. En los dos únicos espacios posibles se levantan los prismas geométricos de hormigón blanco, acero y vidrio... a modo de singular contrapunto. Desde aquellos se adquiere una nueva vista del palmeral... un mar de palmeras.

... es mejor no decir nada.

... el edificio está integrado, desaparece. Las últimas notas se desvanecen en un solemne silencio.
The location of the Elx-Centro health centre, at the end of Camino de Felip and inside the Palmeral or palm grove, makes this project particularly attractive. It might be though that constructing a 2250 square metre building, strictly-modulated and standardised as befits a health centre, would be impossible on this site unless the palm trees that UNESCO has listed as World Heritage were to be moved.
In the place lies the problem, but also the merit and the uniqueness of this architecture. Architecture is order - here also. However, the priority is to find order amid so much beautiful chaos, to find the silence that will make it possible to hear. Once again, disappearance is in order, a humble attitude when faced with such greatness.
Three tools create this unique piece among palm trees: wall, structure and courtyards.
The ochre concrete wall, reminiscent of Moorish pisé methods, snakes among the trees seeking continuities, chances to accommodate the building. Its path is irregular, following no geometrical law.
Now the place has palm trees and wall, as in the palm grove. On these, the order of the structure is implacably imposed, cold, rational, strict, with no concessions. The design has been generated. The silence of the courtyards finally fits the pieces together and gives the right rhythm.
Most of the complex is on the ground floor. The geometrical prisms of white concrete, steel and glass rise in the only two possible spaces, like a singular counterpoint. They give a new view of the palm grove: a sea of palm trees.
... better not to say anything.
... the building is integrated, it disappears. The last notes fade into a solemn silence.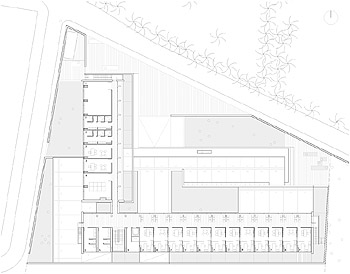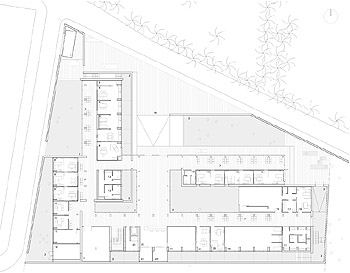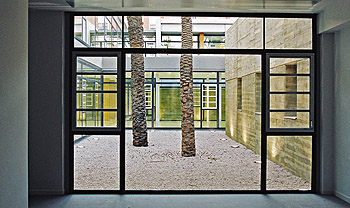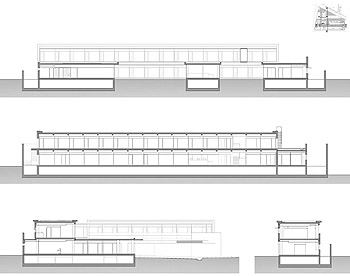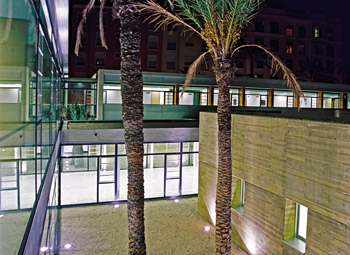 Arquitectos colaboradores/Collaborators architects:
Sara López Collado
Marcelino Daudén Albiach
Ana Cardells Orts
David de la Fuente
Situación/Location:
Camino de Felip Elche/Elx
Promotor/Developer:
Consellería de Sanidad - Generalitat Valenciana / Valencian Regional Government Health Ministry
Colaboradores/Associated practice:
Consulting de Ingeniería TECAS S.L.
Aparejador/Surveyor:
Vicente Sevila Pastor
Empresa Constructora/Contractor:
ECISA S.L.
Fotógrafo/Photographer
Osvaldo Eduardo Puente