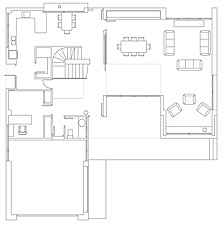 The project inserts a house into a newly-created area of building with no significant environmental references.
The surroundings are characterised by a great diversity of building types with no urban vocation, influenced by the lack of quality of the town planning models employed.
The location of the house in a small square plot leads to it being laid out in an L, making sure to leave most of the free space in the south-east; the need to make the most of the plot led to the decision to create a small garden in the regulation space to the boundary that expands the scale of the sitting-room in two directions.
The elevations aim to explore passages of the modernist forms while integrating them into tradition and into the qualities of the place. The evident references of the external volume to classic examples of the Modern Movement are filtered through the architectural sensitivity of what is a small piece of artificial nature.
Aluminium joinery, some turns in alignment on the different planes of the building and a series of volumes that stand out from the line of the façade, as well as the presence of significant glazed "cuts", have shaped one of the simplest elevations in the surroundings, which, in turn, envelops one of the spatially most complex buildings in the neighbourhood. A play of planes with different finishes confirms the universality of octagonal geometry as a timeless system of composition.
Inside, the house is organised into wide, generous spaces laid out in a conventional superimposition of a first floor with a central staircase, following a scheme that savagely separates day from night functions and an intransigent internal transparency that unites.