Dos volúmenes prismáticos, el primero de planta sensiblemente cuadrada, que alberga en dos niveles la zona de día (salón-comedor, cocina, estudio-biblioteca y servicios) y el segundo, de menor dimensión y de forma rectangular, donde se desarrollan los dormitorios (el principal en planta baja y el de invitados en la superior) que unidos mediante una pasarela de cristal definen esta casa, situada en una histórica ciudad jardín cercana a Valencia.

Entre ambos surge el plano horizontal, la piscina lineal, que los articula a la vez que proporciona privacidad al segundo.

En el volumen principal el salón se comunica espacial y visualmente con el estudio-biblioteca de la planta superior del que la separa los cerramientos de vidrio templado transparente. Las circulaciones de servicio se tamizan sustituyendo la transparencia por el muro de U-glass.

El vidrio que cierra la pasarela envuelve el ascensor y las instalaciones de la vivienda.

Piedra caliza blanca en el interior, cristal, madera en el nivel superior. Terrazas y plataforma de la piscina en madera.

De entre los dos volúmenes de un color blanco arenoso, emerge, a los pies del vidrio de la pasarela, el volumen amarillo (piezas de gres de pequeño tamaño) de la piscina. Hay un amarillo de cadmio inolvidable en Praga, en una casa de 1930...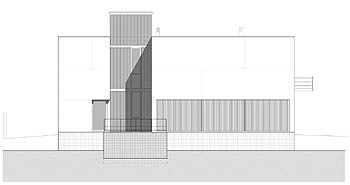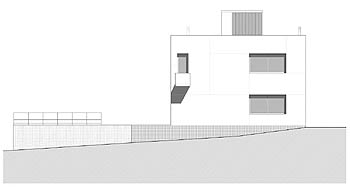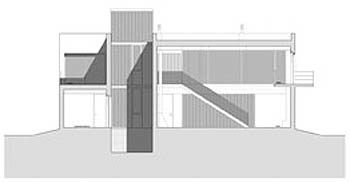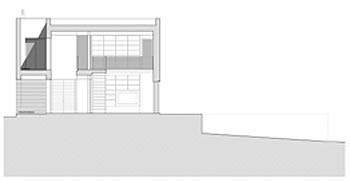 Two prisms joined by a glass walkway define this house, which is located in a historic garden city near Valencia.

The first prism, appreciably square, houses the day zone on two levels (living/dining room, kitchen, study/library and services). The second, smaller and rectangular, holds the bedrooms (the master bedroom on the ground floor and the guest bedroom on the floor above).

A horizontal plane, the linear swimming pool, lies between the two blocks, articulating them and giving the second one privacy.

In the main block, the living room communicates spatially and visually with the study/library on the upper floor, separated only by transparent tempered glass walls.

The service circulation areas are screened by replacing the transparency with a U-glass wall.

The glass enclosing the walkway envelops the lift and the service installations.

White limestone in the interior, glass, wood on the upper floor. Wood for the swimming pool platform and terraces.

Between two blocks of a sandy white colour, at the foot of the glass walkway, the yellow volume of the swimming pool emerges (small-format stoneware tiles). There is an unforgettable cadmium yellow in Prague, in a house dating from 1930 ...