La vivienda se construye en una parcela de reducida dimensión (587 m2) en un sector de viviendas unifamiliares de Godella, ubicándose ésta en el extremo de la calle y recayendo sobre el barranco que determina el límite del término municipal.

El terreno impone una fuerte pendiente en sentido opuesto a las mejores vistas de la parcela, con una naturaleza de suelo rocoso que limita las posibilidades de realizar fuertes movimientos de tierras.

Por su parte, la propiedad establecía una vivienda desarrollada en sus dependencias principales en una planta única.

De todo ello nació un propuesta de plano único de vivienda apoyada en un lado sobre el garaje (construido éste en la parte más baja de la parcela y único punto accesible para vehículos) y asentada en el lado opuesto sobre el terreno natural. De este modo se logra que desde las zonas de estancia de la vivienda se goce de las mejores vistas y orientación del solar.

El edificio puente planteado así tiene la eficacia de liberar gran parte de su planta en beneficio del espacio libre de la parcela. Este espacio libre permite la conexión entre las bandas que la ubicación central del edificio impone, de acuerdo con la normativa urbanística.

De esta manera, la presencia de las zonas libres conectadas a la vivienda es constante, diversificando así los espacios, sin necesidad de introducir elementos distorsionadores en una geometría tan evidente como la que ofrece la parcela. Cada sector del espacio libre presenta una cualidad diferenciada que ajustará su uso futuro a su realidad formal, dentro de lo reducido de sus dimensiones. Las terrazas, piscina, rampas y escaleras, se constituyen en elementos de la edificación, con la pretensión de construir tanto los ámbitos cerrados como los ámbitos abiertos de la vivienda.

Contra la realidad construida del entorno, caracterizado por los elementos de pequeñas escala y la fragmentación de volúmenes, el edificio se plantea como un prisma geométricamente puro en su fachada al viario, dejando para el espacio más íntimo de la vivienda la hendidura del acceso.

Los acabados de la edificación intentan un nivel de esquematismo no reñido con la confortabilidad: ladrillo visto gris en el cuerpo de zócalo y estuco lavado en los paramentos: revestimiento de los voladizos con tablero de resinas fenólicas y pavimentos de hormigón con listas de piedra Sierra Elvira en exteriores.
The house was built on a small site (587 m2) in a detached house sector of Godella, at the end of the street, overlooking the gully which marks the town boundary.

The land slopes sharply away from the best views from this site, and the ground is rocky, thus limiting the possibility of major earth-moving operations.

The owner´s instructions were that the principal rooms of the house should be all on one level.

Consequently, we suggested a single dwelling level supported at one end by the garage (located at the lower end of the site, the only point of access for vehicles), with the other end resting on the natural terrain. In this way, the living quarters of the house enjoy the best views and aspect that the site affords.

The bridge construction approach also has the advantage of freeing a large area at ground level, improving the open space ratio of the site. This open space also allows communication between the bands into which the site is divided as a result of the central siting of the building imposed by local building regulations.

The open spaces connected to the home are thus a constant presence and diversify the spaces, obviating the need to introduce any element which would distort the geometry so clearly presented by the site itself. Each sector of open space is posessed of a differentiated quality which will fit its future use to the reality of its form, within the framework of its limited dimensions. In this way, the terraces, swimming pool, ramps and steps become elements of the construction. We proposed to construct not only the enclosed but also the open areas of the home.

As opposed to the constructed reality of the setting, characterized by small scale elements and the fragmentation of volumes, the building was designed to present a geometrically pure prism facing the street, leaving the access cleavage within the most intimate space of the home.

The external finishes attempt to achieve a level os schematism which is not incompatible with comfort: grey facing brick for the plinth and washed stucco faces; phenol resin boarding covering the eaves and strips of Sierra Elvira stone in the concrete paving of the exteriors.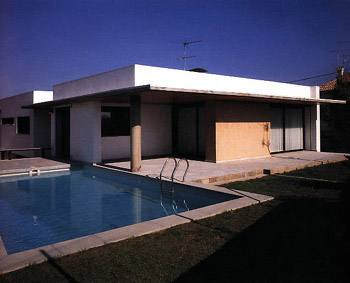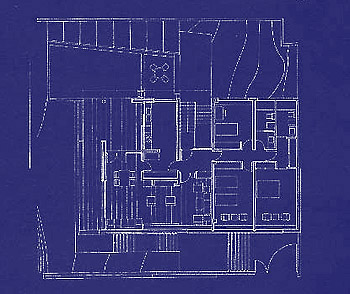 Alzado principal / Main elevation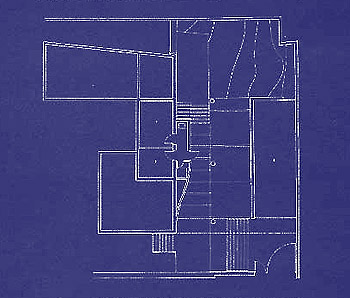 Alzado baja / Ground floor plan