Un joven ginecólogo de Alicante, interesado por la investigación y la práctica del tratamiento de la infertilidad, se convierte en pocos años en un destacado especialista y decide construir una pequeña clínica privada en una parcela que años antes había adquirido con el propósito de edificar una vivienda para su familia.

El emplazamiento se produce en una zona residencial de gran calidad, con una densidad de edificación baja y con espléndidas vistas desde las dos calles a las cuales recae la parcela. La necesidad de construir un volumen de mayor envergadura que los vecinos nos lleva desde el origen del proyecto a plantearnos como premisa de partida el reducir al máximo la presencia física de la construcción.

Otra idea relevante surge de las condiciones que impone la normativa municipal en estas ordenaciones: retranqueos importantes en una superficie no muy sobrada que tienen el riesgo de producir ocupaciones centradas en la parcela y espacios perimetrales sobrantes y poco articulados. Queremos evitar de alguna forma este resultado y por tanto tratamos de disolver la polaridad lleno-vacío para conseguir un único espacio continuo y fluido.

Sobre estas premisas y algunas más intentamos conseguir un orden de espacios con determinadas cualidades, aquellas que, nos parecía, debían darse en ese lugar, a fin de materializar "un orden que deje suficiente espacio libre a la vida para desarrollarse" .*

*

Mies Van der Rohe, manuscrito para la conferencia "Die Voraussetzungen baukünstlerischen Schaffens".
A young Alicante gynaecologist with an interest in researching and treating infertility soon became a renowned specialist and decided to build a small private clinic on a plot that he had bought some years previously to build a home for his family.

The site is in a highly desirable residential zone with low building density and splendid views from both the street-front ends of the plot. The need to build a larger volume than the neighbouring buildings led us from the outset to consider that the starting point should be to reduce the physical presence of the construction as much as possible.

Another important idea was a result of the conditions imposed by the local building regulations: the large frontage required, in a not excessively large surface area, posed the risk of positioning the building centrally and leaving poorly organised perimeter areas. In order to avoid this result we tried to dissolve the full-empty polarity and achieve a single, continuous, fluid space.

Based on these premises, and a few more, we tried to achieve an order of spaces with particular qualities, those that this place seemed to us to require in order to materialise "an order that leaves life enough free space for it to develop"*

*

Mies Van der Rohe, manuscript of his lecture "Die Voraussetzungen baukünstlerischen Schaffens".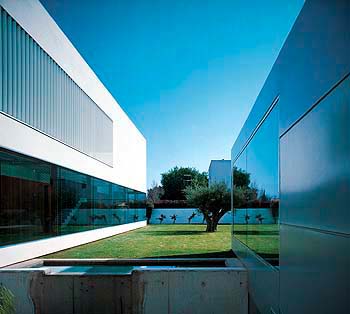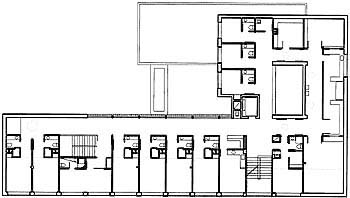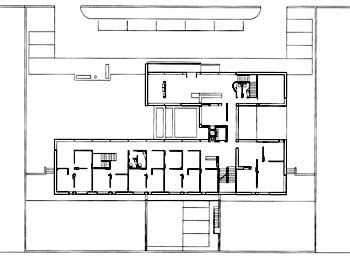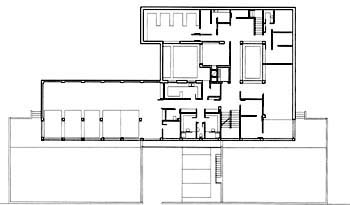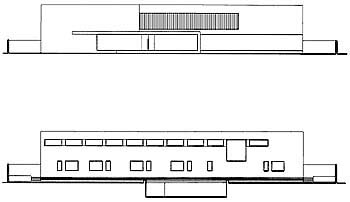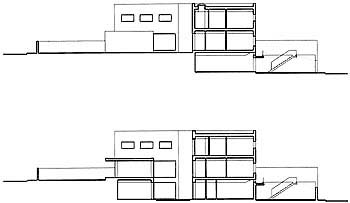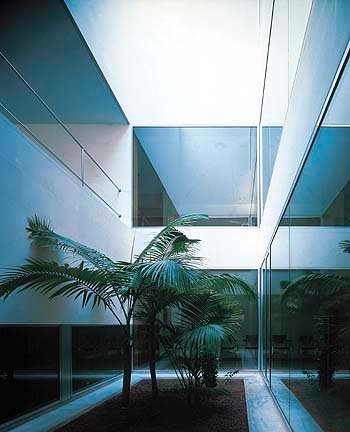 Situación / Location
Av. Albufereta, 32. Alicante.

Proyecto / Project date
1994

Fin de obra / Completion
1996

Promotor / Client
Rafael Bernabeu

Empresa / Contractor
Antonio Rodriguez Mazón

Colaboradores / Collaborators
Fernando Cortés, aparejador / quantity surveyor
Marcos Gallud, aparejador / quantity surveyor
Domingo Sepulcre, estructura / structure

Fotogafías / Photographs
Hisao Suzuki