URBANISMO COMO RESTAURACION ARQUITECTONICA
Los centros de nuestras viejas ciudades llevan ya dos décadas de intensos experimentos urbanísticos. Tan extenso periodo de tiempo ha dado lugar a cambios de rumbo en el planeamiento, en ocasiones con cambios formales del plan y en otras manteniéndolo pero cambiando de estrategia para hacerlo más eficaz. En este sentido la ciudad de Valencia no es una excepción.

Un estilo nuevo para el planeamiento.
El Plan de Protección de Ciutat Vella de 1.984 es un plan conservacionista en línea con el de Bolonia que es el símbolo de la época. Menos de una década más tarde, en 1.991, se tramita uno nuevo, el Plan de Protección y Reforma Interior, en el que se abandona la conservación a ultranza y se introducen modificaciones en el tejido urbano. Con el riesgo que implica toda simplificación, se puede decir que el primer plan conserva la estructura de Ciutat Vella tal y cómo nos ha sido legada por la historia y pretende su mejora por medio de actuaciones arquitectónicas aisladas, junto a la introducción de equipamientos de barrio en contenedores existentes: la configuración urbanística se mantiene. El del 91, por otro lado, asume los cambios de estructura que provocan los "esponjamientos" oportunistas; la desaparición de bolsas de edificación degradadas da lugar a nuevas zonas libres y verdes. Hay cambios en la forma, pero poco controlados. El 84 y el 91 son dos momentos históricos, dos sensibilidades para la actuación en los centros históricos que, a finales de los noventa vuelven a cuestionarse.

En efecto, cuando la Oficina RIVA – Ciutat Vella acomete el desarrollo del área central del Barrio de Velluters en el año 1.996 se encuentra un planeamiento ineficaz, no validado por la Consellería de Cultura. Pero ni aún con la validación hubiera sido eficaz, puesto que la ordenación de la zona se aplazaba a un momento posterior. Lo que nos encontramos, pues, fue un plan "congelado" sin orientaciones claras para la ordenación y sobredeterminado en la gestión. No se sabe que forma adoptará el desarrollo pero los ámbitos en que aquél debe producirse sí quedan fijados.

Ante tal situación lo que se propugna no es tanto un nuevo plan sino un nuevo enfoque: aquél que pone el énfasis en la intervención en la trama urbana y considera que la respuesta debe ser proyectual, recomponer el tejido urbano de la zona de intervención. Se trata de ver el conjunto del barrio como arquitectura y actuar como se haría en la restauración de un edificio.

¿Es válida la extrapolación de los métodos de la restauración arquitectónica a la acción en los centros históricos?. El edificio, el monumento, tiene una unidad y una coherencia que no suele tener la ciudad, pero la teoría y metodología sí pueden ser comunes. Sólo que entonces no hablaríamos de "restauración monumental" sino de "restauración urbana".

La ideología de la intervención.
La adopción de ese enfoque supondría superar los anteriores: la visión acrítica del 84, con aceptación del conjunto arquitectónico tal como estaba y también la del 92 en la que, simplemente, no hay visión arquitectónica, sino un puro reparto aleatorio de huecos urbanos. Adoptaríamos ese enfoque que convirtiera la intervención en el barrio en un proyecto urbano, un proyecto integral.

Y eso es lo que hicimos en Velluters: considerar la zona como un conjunto arquitectónico cuya unidad y significado había que analizar. Un conjunto ciertamente maltrecho con sobreelevaciones, mezclas estilísticas e incluso ausencias absolutas de cualquier estilo. Un conjunto que puede ser aleatorio en lo arquitectónico –ya que a la motivación especulativa que le impulsa poco le importa la arquitectura– pero que posee determinadas características que lo hacen apreciable y singular. Son fragmentos parciales de arquitectura ecléctica que confieren una cierta calidad a la escena urbana. También la pura presencia de un entorno, que ha sido el paisaje habitual de distintas generaciones, ha conformado la memoria histórica del barrio. En fin, lo que nos encontramos era la suma de unos pocos valores arquitectónicos y la percepción psicológica de un cierto entorno que se entiende como tradicional.

En estas condiciones, ¿cómo tratar el conjunto?, ¿Reproducirlo según las iniciales intenciones arquitectónicas, como quería Viollet-le-Duc? Imposible, nunca han existido esas intenciones: el barrio no es un producto planificado, sino un producto "encontrado". ¿Defendiendo la autenticidad histórica como propugnaba Ruskin? No parece oportuno santificar una historia de codicia inmobiliaria y de destrucción del barrio original. ¿Conservar, al menos, el ambiente urbano según las prescripciones de Giovannoni? Algo puede ayudar el estudio de la escena urbana como marco de acogida de las nuevas edificaciones, pero la intervención debía tener un alcance superior, menos superficial. Decidimos cambiar manteniendo lo esencial, manteniendo los principios de configuración de la trama urbana. De aquí que la restauración del conjunto arquitectónico de la zona central de Velluters debiera ser una restauración analógica, en la que el diseño fuera completamente nuevo pero que, al mismo tiempo, buscara una trabazón coherente del tejido antiguo con el nuevo.

La respuesta del diseño urbano.
La primera tarea, pues, era el entendimiento del tejido sobre el que se actuaba. Detectamos un patrón viario muy claro de calles estrechas con una directriz Oeste-Este, que no es sino el itinerario que se recorría desde el exterior de la muralla a la antigua plaza del mercado. Comprobamos que las manzanas eran irregulares y alargadas, formadas por doble fila de parcelas igualmente estrechas. Y registramos una escena urbana con espacios alargados, altos y estrechos, con poca variedad de recorridos, escasa luz y ventilación y palpable inseguridad. Las plantas bajas estaban sin uso y las superiores, viviendas, se repartían entre las habitadas, las ocupadas y las vacías. El aspecto general era el del típico barrio preindustrial.

La necesidad de regenerar los espacios públicos, de introducir actividad y de higienizar las viviendas eran puntos obvios de un programa de diseño. Decidimos actuar sobre todas ellas, sin perder de vista las pautas de generación de la trama.

En primer lugar los espacios. Se introdujeron tres plazas con un triple criterio: que violentaran mínimamente las alineaciones interiores, que su proporción fuera similar a las existentes en Ciutat Vella y que su distribución y morfología fuera adecuada. Al mismo tiempo se ampliaron algunas calles cuidando que su anchura se contuviera dentro del repertorio tipológico viario y se añadieron otras nuevas que siguieran la dirección predominante Oeste-Este, calles que constituyen la red secundaria del conjunto. La ordenación general la produce un eje Norte-Sur que une las distintas plazas antes comentadas.

Se mantienen manzanas residenciales y se crean unas pocas nuevas. Las viviendas de unas y otras se beneficiarán de la ampliación de los espacios a los que dan frente. Pero el porcentaje más importante del nuevo tejido se dedica a equipamiento público, que se agrupa en dos plazas: una grande, en el norte, dedicada a equipamiento educativo; la otra, pequeña en el sur, dedicada a equipamiento asistencial. Ese eje, jalonado por nodos de actividad, creara una tensión urbana que asegure la vida de la exangüe zona central de Velluters.

El trazado original de calles sin jerarquía, que producían un tejido igualitario y uniforme de viviendas-obrador del barrio sedero, había perdido su sentido al elevar la altura de los inmuebles a cuatro o cinco plantas y desaparecer los talleres: hoy es un laberinto de calles oscuras con viviendas de dudosa higiene y sólo ellas. De aquí que manipuláramos el trazado original introduciendo piezas modernas en un nuevo conjunto más jerarquizado pero en sintonía con lo antiguo. Nada de lo nuevo parece extraño a su entorno: el eje y las plazas que se introducen confieren a la zona otro significado, más variado, con mayor riqueza y amplitud de espacios, pero con esa mezcla de espacios y usos que es propia de los centros históricos.

El plan como anticipación de arquitectura.
Operando del modo indicado establecíamos los aspectos más estructurales de la restauración urbana: trazados, usos, tipología edificatoria. La intermediación de la forma urbana que puede conseguir el plan puede ir un poco más allá, pero no es posible anticipar la arquitectura total; para eso el proyecto urbano queda corto y sería preciso el proyecto de todos y cada uno de los edificios.

En nuestro plan se incluyen los instrumentos habituales de control de la arquitectura: fijación de la altura de cornisa de los edificios, de alineaciones y cuerpos volados, del ritmo de composición en frentes de fachada, de materiales... Nos parecieron poco operativas las "ordenanzas dibujadas", y preferimos introducir, como documento no normativo, una imagen posible de los nuevos edificios de equipamientos, con el único propósito de caracterizar la escena urbana.

No obstante, situados en el escalón de planeamiento, éramos conscientes de la importancia del lenguaje arquitectónico a realizar. La propuesta "ambientalista" de Giovannoni, repetida luego por Aymonino y otros, como el trabajo con los "materiales de la memoria", era relevante. Habría que tenerla en cuenta en el desarrollo del plan.

Aquella ideología que sirvió para la definición del nuevo trazado debía ser la misma que decidiera la arquitectura de todos los edificios: habría que descartar los "historicismos de nueva planta" y propugnar que el nuevo diseño buscara el eco de lo antiguo, que observara la historia, no para repetirla sino para buscar el sentido estético y tectónico de la tradición. La respuesta arquitectónica en cada caso es extremadamente sutil, difícil de atrapar con cuatro ordenanzas en un plan.

Es por eso que la sanción del tipo de arquitectura se remite a un momento más próximo a su ejecución: en el plan se prescribe un anteproyecto que deberá ser autorizado antes de la formación de lo que es propiamente el proyecto de ejecución. Se intentaba que el espíritu del proyecto urbano perviviera en las decisiones ejecutivas de la edificación.

Todas estas dificultades para ahormar una restauración urbana mediante un plan esta señalando hacia la unidad entre urbanismo y arquitectura, unidad ya reclamada por el denostado Movimiento Moderno, y hoy rota por una atomización de documentos, trámites e instituciones que impide dar respuestas adecuadas en los centros históricos. Sólo si los múltiples agentes implicados trascienden esta artificial separación y comparten una política arquitectónica que busque la acción restauradora de los conjuntos históricos, estos podrán tener solución. Esperamos que esto ocurra en Valencia y a nuestro plan le sigan otras actuaciones de parecido talante. Esperamos que la ritual modificación periódica de los planes se cambie por visiones más arquitectónicas de las acciones a acometer y que estas se mantengan a lo largo de todo el proceso de intervención urbanística, desde la concepción volumétrica a la ejecución del detalle.
URBANISM AS ARCHITECTURAL RESTORATION
The centres of our old cities have already undergone two decades of intensive experiments in urbanism. Over this lengthy period of time there have been changes of direction in the planning. At times these have involved formal changes to the plan, at others the plan has remained in place but the strategy has been changed to make it more effective. The city of Valencia is no exception.

A new style of planning
The 1984 Plan for the Protection of the Old City is conservationist, in line with that of Bologna which was the symbol of the time. Less than a decade later, in 1991, a new plan was being introduced: the Internal Protection and Rehabilitation Plan. This abandoned the preservation at all costs approach and introduced modifications in the urban fabric. At the risk of over-simplification it could be said that the former preserved the structure of the Old City exactly as it had been handed down through history, aiming to improve it by means of isolated architectural projects that housed neighbourhood facilities in existing containers and maintained the urban layout. The '91 plan, on the other hand, accepted the changes in structure caused by opportunist 'spongification': the pockets of run-down buildings that disappeared provided new open green spaces, changes in form occurred without much control. '84 and '91 were two moments in time, two attitudes towards what should be done in historic town centres. At the end of the 90s they were again called into question.

When the Oficina RIVA – Ciutat Vella undertook the development of the central area of the Velluters [velvet-makers] quarter in 1996, it found that the plan was inoperative and had not been approved by the Valencian Ministry of Culture. Had it been approved it would still have been ineffective, since the zoning for the area had been postponed to a later date. What we encountered was a 'frozen' plan, without any clear zoning guidelines and over-detailed in questions of administration. The form that development would take was unknown but the spheres in which it was supposed to take place were already decided.

Given the situation, what was proposed was not so much a new plan but a new approach, one that emphasises the urban layout and considers that the response must be provided through a project to recompose the urban fabric of the action area. The quarter must be seen as a whole, in architectural terms, and the work to be done must be carried out as though it were a building restoration.

Is it valid to extrapolate the methods of architectural restoration to historic city centres? A building, a monument, has a unity and coherence that a city usually lacks, but the theory and methods can be shared. The difference is that instead of talking about the "restoration of a monument" we will be speaking of "urban restoration".

The ideology of the intervention
Adopting this approach means going beyond the previous approaches, the uncritical view of '84 which accepted the architectural ensemble as it was and that of '92 where there was simply no architectural vision, only a random distribution of urban gaps. This approach makes acting on a quarter of the city into an urban project, an integral project.

In the case of Velluters, specifically, we considered the area as an architectural ensemble with a unity and significance that needed to be analysed. The ensemble is certainly an ill-treated one, with additional storeys, mixtures of styles and even a complete absence of any style. The whole may be random, architecturally speaking (since speculation has little care for architecture) but it possesses certain features that make it unique and likeable. There are partial fragments of eclectic architecture that give the urban scene a certain quality. Again, the pure presence of an environment that has been the habitual landscape of several generations shapes the historic memory of the quarter. In short, what we found was the sum of a few architectural values and the psychological perception of certain surroundings that are understood to be traditional.

In these circumstances, how was the ensemble to be treated? Should we reproduce the initial architectural intentions, as Viollet-le-Duc would have wished? That would be impossible: no such intentions ever existed. The quarter is not a planned product but a "found" product. Should we defend historical authenticity, as Ruskin proposed? It hardly seemed right to sanctify a history of building greed and the destruction of the original quarter. Should we at least preserve the urban atmosphere, as prescribed by Giovannoni? Studying the urban scene as a framework that receives new buildings can be of some help, but the scope of action here needed to be greater, less superficial. We opted for change while preserving what was essential, maintaining the shaping principles of the urban layout. As a result, we considered that the restoration of the architectural ensemble of the central area of the Velluters quarter ought to be an analogous restoration, one where the design would be completely new but, at the same time, would seek a coherent interweaving of the old fabric and the new.

The urban design response
The first task was therefore to understand the fabric on which action was to be taken. We detected a very clear pattern of narrow streets leading west-east from the city walls to the old market place. We found elongated and irregular city blocks made up of a double row of equally narrow plots and discovered an urban scene with high, narrow elongated spaces, little variety in its itineraries, a scarcity of light and ventilation and a palpable lack of safety. The ground floor premises were unoccupied and the upper storeys of housing were divided between homes, squats and vacant units. The general impression was that of a typical pre-industrial quarter.

The need to regenerate public spaces, introduce activity and sanitise the housing were obvious points for a design brief. We decided to address all of them without losing sight of the principles that generate the layout.

The first point was public spaces. Three squares were introduced, following three criteria: minimum disruption of the interior alignments, similar proportions to the existing squares of the Old City and appropriate distribution and morphology. At the same time, certain streets were widened, taking care to limit their width to the street typology repertory, and other new streets were added, following the predominantly West-East pattern, to constitute the secondary network of the whole. The general organisation is provided by a North-South axis linking the squares mentioned above.

Residential city blocks are retained and a few new ones created. The housing in both will benefit from the wider spaces onto which they face. However, the highest percentage of new fabric is devoted to public services, grouped around two squares: a large one in the northern part is devoted to educational facilities while the other, in the southern part, is smaller and is devoted to other public service facilities. This axis is dotted with nodes of activity to create an urban tension that will bring the central area of Velluters back to life.

The original layout of the streets lacked any hierarchy and produced a uniform, egalitarian fabric of houses with workshops in the silk-manufacturing quarter. It lost its meaning when the height of the buildings was raised to four or five storeys and the workshops disappeared. Nowadays the area is a maze of dark streets with housing of doubtful hygiene and nothing else. We therefore manipulated the original layout and introduced modern pieces, a new ensemble that has greater hierarchy but tones in with the old. None of the new seems strange to its environment: the new axis and squares give the area a different, more varied significance, with spaces of a greater richness and size, but it retains the characteristic mixture of spaces and uses of a historic city centre.

The plan as an anticipation of the architecture
In this way, we established the more structural aspects of the urban restoration plan: street layout, uses, building type. The plan could go slightly further as an intermediary of urban form but it cannot anticipate the total architecture. An urban project falls short of this, which would mean drawing up the project for each and every one of the buildings.

Our plan includes the usual tools for controlling the architecture: establishing the cornice height of the buildings, their alignment, projecting elements, the rhythm of composition of the façades, the materials, etc. We consider that "drawn zoning" has little effect and prefer to include a non-prescriptive document, a possible image of the new public service buildings, with the sole purpose of characterising the urban scene.

However, while remaining on the planning scale we were aware of the importance of the architectural language that should be employed. The "atmospheric" proposal of Giovannoni, taken up later by Aymonino and others, working with the "materials of memory" for instance, was relevant. It needed to be taken into account when developing the plan.

The ideology that served to define the new layout must be the same ideology that decides the architecture of all the buildings. We reject "historicism from scratch" and propose that the new design should seek to echo the old and observe its history, not in order to repeat it but to seek the aesthetic and tectonic sense of its tradition. The architectural response in each case is extremely subtle and difficult to capture in three or four regulations in a plan.

Consequently, sanctioning the type of architecture has been postponed to a moment closer to its execution: the plan prescribes that preliminary proposals must be authorised before the working plans proper are drawn up. We have attempted to ensure that the spirit of the urban project will live on in the executive decisions concerning the buildings.

All these difficulties in moulding an urban restoration project by means of a plan point to the unity of urbanism and architecture, a unity for which the reviled Modern Movement was already calling. This unity is now fractured by a disparate array of bodies, procedures and documents that blocks suitable responses for historic city centres. There can be no solution for historic areas unless the many bodies concerned overcome this artificial separation and share an architectural policy of action to restore these areas. We trust that this will take place in Valencia and that our plan will be followed by others in a similar vein. We hope that the ritual of periodic modification of the plans will be replaced by a more architectural vision of the actions to be undertaken and that these will be maintained throughout the urban action process, from conceiving the volumetry to executing the details.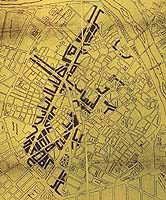 4




Aprobado definitivamente, por Resolución del Conseller de Obras Públicas, Urbanismo y Transportes, el 30 de Julio de 1998. (BOPV 19-VIII-98; DOGV 13-10-98) / Definitively approved by Resolution of the Valencian Minister of Public Works, Urbanism and Transport on 30th July 1998 (BOPV 19.8.98, DOGV 13.10.98)

Promotor / Client:
Generalitat Valenciana. Conselleria de Obras Públicas, Urbanismo y Transportes. Oficina RIVA - Ciutat Vella / Valencian Regional Government Ministry of Public works, Urbanism and Transport. Oficina RIVA - Ciutat Vella (Old City Integral Rehabilitation Office)

Equpo redactor / proyect team:
Juan Pecourt García (director del trabajo / supervisor of the work)
Ana Ros Pastor (arquitecto / architect)
Ángeles Díaz Visa (grafista / grafic design)
Mª Ángeles Luján Bayona (tipista / text design)