El lugar
El terreno en que se implanta el edificio limita a sur y poniente con vias de circulación rodada. La orientación levante ofrece vistas al mar y a toda a bahía hasta el cabo de San Vicente. EI edificio abre su configuración en forma de caja para recuperar estas vistas, vinculándose también en su orientación este para poder recoger el escaso espacio verde que ofrece la playa de Cullera. Por el contrario presenta su forma más rigurosa, cerrándose en las orientaciones sur y oeste, como respuesta a un entorno poco agradecido, conformado por edificaciones de gran altura y escasa calidad arquitectónica. Aparece así la necesidad de la quinta fachada. La cubierta de la caja forma una elevación en la topografía, configurando un nuevo alzado, conjuntamente con el plano de emplazamiento, para ofrecer una última visión desde la altura. Es premisa del proyecto la consideración del emplazamiento existente, potenciando los aspectos visuales y paisajísticos, es por esto que tanto la situación dentro del parque como las dimensiones del edificio se controlan ofreciendo un volumen claro compacto y de dimensiones reducidas. Del anáIisis del lugar se observa que el terreno presenta un pequeño desnivel por lo que se crea un zócalo de hormigón que absorbe dicho desnivel, y sobre el que se asienta una plequeña caja de ladrillo. La necesidad de un espacio sereno y confortable nos hizo reflexionar sobre la calidad de los espacios y las circulaciones, de tal modo que el movimiento de la gente permitiera detenerse como en otro mueble más de la ciudad. Nos preguntamos hasta que punto es posible establecer una conexión con el exterior para lograr un espacio dinámico y fluido. Lo que se ha pretendido es la integración en el paisaje urbano. Funcionalidad y comprensión para ofrecer un nuevo elemento de mobiliario urbano. Apostamos tanto por la modernidad y la innovación como por el rigor y la simplificación en las formas.

EI programa
Un programa sencillo y la intención de crear un volumen claro, compacto y de dimensiones reducidas proporcionan las pistas necesarias para el desarrollo del proyecto. La pieza edificada consta de una sala de espera con zona de atención al público, la caja compacta se expresa en el volumen interior como un único espacio. Como apoyo de este volumen se crea una zona con despacho para la dirección de la oficina, zona de almacenaje y archivo y aseo para uso del personal de la oficina. Se trata de un solo volumen que contiene todo el programa ya que la intención del proyecto es que el edificio sea lo más compacto posible, exterior e interiormente, para su clara y pronta identificación. EI proyecto se define a través de una intervención mínima, sumamente conservadora con lo existente, apoyada en las relaciones establecidas entre la propia realidad física de la intervención, los elementos constitutivos del parque y el mar.
The place
The building plot is bordered by roads on its south and west sides. To the east there are views of the sea and the whole bay as far as the cape (Cabo de San Vicente). The box-shaped form of the building opens out to capture these views and its eastern aspect is also linked to taking in what little green space Cullera beach has to offer. In contrast, the building's more severe forms are to be found on the southern and western sides, which are closed in response to the rather unattractive surroundings, made up of high-rise buildings of little architectural value. Hence the need for a fifth "façade". The roof of the box forms a raised feature in the topography and creates a new "zenithal elevation", in conjunction with the ground plan of the site, affording a last view from on high. One of the project's basic premises is to pay due attention to the site, enhancing its visual and landscape aspects. Both the space it occupies within the park and the dimensions of the building are therefore pared down to a clear and compact volume of limited size. An examination of the site shows that the ground slopes slightly. It is levelled by the concrete base on which the small brick box is seated. The need for a comfortable and serene space caused us to reflect on the quality of the spaces and flows, in such a way as to make it possible to stop among the movement of people as if at any other item of the town's street furniture. We asked ourselves to what extent we could create a connection with the exterior and achieve a dynamic, fluid space. We aimed for integration into the urban scene and for functionality and comprehensibility in a new element of street furniture. We opted both for modernity and innovation and for severity and simplification of form.

The brief
A simple brief and the aim to create a clear, compact volume of limited size provided the clues to developing this project. The building is made up of a waiting room with an information desk area: the interior volume of the compact box is expressed as a single space. Ancillary to this volume there is a management office area, storage and filing area and staff toilet. A single volume contains the entire brief, as the project's intention is to make the building as compact as possible, both outside and inside, so that it is quickly spotted and easy to identify. The project is defined by a minimum intervention that is highly conservative with regard to the existing surroundings and is based on the relationships that are established between the physical reality of the intervention itself, the elements that make up the park and the sea.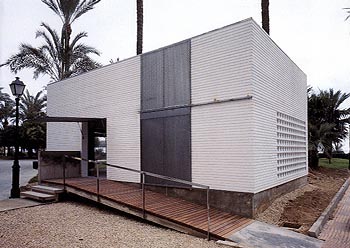 Situación/Location:
Avda. Blasco lbáñez. Cullera, Valencia.
Promotor/Developer:
Ayuntamiento de Cullera.