La casa que se proyecta en un solar del municipio de Foyos tiene la métrica de 7x2O m. afín a las parcelas que albergan las casas de una mano, tan difundidas en el país valenciano.
En estas casas la disposición de la vivienda consiste en un cuerpo edificado cuyo perímetro lo define la traza de la calle y su profundidad de dos crujías con un patio posterior donde se disponen anejos de apoyo a las funciones domésticas ligadas al aire libre.
La elemental disposición del cuerpo edificado que se ha convertido en tradición a través de la repetición en el tiempo, asegura una buena adaptación al lugar con este gesto perenne de respetar, a partir de la tira de cuerdas, su alineación. El volumen empleado se utiliza como un sólido capaz de albergar las estancias que configuran el programa doméstico de una vivienda. La particular organización de sus componentes alrededor de una estancia central de volumetría generosa con luces a la calle y al patio, se realiza utilizando el conocido procedimiento de Raumplan, utilizando para ello una escalera estricta de 2,26 m de paso que recorre verticalmente el volumen edificado comunicando entre sí la planta baja, donde se dispone un espacio para carruajes, la planta primera donde se alberga la cocina y la sala principal con dos espacios a media altura que se destinan a biblioteca y trabajo y un último nivel de dormitorios y baño cuya apertura al exterior se realiza a través de un pequeño volumen con luz cenital que se lee en fachada como un balcón y en su interior como un patio que aporta intimidad y luz.
Lo característico de la vivienda no son las particiones que aseguran la viabilidad de un programa doméstico, lo que realmente la vivienda muestra es la utilidad de un procedimiento que no esta agotado, que se inició como bandera de enganche en la etapa de consolidación del Movimiento Moderno y es de plena actualidad.
En este sentido y sin prescindir de otras interpretaciones resultan esclarecedoras las vinculaciones que se encuentran entre la arquitectura moderna y la opción industrial que la misma reclama para su materialización. Opción industrial que difiere de la idea que la civilización tardo-industrial tiene de la industria; es decir, reivindicamos la esencia de la fabricación en taller y no la utilización indiscriminada de patentes. Reconocemos como útil la puesta al día de técnicas de fabricación manufacturera que revitalicen la construcción de la vivienda pasando por la necesaria traducción de la misma al lenguaje de la arquitectura.
De la industria de los componentes se toma una opción por la forma mecánica cuando ésta es transferida al material mediando el proceso de fabricación. Dentro de este carácter mecánico se encuentra una de las virtudes que mantienen la elevada calificación formal de los componentes constructivos cuando la relación con la naturaleza del material se pone en valor a partir del proceso de elaboración del proyecto.
Desde estas consideraciones no resulta difícil establecer las limitaciones entre la forma de los productos laminados que aportan a la mera construcción las sombras que le estaban confiadas a las impostas de los antiguos oficios o bien los cortes de la piedra que restituyen el carácter prismático de sus piezas como una actualización de las labras con herramienta ligadas a la idea de continuación de las manos del cantero.
Difícil se nos hace distinguir en la práctica diaria lo que son intuiciones de aquellos otros conocimientos de donde se desprenden las certezas. Existe desde hace mucho tiempo la idea de casa y de sus componentes, cocina, baño, descanso, que adoptan soluciones distintas en las diferentes culturas y de las que son escasos sus vestigios en arquitectura; no obstante los ejemplos que todavía pueden servir de apoyo a la idea de progreso cultural y técnico son el auténtico eslabón necesario en la cadena de la disciplina del proyecto cuya ruptura nos dejaría en una vía muerta.
The house, designed for a building lot in the village of Foyos, is based on a 7x20 m. grid, similar to the plot size of the 'casas de una mano' ['one-handed houses'] that are so familiar in the Valencia region.
In these houses the arrangement of the dwelling consists of a building, two spans deep, its perimeter defined by the street, with a back yard containing outbuildings to support the domestic functions that are associated with the outdoors.
The elementary arrangement of the building, repeated over the years until it has become a tradition, ensures its adaptation to the place by the perennial action of following the lines that are set out to mark its alignment.
The volume is taken as a solid with the capacity to house the different rooms which make up the domestic requirements of a dwelling. The specific organisation of its components around a generously-sized central room with windows onto the street and the yard uses the well-known Raumplan procedure. It employs a severe, 2.26 m tread-span staircase that runs vertically through the building, joining the ground floor, with space for vehicles, the first floor, which holds the kitchen and the main room and two half-height spaces for a library and a work-room and the top floor, which contains the bedrooms and bathroom. This top floor has openings to the exterior onto a small volume with zenithal light which is perceived as a balcony on the façade and from the interior as a terrace that contributes privacy and light.
What is characteristic about the dwelling is not the partition walls that make it viable as a domestic layout but what it really demonstrates, the usefulness of a procedure that is not yet exhausted, which began as a rallying call during the consolidation of the Modern Movement but is still absolutely modern.
In this sense, without doing away with other interpretations, the links to be found between modern architecture and the industrial option that it demands for its materialisation are illuminating. This industrial option is not the idea that late industrial civilisation has of industry. In other words, we defend the essence of workshop manufacture rather than the indiscriminate use of patents. We recognise the usefulness of bringing up to date the manufacturing production techniques that revitalise building construction when they have gone through the necessary translation into the language of architecture.
With regard to the components manufacturing industry, we opt for the mechanical form when this is transferred to the material through the agency of the manufacturing process. We encounter in this mechanical character one of the virtues that maintains the high formal quality of the construction components when the value of the relationship with the nature of the material is enhanced through the process of developing the project.
Bearing these considerations in mind, it is not difficult to establish the limitations between the form of the laminated products that bring the shadows that used to be confided to the imposts of the ancient trades to the mere construction and the cuts of stone that restore the prismatic character of their pieces as an up-dating of the tooled stonework associated with the idea of the continuing hand of the stone-cutter.
In our daily practice, it is difficult to distinguish between intuitions and the knowledge from which certainties spring. The idea of the house has existed for a long time now, as have its parts (kitchen, bathroom, rest areas), which have adopted different solutions in different cultures and have left scant vestiges in architecture. However, the examples that can still be useful to the idea of cultural and technical progress are the genuinely essential link in the chain of the discipline of the project. If it were broken we would be left stranded.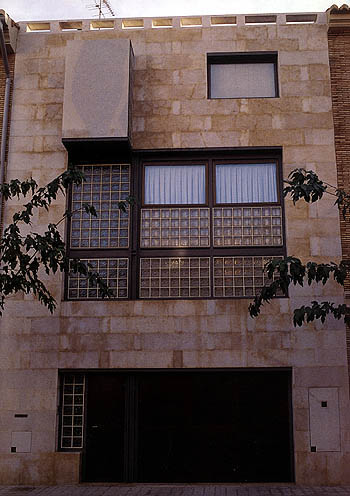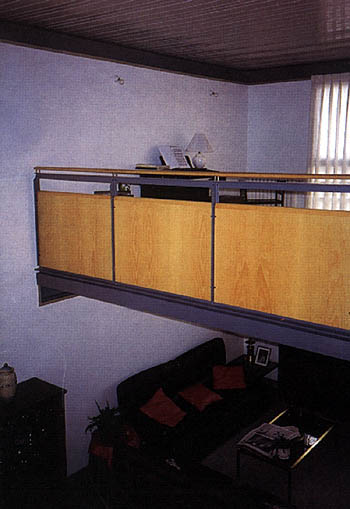 Clientes/Clients:
Vicente Ruiz Ros and Amparo Aguilar
Localización/Location:
C/ Ausias March, Foios (Valencia)
Año/Year:
1991-92
Arquitecto colaborador en proyecto/Architect assisting with project:
Manuel Blanes Julià
Arquitecto colaborador en dirección de obra/Architect assisting with works supervision:
José Romero Zapater
Aparejador/Quantity surveyor:
Mercedes Monzó
Empresa constructora/Contractor:
Construcciones José Torrente
Traducción al inglés/English translation:Gina Hardinge.