El Centro de Investigación Príncipe Felipe, se encuentra ubicado junto a la Ciudad de las Artes y las Ciencias de Valencia. El programa diferencia dos usos fundamentales: un área destinada a la investigación y una zona de servicios y gestión del edificio.

El área de investigación está compuesta por tres volúmenes cúbicos, que emergen de una plaza flanqueada por el área de servicios generales. Estos se envuelven con una doble piel de vidrio translúcido protegido por una trama horizontal de lamas de aluminio que tamizan la luz natural, inundando el interior de una gran cantidad de luz indirecta. Dos columnas de vidrio que albergan las escaleras principales y los ascensores, articulan los tres volúmenes cúbicos. La entrada al conjunto se realiza a través de dos rampas descendentes: una peatonal que se fundirá con la plaza pública, y otra de acceso rodado por la que se accede a los sótanos del edificio. Todo se enmarca dentro de un espacio destinado a uso público, compuesto por una zona verde y una plaza pavimentada que integra, a su vez, una lámina de agua.

El edificio está compuesto por dos elementos principales, una base y tres torres. La base consta de dos plantas de aparcamiento, una planta técnica de animalario, almacenes, y servicios técnicos complementarios a los laboratorios, y una planta principal que configura en su interior un recinto propio, una plaza abierta, rodeada perimetralmente por las salas de conferencias, cafetería restaurante, vestíbulo principal, biblioteca, oficinas de administración, de donde arrancan los laboratorios y a la que se accede desde el nivel de la calle descendiendo por una rampa que desemboca directamente en la recepción del edificio. Uno de los dos bloques de la construcción, concretamente las tres torres de laboratorios, está concebido única y exclusivamente para el uso científico y de investigación. Todos los acabados de esta zona cumplen una serie de requisitos técnicos, higiénicos y de protección biológica que homogeneiza todos los espacios.

El otro bloque se libera de esa servidumbre y acoge todos los espacios con usos públicos o de gestión y servicios en un entorno mucho más cálido, con acabados en madera y piedras naturales. Entre los tres módulos de laboratorios la comunicación horizontal y vertical se realiza a través de unas columnas de cristal que atraviesan desde la cubierta hasta hundirse en las plantas inferiores, albergando cada una de estas torres de comunicación una escalera protegida, ascensores y montacargas.

En definitiva, 32.612 metros cuadrados, con una superficie útil de 28.280 metros cuadrados, meticulosamente pensados, bajo las directrices de un cuidado planteamiento y un perfecto diseño, para garantizar en cada instante unas prestaciones y unos servicios óptimos.

La fachada se soluciona con una secuencia de lamas de aluminio que actúan como parasoles a través de los cuales penetra, tamizada, la luz natural en todo el edificio, inundando los laboratorios y los espacios públicos de una gran cantidad de luz indirecta especialmente agradecida en los lugares de trabajo. El entorno del edificio forma parte del conjunto de la construcción, extendiéndose sobre la cubierta de las oficinas y los servicios, una lámina de agua que queda enrasada con el nivel peatonal de la parcela. El edificio esta pensado para adaptarse con facilidad a los cambios que vengan condicionados por la evolución natural de la ciencia, y contiene las instalaciones técnicas más avanzadas en materia de investigación.

A las especiales características de diseño contempladas, hay que añadir una ejecución constructiva puntera en lo que a elementos estructurales se refiere, que permitieron la construcción del edificio en un plazo relativamente corto de tiempo.

La cimentación del edificio se compone de pantallas estructurales de hormigón armado ejecutadas a gran profundidad que, en combinación con una losa de cimentación de hormigón de gran canto, confieren al edificio las características resistentes y de estanqueidad necesarias.

A estos elementos hay que añadir la ejecución de pilas-pilote, que combinan la ejecución de pantallas de anclaje y cimentación, con la inclusión previa de los soportes metálicos estructurales del edificio.

Debido a la elevada situación del nivel freático de la zona, unido a las grandes luces perimetrales y a la profundidad de los sótanos del edificio, se ha optado por utilizar un sistema de construcción ascendente-descendente. Este sistema se caracteriza por la ejecución de los elementos estructurales superiores, e inferiores de cimentación simultáneamente.
The Prince Felipe Research Centre (CIFP) is located in Valencia, next to the City of Arts and Sciences. The brief distinguishes two fundamental uses: a research area and a service and management area.

The research area is made up of three cubes rising out of a plaza, flanked by the general services area. They are wrapped in a double skin of translucent glass, screened by a horizontal arrangement of aluminium slats that protects them from the sunlight while flooding the interior with abundant indirect light. Two glass columns, housing the main staircases and the lifts, articulate the three cubes. The entrances are reached by two descending ramps, a pedestrian one to the open plaza and a vehicle ramp that enters the basement. The ensemble is placed within a space for public use, made up of a green space and a paved plaza containing a sheet of water.

The building is composed of two main elements: a base and three towers. The base has a two-storey car park, an animalarium storey, store rooms, technical services for the laboratories and a main floor. This has its own interior enclosure, an open square, with the lecture halls, cafeteria/restaurant, main foyer, library and administration offices laid out around its perimeter. The laboratories rise out of this base and are reached from street level by descending a ramp that leads directly into the building's reception area. One of the two parts, the three laboratory towers, is designed solely and exclusively for scientific and research purposes. All the finishes in this area comply with a series of technical, hygiene and biological protection requirements that homogenise all its spaces.

The other part, unconstrained by this obligation, houses all the public, management and service uses in a much warmer environment with natural wood and stone finishes. Horizontal and vertical communication between the three laboratory modules is provided by glass columns that reach from the roof down into the lower floors. Each of these communication towers contains a protected staircase, lifts and goods lifts.

The 32,612 square metres of gross floor area, with 28,280 square metres of usable floor space, are meticulously designed to ensure optimum service and performance at all times.

The façade has a series of aluminium slats that act as a brise-soleil, filtering the sunlight while allowing it to enter the entire building and flood the laboratories and public spaces with abundant indirect light, which is particularly appreciated in the work areas. The building's surroundings are part of the whole. A sheet of water extends over the roof of the office and service block, on the same plane as the pedestrian level of the site. The building contains the most advanced technical equipment for research purposes and is designed for easy adaptation to the changes imposed by the natural evolution of science.

The special design characteristics are joined by leading-edge structural elements and methods, which enabled the complex to be built in a relatively short time.

The foundations combine very deep reinforced concrete strips with a very thick concrete raft to provide the necessary strength and damp-proofing characteristics. Additionally, piles were inserted to combine the execution of the anchoring and foundation strips with the insertion of the building's structural metal supports.

Given the high ground water level in the area, the large perimeter spans and the depth of the basements, an up-down construction method was adopted. The salient characteristic of this system is that the structural superstructure and foundation substructure are constructed simultaneously.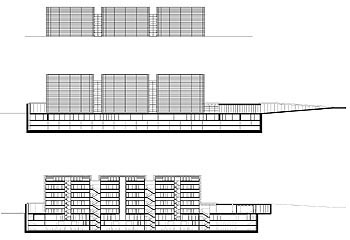 Alzado/FAcade
Sección 1-1'/Section 1-1'
Sección 2-2'/Section 2-2'
Situación/Location:
Autopista del Saler, 16. Camino de las Moreras. Valencia

Promotor/Developer:
Fundación Valenciana de investigaciones biomédicas/Valencian Foundation for biomedical research (FVIB).
Instituto de investigaciones citológicas/Institute for cytological research

Colaboradores/Assistants:
Juan A. Ferrero Seguí
Angels Quiralte Bautista
Rafael Esteve Marrahi
Silvia María Martínez García-Carpintero

Arquitecto técnico/Technical architect:
Antonio Jose Morales Ferrero

Constructor/Contractor:
UTE. Centro superior de biomedicina.
Formada por las mercantiles A.C.S. Proyectos, obras y construcciones y Rover ALCISA /Temporary jont venture between A.C.S. Proyectos, obras y construcciones and Rover ALCISA

Ingeniería/Engineers
Fco. Javier Sanchis Plá y Ramón Cañadas Martínez

Estructura/Structure
VALTER
Juan Francisco Moyá, ing. caminos, canales y puertos/civil engineer
Carlos Arroyo, ing. caminos, canales y puertos/civil engineer

Fotógrafo/Photographer:
Maite Piera