Recibimos el encargo de Carmen Calvo para su nuevo estudio tras una colaboración anterior en el edificio de casas del Convento de la Trinidad en Valencia.

La oportunidad presentaba un gran reto: trasladar el contenedor-objeto artístico, el gran "object trouve", fruto del trabajo de casi treinta años de actividad de la artista, a otro local de características substancialmente distintas.

Distinta era la superficie, la altura del local, los materiales de paredes y suelos, la antigüedad del edificio y las características de la incidencia de la luz en su interior.

El local era fruto de una promoción de corte "moderno". La planta baja era porticada y de disposición longitudinal a modo de gran vagón de tren. En contra del mundo laberíntico del estudio anterior, ubicado en una vivienda en planta baja de poca altura libre y en un edificio decimonónico moderno.

Las paredes del nuevo lugar respondían a una amalgama de tipos de ladrillo cerámico, unas veces panal, otras hueco, otras trozos de desechos de construcción, frente a los zócalos cerámicos, pinturas desconchadas y sobrepintadas, cambio de puertas de acceso, humedades de una plástica sugerente, cañerías antiguas sustituidas una y otra vez,..................

Los suelos vírgenes del nuevo espacio, frente a la consecución y repristinación continua, el aprovechamiento continuo de materiales producto de la rica vida y la secuencia de actividades acumuladas con el devenir de las generaciones que lo habitaron.

El bajo integrado en un edificio de estética de los setenta, desubicado en el tiempo con un gran pórtico a la italiana, sustituyendo a un bajo parte de un edificio decrépito, lleno de redes y con toda la acumulación de las aportaciones, que ha ido reuniendo en más de cien años de vida.

La luz llega al nuevo local a través de grandes ventanales hasta el suelo filtradas por el gran pórtico, frente a la luz escasa y suplementada por la luz artificial en el antiguo local.

En este encargo la misión del arquitecto es sumergirse en la imposición "terrible" de la condición de absoluta libertad en su diseño.

Solo se establecen los términos del programa: una sala para pintar, una recepción con aseo, cocinilla y un altillo para la organización burocrática. El resto, nos dice " como me conocéis bien, ya sabéis que es lo que quiero, manos a la obra".

En las paredes y techo lleno de instalaciones se opta por aplicar una pintura diluida blanca que unifica superficies pero deja entrever una cierta referencia al desorden constructivo del antiguo estudio. La referencia, se establece entre la acumulación en los muros y techos del antiguo local, y la acumulación de materiales y técnicas de un bajo construido para ser acondicionado, práctica habitual, mediante nuevos tabiques y acabados.

Las instalaciones de los techos reaparecen bajo la aplicación blanca como un collage del cual cuelgan las nuevas instalaciones para el aire acondicionado, iluminación, antiintrusión y extinción de incendios.

El suelo se resuelve mediante la aplicación de una resina autonivelante de gran dureza, optima para la actividad a desarrollar.

El programa se resuelve introduciendo un sistema de perfilerias de acero para la construcción y de chapas antidesgaste. Este sistema esta compuesto de superficies, planos, entramados a modo de cárceles e inspirados en la obra de los confesionarios de Louis Burgois. Una referencia directa es la caja del aseo. Todo esto permite una lectura constructiva que lo hace independiente y volviendo a utilizar el concepto del "object trouve" y constituyéndose como un objeto dentro del gran objeto que es el estudio. Es por tanto un juego de conceptos en el cual el jugador ganador será la propia artista que se encargará de hacer suyo y que le hará ganar la partida.

Desde la finalización de la obra y tras la entrega de ésta, Carmen construye y destruye el espacio y hace suya la que en definitiva es su gran y última obra, el nuevo estudio.

Que satisfacción para los arquitectos el ser fagocitados por la gran maestra de las metáforas objetuales, y que gran suerte el poder formar parte como "object trouve" de su magnifica obra.

Gracias Carmen.
Carmen Calvo asked us to design her hew studio after we had worked together on the block of houses attached to the Trinidad convent in Valencia.
This opportunity presented a considerable challenge: to move the object/container of art, the great objet trouvé produced by almost thirty years of the artist's work, to another place with a very different character.
The surface area and height were different and so were the materials of the floors and walls, the age of the building and the way the light fell in the interior.
The new premises, in a 'modern' style development, are in a porticoed ground floor, laid out longitudinally like a large railway carriage, whereas her old studio was a labyrinthine world in a low-ceilinged ground floor flat in a modern nineteenth-century building.
The walls of the new place were a an amalgam of different types of brick - some perforated, some cellular and some bits of rubble - instead of tile dadoes, battered paintwork painted over, doors moved, damp patches in interesting shapes and old pipes replaced time and time again.
The virgin floors of the new space contrasted with the continuous achievement and refurbishment, the continual putting of materials to good use, that the full life and successive activities of many generations of inhabitants had accumulated.
These ground floor premises in a building with a seventies look, dislocated in time by a large Italian-style portico, were to replace those in the ground floor of a decrepit building with a wealth of networks and all the accumulation of inputs it had garnered over more than a hundred years.
The light enters the new place through large windows reaching to the floor, filtered by the great portico, in contrast to the poor light, supplemented by artificial lighting, of the old place.
In this commission, the architects' mission was to immerse themselves in the 'terrible' imposition of absolute freedom of design.
Only the terms of the brief were fixed: a room for painting, a reception area with a toilet, a kitchenette and a gallery above for the paperwork. The rest, she said, was up to us: "since you know me well, you already know what I want, so get on with it".
On the walls and ceiling, covered in pipes and cables, we decided to apply a diluted white paint that would unify the surfaces while hinting at the constructive disorder of the old studio. This established a link between the accumulation on the walls and ceilings of the old place and the accumulation of building materials and methods in ground floor premises built so that the occupier could fit it out with new wall linings and finishes, a common practice.
Under the white paint, the service installations on the ceilings reappear like a collage, hung with the new air conditioning, lighting, security and fire-fighting system installations.
The solution to the floor is a coat of very hard self-levelling resin, which is ideal for the purpose.
The spaces required by the brief were created using construction-grade steel sections and antiwear sheet metal. This system is composed of surfaces, planes, structures, like prisons, inspired by Louis Bourgeois' confessionals. The toilet box is a direct reference. All this allows a constructive reading that renders it independent, returning to the use of the objet trouvé concept to constitute an object within the large object that is the studio. It is therefore a play of concepts in which the winning player will be the artist herself: she will make it her own and it will give her the winning hand.
Since completion and handing over, Carmen has been constructing and destroying this space and making it her own. Her new studio is, in short, her latest work, her great work.
It is a great satisfaction for us to be swallowed up by this great master of objectual metaphors and we are very fortunate to have become part, as objet trouvé, of her magnificent work.
Thank you, Carmen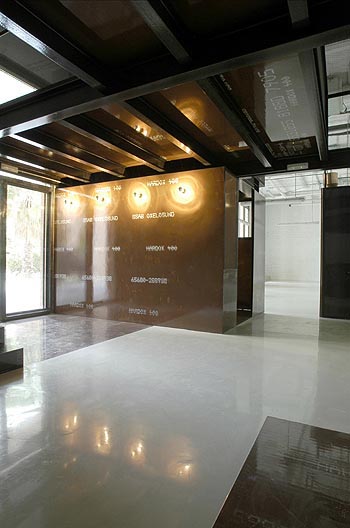 Situación/Location:
Plaza María Beneyto nº12 bajo
Promotor/Developer:
Carmen Calvo Saenz de Tejada
Constructor/Contractor:
UR90
Fotografías/Photographs:
Autores/Authors