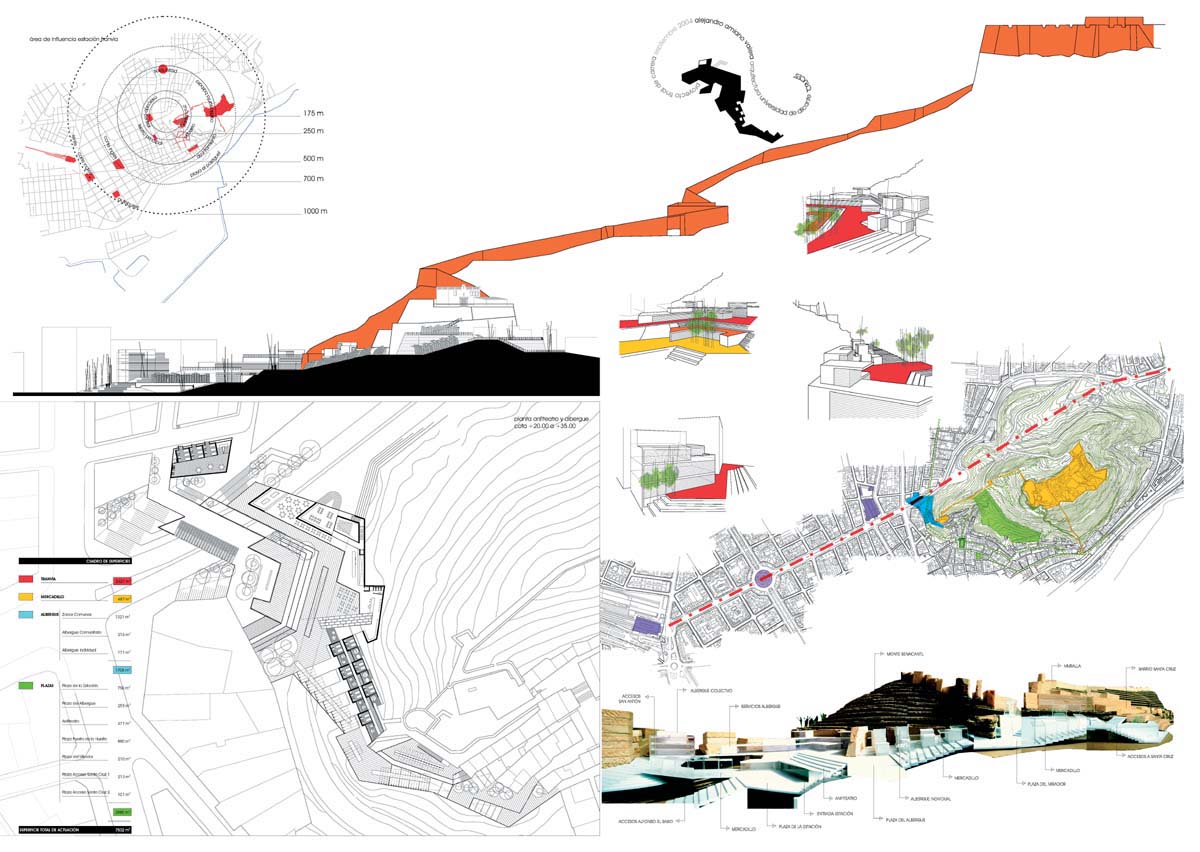 Premio COACV 2003-2004/
2003-2004 COACV Prize
Proyectos Fin de Carrera/
Degree Course Final Projects

Cruces
Crossroads

Autor/Author:
Alejandro Amiano Valera
El trazado de las nuevas líneas del tranvía en la ciudad de Alicante podría ser una oportunidad única de recuperar lugares para el ciudadano. Calles, plazas o parques, que actualmente sobreviven bajo la dictadura de los coches, podrían volver a formar parte de la ciudad y no de una trama exclusivamente viaria. Pero no va a ser así. Un túnel de casi dos kilómetros a veintidós metros bajo tierra es la opción elegida.
Se elige la estación del Mercado Central, con una previsión de 5,5 millones de usuarios al año, y emblema de toda la red. A pesar de estas "infernales" condiciones de partida, el proyecto pretende que una infraestructura de estas dimensiones aporte a la ciudad algo más que unas simples escaleras de acceso situadas en las aceras. La estación debe propiciar la aparición de esos lugares y la generación de nuevos programas vinculados a ella, a sus usuarios y al entorno.
Esta nueva estación se sitúa en un área inacabada de la ciudad, donde los encuentros entre la ladera del monte Benacantil, el Castillo de Santa Bárbara y su muralla, el casco viejo, el barrio de San Antón y la avenida de Alfonso el Sabio, están aún sin resolver.
La estrategia de "colonización" del lugar sigue las mismas pautas que podemos observar en el resto de la ladera del Benacantil. El sistema de "bancales" va configurando una sucesión de explanadas horizontales y taludes en pendiente que permiten establecer las edificaciones y trazar los recorridos de una manera más óptima. Allí donde la pendiente es menor, una vista lo merece o se produce un cruce, las explanadas toman mayor tamaño. La propia edificación configura esta nueva topografía. Una cubierta gruesa protege el interior y permite el uso y el tránsito superior. Finalmente, las fachadas a modo de filtro tamizan la luz y permiten la ventilación del interior.
The routes of Alicante's new tram lines could be a unique opportunity to claim back spaces for the city's inhabitants. Streets, squares or parks that currently survive beneath the tyranny of the car could return to being part of the city, not solely part of a road grid. It was not to be. The option chosen is nearly two kilometres of tunnel twenty-two metres under the ground.
The choice has fallen on Central Market station, the emblem of the entire network, with 5.5 million passengers forecast a year. Despite these 'hellish' preconditions, the project considers that an infrastructure of these dimensions should contribute something more to the city than just some stairs leading down from the pavements. A station should help these places to stand out and generate new programmes linked with itself, its users and its surroundings.
The new station is located in an 'unfinished' area of the city, where the intersections between the slope of Mount Benacantil, Santa Barbara castle and walls, the old quarter, San Antón quarter and Avenida de Alfonso el Sabio are still unresolved.
The strategy of 'colonising' the place follows the same guidelines as may be observed on the rest of the slope of the Benacantil. The 'terrace' system builds up a series of sloping embankments and horizontal esplanades that allow the buildings to be constructed and the itineraries to be laid out in a more favourable way. Where the slope is less steep, a view deserves attention or there is a crossroads, the esplanades are larger. The construction itself shapes the new topography. A thick roof protects the interior and allows use and transit above. Finally, the façades are like filters, diffusing the light and allowing air to enter.