La vivienda objeto de ampliación, obra de Javier García- Solera, se sitúa en una parcela de 10.000m2 de suelo no urbanizable, en la partida de Ronesa, en el término municipal de Tibi, Alicante. De la memoria del proyecto se extraen los planteamientos iniciales, que se han mantenido en la ampliación. "Para asentar la casa sobre la parcela de acusada pendiente, se realizó una pequeña explanación, que permitiera, además de ubicar la edificación, un margen de terreno llano en torno a la misma. Para que no supusiese un excesivo impacto en el paisaje, se realizaron dos operaciones: el empotramiento parcial de los cuerpos construidos en el terreno y el giro de mismos en torno a la loma en la que se asientan. De esta forma la casa se ciñe a la curva de nivel fundiéndose con el terreno. El desarrollo de una sola planta contribuye a esta idea.
The house to be extended, designed by Javier García-Solera, stands in a 10,000 m2 block of non-developable land in the Ronesa area of the municipality of Tibi, in the province of Alicante. The approach described in the original project memorandum has been retained for the extension:
"In order to build the house on the pronounced slope of the plot, a small area was levelled, enough for the house itself and a margin of flat ground around it. So that it would not have an excessive impact on the landscape, two operations were performed: the blocks were partly built into the ground and they were turned to follow the hill on which they sit. In this way the house hugs the gradient and melts into the land. The one-storey layout contributes to this idea.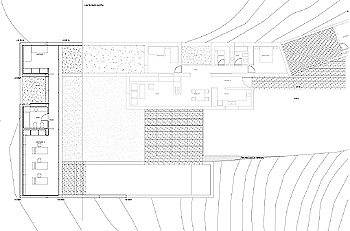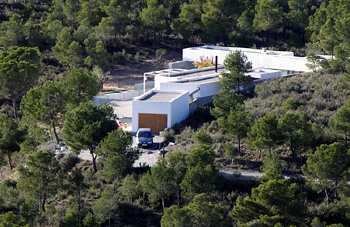 Situación/Location:
Partida de Ronesa s/n, Tibi. Alicante
Promotor/Developer:
Gonzalo Orellana-Pizarro Ruiz de Elvira
Constructor/Contractor:
Juan Eugenio S.L.
Aparejador/Surveyor:
Marcos Gallud García
Estructura/Structural engineer:
Javier Cases Beltrán
Carpintería de madera/Wood joinery:
Hermanos Flores S.L
Fotografías/Photographs:
Autor/Author
Esta manera de situarse en el lugar es la que ha determinado la intervención, planteándose como un volumen más, separado, vinculado al muro de hormigón y generando un patio entre ellas que las relaciona y las distancia.
El nuevo volumen se construye con los mismos acabados, tanto exteriores como interiores. Un patio vinculado al muro, como en la vivienda preexistente, permite ver la continuidad del muro, y se enfrenta a la entrada, prolongando la mirada más allá de los límites de la vivienda. Las visuales son continuas, y cruzadas. Para poder tener un frente continuo, el sistema constructivo no es de muro de carga, como la vivienda existente, se opta por una estructura de mayor luz con una viga invertida que permite tener una gran sala y todo el frente acristalado sin la presencia de pilares. Es lo que evidencia su carácter de ampliación.
En el interior, un núcleo de servicio compuesto por baño y armarios, alrededor del patio, revestido de paneles de DM color natural, como en la vivienda preexistente. Pavimento de madera, carpintería exterior de aluminio color natural y revestimiento exterior, enfoscado y pintado, como la vivienda preexistente.
Tratándose de una parcela sin vallado perimetral, la piscina se plantea como una construcción relacionada más con las albercas o balsas de riego que con las piscinas. El muro de la explanación continúa formando el vaso de hormigón de la piscina. Ni se pinta, ni se alicata, se deja como balsa. Una valla de redondos marca el límite para los niños.
La protección solar se resuelve mediante unas persianas enrollables de bambú para proteger del sol naciente.
Las soleras preexistentes se pavimentan con piedra de bateig color gris, con un despiece 15x 60 cm unificándolas con las plataformas vinculadas a la balsa, de nueva planta.
This way of siting it in the place has been decisive for the extension, which is conceived as another, separate block, related to the concrete wall, with a courtyard between it and the house that both relates and distances them.
The new block has been built with the same finishes, both inside and outside. A courtyard set against the wall, as in the existing house, allows the continuity of the wall to be seen and faces the entrance, extending the view beyond the end of the house. The lines of sight are continuous and crossed. In order to have a continuous front, the building method employed is not load-bearing walls, as in the existing house, but a structure of greater span with an inverted beam that makes it possible to have a big room and the entire front glazed without any pillars. This is what shows that it is an extension.
Inside there is a services core with a bathroom and cupboards around a yard. It is finished in natural-coloured MDF panels, as in the existing house. The flooring is wood, the exterior joinery is natural-coloured aluminium and the exterior surfaces are rendered and painted, as in the existing house.
As the plot is unfenced, the swimming pool is seen as a construction that is more like an irrigation reservoir or pond than like a swimming pool. The wall of the excavation is carried through to form the concrete pool. It is not painted or tiled but left like a reservoir. A fence of round bars marks the edge for the children.
The shading consists of bamboo roller blinds for protection against the rising sun.
The existing ground slabs are paved with grey Bateig stone in a 15 x 60 cm format to unify them with the new platforms around the pool.