Me impresionó, de pequeño, la lectura de un cuento de Pere Calders, en el que un niño intentaba por todos los medios llevar la luna a su casa, tenerla dentro junto a él. Utilizaba espejos colocados en los árboles del jardín para reflejar la luna hasta su dormitorio.
Yo, duermo con ella.
La pequeña dimensión del solar (4.50 x 10.70), su forma, su situación y su óptima orientación condicionaron el desarrollo de esta vivienda, respondiendose a cada uno de estos factores dentro de una dinámica ligera, flexible y de gran uso funcional.
Dimensión: estructura vertical
Las reducidas dimensiones del solar llevaron a un desarrollo en vertical de la vivienda, ubicándose en cada una de las plantas las necesidades que obligaba el programa.
De esta manera la vivienda se desarrolla en cinco plantas, partiendo de la planta sótano, que hace las funciones de contenedor-almacen, planta baja, donde se crea una zona destinada a pequeño despacho profesional, conectado al zaguán de acceso a la vivienda y tres plantas altas que desarrollan el programa funcional-residencial de la vivienda. La primera planta contiene las estancias propias de la zona de día, cocina-comedor-salón-estar. La segunda planta contiene una zona de estudio y zona de descanso, convertible en dormitorio independiente con zona de baño propia. En la tercera planta se ubica el dormitorio principal, con una terraza exterior propia.
La verticalidad de la vivienda, impuso la necesidad de instalar un pequeño ascensor hidráulico en un hueco de 1 x 1 metros con recorrido desde la planta sótano a la planta tercera.
Forma: espacio y volumen
La forma rectangular del solar, con una inclinación de los lados cortos, y la situación de las medianeras y de las fachadas, originó la ubicación de una banda de 1 metro, que contiene las zonas de servicio, baños, cocina, armarios, ascensor, instalaciones, pegada a la medianera de forma que se libera al resto de la vivienda de zonas cerradas, quedando entonces las plantas completamente diáfanas.
La escalera aprovecha el ángulo de las dos medianeras para posicionarse y adoptar la forma y disposición de líneas que tiene el solar.
La diafanidad de las plantas suple la carencia del reducido espacio. La conexión de las dos primeras plantas a través de la doble altura que contiene la estantería y la pasarela de vidrio, confieren a esta zona una mayor sensación espacial y sobre todo volumétrica.
En el dormitorio principal ubicado en la planta tercera, se mantiene estos mismos conceptos, al tiempo que se enfatiza el interior al exterior, con el cilindro de pavés de la zona de baño.
Una caja de madera exenta contiene por un lado el lavabo y por otro apoya la cama, situándose de forma que se crea un doble acceso a toda la zona de baño. Es la propia posición de este conjunto la que articula y privatiza todo este espacio sin necesidad de colocar ninguna puerta. Únicamente los aparatos sanitarios se colocan en un espacio separado del anterior a través de una puerta corredera. En el otro extremo se sitúa la bañera, que aunque se encuentra abierta, se separa visualmente al tener un acceso elevado y diferente pavimento. Todas estas zonas, aunque diferenciadas entre si, están relacionadas espacialmente y poseen gran iluminación natural, a través del pavés de la pared de la bañera y de la separación del techo de la caja de madera que contiene el lavabo.
Situación y orientación: luz
La situación del solar, formando esquina con dos calles en ángulo abierto, permite tener una visión de la vivienda tanto desde el interior hacia el exterior como al revés, de forma que no la obstruyen visualmente el resto de edificios.
Asimismo la orientación solar es la óptima, ya que la fachada de la vivienda se sitúa en el recorrido solar, lo que le permite un alto grado de confort en invierno, a través de las amplias superficies acristaladas que se abren en cada una de las plantas y de la gran cristalera del salón, que permite observar desde el exterior la gran estantería interior.
Para controlar la radiación solar se han colocado cristales especiales que reflejan la radiación reduciendo el aporte del calor solar. Asimismo los elementos pasivos como estores y telones y las corrientes de aire cruzadas al abrir distintas ventanas, crean confort en verano.
La casa se abre al exterior, aunque coquetamente quiere ocultar su interior a través de leves transparencias, reservándose para su intimidad la visión más idílica del espacio, y juega a ver las estrellas sin ser vista, a través de la cubierta.
Las transparencias, el juego de luces y sombras, los reflejos al exterior del interior, el color y la luz confieren a esta vivienda dos imágenes globales muy distintas, las visión diurna, y la visión nocturna.
When I was little I loved a story by Pere Calders in which a boy tried every way he could think of to get the moon into his home and have her by him indoors. He hung mirrors in the trees in the garden to reflect the moon into his bedroom.
Me, I sleep with her.
The small size of the plot (4.5 x 10.7), its shape, position and optimum orientation influenced the development of this house. Each of these factors was addressed within light, flexible dynamics with a high degree of functional use.
Dimensions: vertical structure
The limited dimensions of the plot led to a vertical development of the dwelling, placing the requirements of the programme on each of the storeys. The house therefore covers five floors: the basement, which functions as a container-storeroom, the ground floor, where an area is created to serve as a small professional office, connected to the entrance hall of the house and three upper storeys that contain the functional-residential part of the brief. The first floor holds the day area rooms: kitchen - dining room - sitting room. The second floor contains a study area and a rest area, which can be converted into a separate bedroom with its own bathroom area. The main bedroom is on the third floor, with its own external terrace. The verticality of the building made it necessary to install a small hydraulic lift in a 1 x 1 metre opening, running from the basement to the third floor.
Form: space and volume
The rectangular shape of the plot, with a slope on the shorter sides, and the location of the party walls and the façades, are the reason for the position of the 1 metre wide strip that contains the service areas, bathrooms, kitchen, cupboards, lift, installations. It backs onto the party wall, leaving the rest of the house free of closed areas, so that all the floors are completely open spaces.
The staircase uses the angle of the two party walls and adopts the form and arrangement of the lines of the plot.
The openness of the floors makes up for the lack of space. The connection between the two first storeys through the double height that contains the shelving and the glazed walkway gives this area a greater sense of space and, above all, volume.
The same concepts are maintained in the main bedroom on the third floor. At the same time, the interior is emphasised to the exterior by the glass block cylinder of the bathroom area.
A free-standing wooden box contains the basin on one side and supports the bed on the other. It is placed in such a way that it creates a double access to the entire bathroom area. It is the position of this group which articulates and privatises all this space without the need to introduce any doors. Only the sanitary elements are placed in a space which is divided off from the rest by a sliding door. The bath is placed at the other end. Although it is open, it is visually separated by its raised access and different paving. All these areas, although differentiated from each other, are spatially related and have great natural illumination through the glass block wall of the bath and the gap between the ceiling and the wooden box that contains the basin.
Position, Orientation: light
The position of the plot, an open angle on the corner of two streets, allows a view of the house both from the interior towards the exterior and vice versa, in such a way that it is not visually obstructed by the other buildings.
The orientation in relation to the sun is also excellent, as the façade of the building lies on the sun's path. This makes for a high degree of comfort in winter thanks to the extensive glazed surfaces of the openings on each floor and the large French windows of the sitting room, which enable the great interior bookcase to be seen from the exterior.
For solar radiation control, special glazing that reflects the radiation and so reduces the solar heat gain has been used. Passive elements such as blinds and curtains and the cross-currents of air produced by opening the different windows also create comfort in summer.
The house opens to the exterior although flirtatiously it hides its interior with flimsy veils. It reserves the most idyllic view of space for its private enjoyment, playing at seeing the stars without being seen, through the roof.
Transparencies, the play of light and shadow, the reflections of the interior on the exterior, the colour and the light give this house two very different overall images: the view by day and the view by night.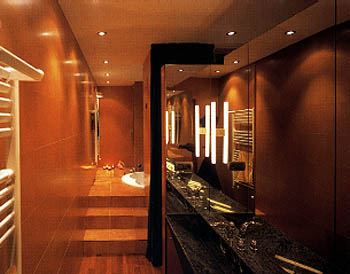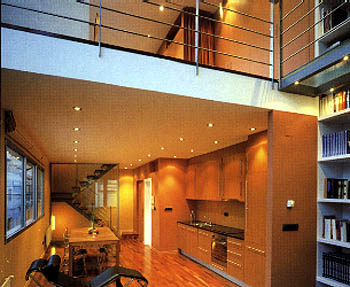 Arquitecto técnico / Quantity Surveyor
Francisco Brau Piñana

Empresa constructora / Contractor:
Construcciones Aiburc S.L.

Promotor / Developer:
Antonio Jaime Ibañez Masip

Superficie del solar / Surface area of plot:
48 m2

Superficie construida / Total floor area:
237 m2

Proyecto. Ejecución / Project. Work:
Enero 1999. Octubre 1999 / January 1999. October 1999

Fotografo / Photographer:
Joan Roig