L'Umbracle. Un balcón para el futuro
L' Umbracle es una original aportación arquitectónica de Santiago Calatrava al conjunto de la Ciudad de las Artes y las Ciencias.
Este elemento integrador, compuesto por un jardín y un paseo mirador, concebido como un "balcón hacia el futuro", invita a contemplar desde lo alto este espectacular conjunto arquitectónico construido en el antiguo cauce del río Turia, siete metros por debajo del nivel del tejido urbano de la ciudad.
Se convierte así en un espacio donde la mirada encuentra en el horizonte el presente y futuro de la Ciencia y la Tecnología, un desarrollo imparable e increíblemente cercano en todos los rincones de la Ciudad de las Artes y las Ciencias.
L´Umbracle asombra por su singular diseño. Calatrava lo ha proyectado primordialmente en hormigón blanco, como el resto del conjunto, con un fuerte componente de marquesinas metálicas en sus espacios exteriores y largos recorridos peatonales de adoquín de granito.
La estructura se asemeja a una celosía, con sucesión de 55 arcos fijos y 54 flotantes, metálicos. Es una actualización de la tipología novecentista de "Winter Garden".
Tiene una longitud de 320 metros en dirección Este-Oeste, anchura máxima de 32,80 metros en dirección Norte-Sur, y altura máxima, desde el pie de los arcos fijos, hasta la clave de los flotantes, de 18 metros. Sobre los arcos se colocarán plantas enredaderas que proporcionará sombra a lo largo de todo el paseo ajardinado Se ha escogido la Madreselva por ser la especie más vigorosa y resistente a los factores climatológicos y las Buganvillas por su carácter ornamental.
En contraste con el hormigón, el paseo cubre su pavimento con madera de Teka, una madera de origen tropical adecuada para su instalación en espacios exteriores, ya que soporta las agresiones del viento y la lluvia con un desgaste mínimo. La cubierta permite la plantación de árboles de gran porte y está prevista para soportar una altura de tierras de 1,25 metros.
Se han plantado 50 especies florales autóctonas de la Comunidad Valenciana y, además de la adaptación climatológica de cada una, se ha tenido en cuenta la armonía del color y las formas, especialmente en su distribución. Es un jardín "construido" en el que no hay elementos improvisados o escogidos al azar. En el plazo de 2 ó 3 años se habrá alcanzado el ciclo completo de crecimiento.
El jardín esta rodeado de 99 palmeras, 78 palmeras pequeñas, 62 naranjos amargos, 42 variedades de arbustos de la Comunidad Valenciana, como Jaras, Lentiscos, Budleias, Plumeros o Plumbagos; 16 plantas de Don Juan de Noche; 450 plantas Trepadoras, entre Madreselvas y Buganvillas colgantes; 5.500 plantas tapizantes como Lotus, Agateas, Lantanas y Aptemias, y un centenar de plantas aromáticas como Romero y Lavanda. Pero la flor que predomina en el conjunto es la buganvilla, por ser una especie resistente y de bella ornamentación. Por tanto, en l´Umbracle pueden admirarse todas las variedades de gamas: rojas, amarillas, naranja, violeta y blanca.
Bajo su cubierta ajardinada se encuentra el aparcamiento de coches y autobuses. Este espacio se localiza en la zona sur del complejo y puede llegar albergar en su interior 736 turismos, entre sus dos plantas, 22 autobuses y de 6 a 8 microbuses.
Además de las escaleras para acceder al jardín elevado desde la acera de la autovía también se ha previsto unas rampas peatonales en los extremos del paseo, que permiten salvar la diferencia de rasante con la vía pública.
El acceso de vehículos se produce por sendas rampas de entrada y salida a la autovía, dispuestas en la fachada sur. Los autobuses disponen de acceso independiente mediante rampas ubicadas en los extremos del edificio.
L´Umbracle permite al público disfrutar de una auténtica galería de arte al aire libre. Entre sus jardines, alberga seis esculturas de reconocidos autores contemporáneos. "Paisatge", de Francés Abad, "Motoret", de Miguel Navarro, "Sin Título", de Joan Cardells, "Cristalización de la Sequía" de Nacho Criado, "Acceso", de Ramón de Soto, y "Exit" de Yoko Ono.
El complejo culmina la impresionante transformación que ha experimentado el antiguo cauce del río Turia, convertido hoy en recinto ajardinado.
L'Umbracle. A balcony on the future

L'Umbracle is an original contribution by Santiago Calatrava to the architecture of the City of Arts and Sciences complex.

This integrating element, which comprises a garden and a panoramic promenade, is conceived as a 'balcony on the future' with an inviting view from on high of the spectacular architectural complex built in the old bed of the River Turia, seven metres below the urban fabric of the city.

Consequently, it becomes a space where the eye encounters the present and the future of Science and Technology on the horizon. Their development is unstoppable and incredibly close to hand in every corner of the City of Arts and Sciences.

L'Umbracle is a strikingly unique design. The principal material is white concrete, as in the rest of the complex, but Calatrava has made great use of metal canopies on the exterior and long pedestrian promenades are paved with granite cobbles.

The structure of L'Umbracle, with a succession of 55 fixed arches and 54 flying arches, all metal, resembles a trellis. It is an up-dating of the nineteen-hundreds 'Winter Garden'.

The length is 320 metres east-west and the maximum width is 32.8 metres north-south. The maximum height from the foot of the fixed arches to the tip of the flying ones is 18 metres. Creepers will cover the arches and give shade all along the garden walk. Honeysuckle has been chosen as the most vigorous and hardy species and Bougainvillia for its ornamental properties.

Contrasting with the concrete, the paths are made of teak, a tropical hardwood that is suitable for exterior use because it stands up to the wind and the rain with few signs of wear. The roof garden is designed to support a 1.25 metre covering of earth and be planted with large trees.

50 species of flowers, native to the Valencian Community, have been planted. As well as their acclimatisation, harmony of colour and forms were taken into account in each case, particularly as regards their distribution. This is a 'built' garden where none of the elements are improvised or chosen at random. They will have reached their full growth in 2 or 3 years' time.

The garden is lined with 99 palm trees, 78 small palms, 62 bitter orange trees, 42 indigenous shrubs such as cistus, Buddleias, pampas grass and Plumbagos; 16 marvel of Peru plants; 450 climbing plants (honeysuckles and trailing Bougainvillias); 5500 ground cover plants such as Lotus, Agatheas, Lantanas and Aptemias, and a hundred or so herbs such as rosemary and lavender. However, the flower that predominates overall is Bougainvillia as it is a highly resistant and very ornamental species. All the varieties of its colour range can therefore be admired in L'Umbracle: red, yellow, orange, violet and white.

The car and bus park under the roof garden. It is located in the southern zone of the complex and can hold 736 cars on two floors, 22 buses and 6 to 8 small buses.

As well as the stairs that lead from the pavement of the dual carriageway to the raised garden, pedestrian ramps at each end of the promenade also cover the change in level between the promenade and the road.

Vehicle entrance and exit ramps on the southern façade of the car park provide access from the dual carriageway. Buses have separate access via ramps at either end of the building.

L'Umbracle enables the public to enjoy an open air art gallery as six sculptures by well known contemporary artists are placed along it: Paisatge [Landscape] by Francés Abad, Motoret [Little Motor] by Miquel Navarro, Sin título [Untitled] by Joan Cardells, Cristalización de la Sequía [Crystallization of Drought] by Nacho Criado, Acceso [Access] by Ramón de Soto and Ex-it by Yoko Ono.

The complex culminates the impressive transformation of the old bed of the River Turia into a series of gardens.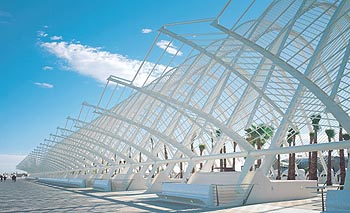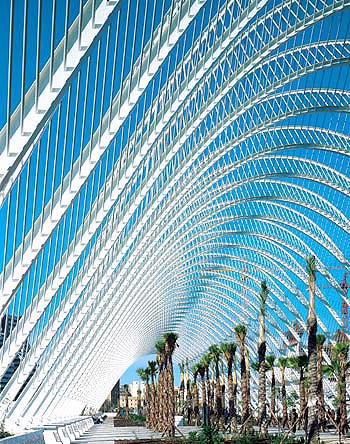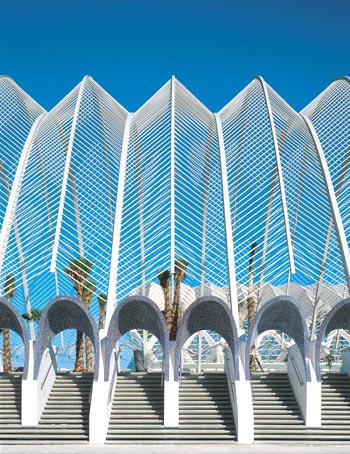 Promotor/Client:
Generalitat Valenciana/Valencian Regional Government
Gestión de Proyecto y Obra/Project and Construction Management:
C.A.C.,S.A.
Asistencia Técnica/Technical Assistance:
Universidad Politécnica de Valencia/Polytechnic University of Valencia
Empresa constructora/Contractor:
UTE APARCAMIENTO, OCP (Ahora ACS/Now ACS)- Deogracias Candel
Tarima/Wooden paths:
TECNIPARK
Fotografías/Photographs:
Roland Halbe
Javier Yaya (CACSA)