La casa, vivienda unifamiliar de verano y fines de semana para una familia numerosa, se sitúa en la parte más alta de una nueva urbanización de la costa de Benicàsim a Oropesa, con magnificas vistas sobre el mar y la montaña, y una orientación Sur-Oeste, desfavorable en verano, que ha jugado un gran protagonismo en la implantación del edificio en la parcela. Ésta, con una superficie importante de 2.325 m2 tiene un perímetro caprichoso generado por el vial de coronamiento de la montaña y una importante rotonda-plaza, que se ha utilizado para configurar los accesos peatonal y de automóviles.

El proyecto ordena todos los espacios exteriores de la parcela, organizando una gran playa de aparcamiento abierto, un generosos porche-atrio de entrada y amplias terrazas situadas entre la vivienda y la piscina, funcionando

ésta como horizonte sobre el mar. También se diseñó un espacio exterior barbacoa-comedor como pabellón cubierto e independiente El programa de la vivienda requería su desarrollo prácticamente en una sola planta, existiendo en planta piso únicamente una sala-estudio abuhardillada que de un lado creaba un rico espacio interior a doble altura sobre el estar-comedor y de otro ayuda a configurar la volumetría exterior, articulándose respecto a los volúmenes en que se fragmenta la planta principal. Ésta dispone de un amplio programa compuesto de estar, comedor, y cocina-office, zona de invitados y cuarto de plancha –lavandería– instalaciones y ala destinada a dormitorios y baños de los hijos y en el extremo Sur la suite para el matrimonio, con vestidor y baño.

La planta, debido a su posición respecto de las privilegiadas vistas, y atendiendo a su orientación, parte del análisis de los esquemas funcionales de las primeras casa unifamiliares de Coderch, intentando resolver con espacialidad y elegancia los espacios de articulación y de transición entre las zonas de día y de noche, así como de acceso a las terrazas principales.

Los materiales utilizados, piedra ámbar, ladrillo manual, estuco a la cal y hormigón visto, utilizados tanto en interior como exterior, clarifican formalmente la zonificación de espacios y ambientes,

poniendo el énfasis en las superficies y planos tanto verticales como horizontales (porches) más que en las masas, lo que intensifica la relación interior/exterior, constante referencia en la arquitectura mediterránea.
The house, a holiday and weekend home for a large family, is located at the highest point of a new development on the coast between Benicasim and Oropesa. It has magnificent views over the hills and the sea and faces south-west, which is unfortunate in summer and played a large part in the siting of the house in the plot. This is large, with a the surface area of 2,325 m2, and has an irregular outline due to the road at the top of the hill and a major roundabout/square which has been used to position the pedestrian and vehicle entrances.

The project organises all the exterior spaces of the plot, laying out a large open car park, a generous entrance porch/atrium and wide terraces between the house and the swimming pool, which acts as a horizon against the sea. An exterior barbecue/dining space was also designed as an independent covered pavilion. The brief for the house required it to be laid out almost entirely on a single floor. The upper storey only contains an attic sitting room/study. It creates a rich double height space over the living/dining room on one side and helps to shape the exterior volume on the other, as it is articulated in relation to the volumes into which the main floor is fragmented. This has a major brief composed of sitting room, dining room and kitchen/breakfast room, guest area and laundry/ironing/utilities room and a wing with the children's bedrooms and bathrooms. The master bedroom suite, complete with bathroom and dressing room, is at the south end. Owing to the position of the house in relation to the exceptional views and the direction in which it faces, the starting point for the floor plan is an analysis of the functional schemes of Coderch's first family homes. It attempts to work out the spaces of articulation and transition between day and night areas, as well as those that give access to the main terraces, in a spacious and elegant manner.

The materials, amber stone, handmade brick, lime stucco and exposed concrete, are used both inside and outside, formally clarify the zoning of spaces and settings, emphasising the surfaces and planes, both vertical and horizontal (porches) rather than the masses. This intensifies the interior/exterior relationship which is a constant in Mediterranean architecture.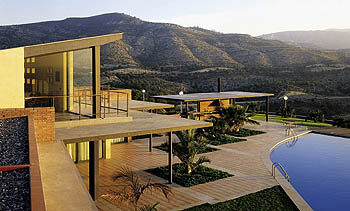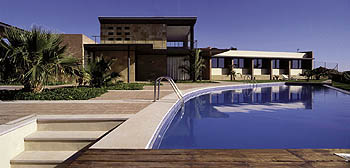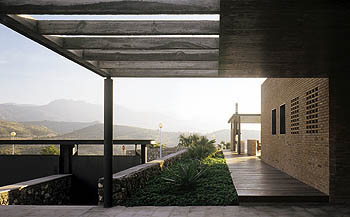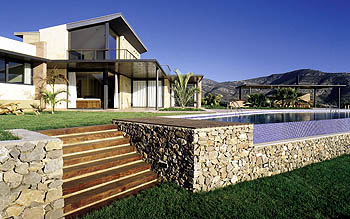 Promotor/Developer:
Costa Bellver, S.A

Aparejador/Quality Surveyor:
Felipe Garcia Amat

Contratista/Contractor:
Construcciones Castaño

Empresas Colaboradoras/Other Contractors:
Talleres Moreno Delgado y Asociados,
Pintores, SL
Rodriguez Y Oliva Instalaciones

Superficie Parcela/Site area:
2325 M2

Fecha Proyecto/Project date:
Enero 1998/Jamiaru 1998

Fecha final de obra/Completion date:

29 Septiembre 1999/29th September 1999

Fotógrafo/Photographer:
Lluis Casals