La vivienda se ubica en una parcela individual en esquina en la Urbanización La Coma, perteneciente al municipio de Borriol (Castellón).

Sobre un amplio terreno, apenas modificado y con una importante pendiente, el edificio se implanta en la parte alta, garantizando las mejores vistas sobre el valle. Esta ubicación responde tanto a los condicionantes existentes en la parcela (espacio libre, orientación, orografía, acceso, limites de propiedad, lindes,…) como a las preferencias manifestadas por la propiedad de orientar la vivienda en dirección SO manteniendo una relación lo más intensa posible con el futuro jardín.

Se proyecta una edificación compacta, de volumetría sencilla, pero sensible a la topografía de la parcela, con materiales y métodos capaces de reaccionar positivamente frente al paisaje y frente a un clima especialmente severo en verano. Una estructura metálica revestida de piedra azul conforma el volumen proyectado, resolviendo los huecos con una carpintería de Aluminio natural. La transición entre el cerramiento de piedra y el talud del terreno se resuelve con un murete de hormigón coloreado, apoyo del forjado sanitario. A excepción de una tarima de madera en el nivel superior, el resto de pavimentos se realizan con la misma piedra de la fachada, aunque con diversas texturas superficiales.

El programa principal se soluciona en dos niveles. En planta baja se ubican las zonas más públicas: estar-comedor (doble altura), cocina, habitaciones de invitados y cuarto de baño, destinándose el nivel superior a las estancias más privadas: biblioteca, habitación principal, cuarto de baño, cuarto de aseo y solarium. La comunicación vertical se resuelve con una escalera longitudinal de un sólo tramo.

Se producen dos sistemas de acceso a la vivienda diferentes: uno por el frente de parcela (SO), más público, generado por el deslizamiento de los paneles de vidrio que otorgan vistas al salón-comedor, y otro por el frente posterior, a través del patio de servicios antes comentado.

Una pieza menor alberga el programa anexo de servicios: almacén, lavadero, tendedero y cuarto de instalaciones. Entre las dos construcciones se genera un espacio, muy protegido y fresco en verano, a través del cual se accede a la vivienda por su acceso posterior.

Se ha tenido en especial consideración la orientación a la hora de decidir la iluminación y ventilación natural de la vivienda. La introducción de un patio de dos plantas en la vertiente NE permite iluminar y ventilar correctamente todas las piezas de servicio (a excepción de la sala principal de baño, abierta al paisaje) a la vez que proporciona la necesaria intimidad que estas estancias precisan. Para controlar el soleamiento del acristalamiento SO del nivel inferior, se ha dispuesto una marquesina ligeramente desplazada del volumen edificado, a fin de corregir adecuadamente el último sol de verano (una hilera de árboles de hoja caduca completan la protección en época estival). Un brise-soleil de lamas verticales controlará el único hueco practicado en la fachada NO. El solarium del nivel superior se protege cenitalmente con un sistema de lamas, y opcionalmente con un panel deslizante - también de lamas - en el frente de parcela.
The house is located on an individual corner site in the La Coma development in the municipality of Borriol (province of Castellón).

The building was sited in the upper part of the large, steeply sloping, barely touched plot in order to give the best views over the valley. This siting was due both to the limitations of the plot (free space, direction, ground relief, access, edges, boundaries, etc.) and to the owner's preference for facing SW and for as intense as possible a relation with the future garden.

A compact building composed of simple volumes but sensitive to the topography of the plot was designed with materials and methods that would react positively with the landscape and the particularly harsh summer climate. A metal structure clad in blue stone forms the body of the house and the openings are framed with natural aluminium joinery. The transition from the stone cladding to the sloping ground is solved by a levelling wall of coloured concrete which supports the kitchen and bathroom floor structure. Apart from the wooden floorboards on the upper storey, the floor linings are of the same stone as the façade, although with different surface textures.

The main part of the brief is distributed on two storeys. The ground floor holds the more public areas: sitting-dining room (double height), kitchen, guest rooms and bathroom, while the more private rooms are placed on the upper storey: library, main bedroom, bathroom, lavatory and solarium. The two storeys are joined by a longitudinal single-flight staircase.

A smaller volume holds the service annex brief: store room, laundry room, clothes lines and service installations. The space between the two volumes is very cool and shady in summer and leads to the back entrance to the house.

The house has two different entrances. One, more public, is at the front of the site (SW), through the sliding glass panes that give the sitting-dining room its views, while the other is at the rear, reached through the service courtyard.

The direction in which the house faces was kept very much in mind when deciding the natural illumination and ventilation. The insertion of a two-storey-high courtyard on the NE side enables all the service rooms to be well lit and ventilated (except the main bathroom, which looks out over the landscape) and also provides the privacy that these rooms require. In order to diffuse the sunlight on the glazing on the SW facing lower storey, a canopy has been placed slightly off-centre in relation to the building. This provides a good screen against the strong late afternoon sun (a row of deciduous trees completes the protection in summer). A brise-soleil of vertical slats filters the light entering the only opening in the NW façade. The solarium on the upper storey is protected by an overhead system of slats and an optional sliding panel, also of slats, on the garden side.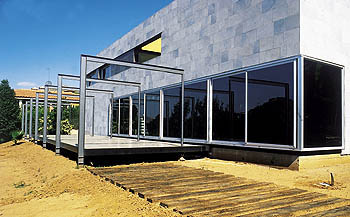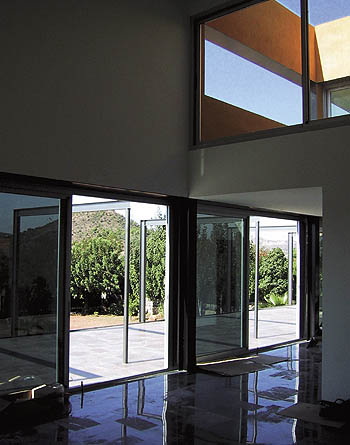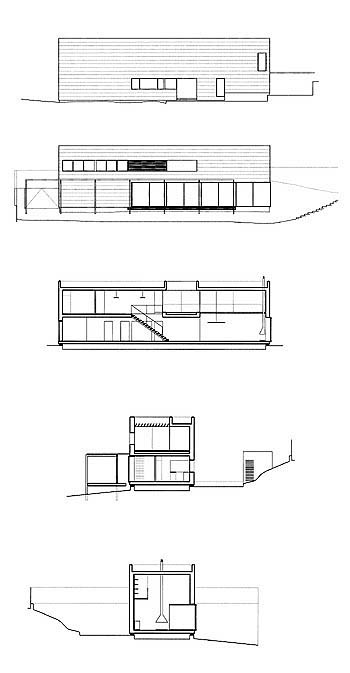 Alzado NE/NE Elevation
Alzado SO/SW Elevation
Sección longitudinal/Longitudinal section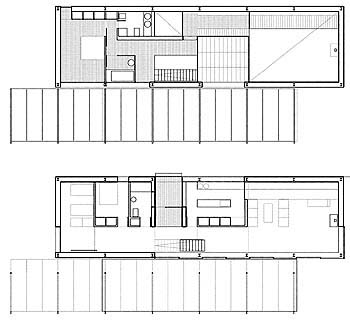 Sección transversal/Cross section
Constructora/Contractor:
ALVABERCONS, S.L.

Carpintería exterior/Exterior Joinery:
ALPERCRIS, S.L.

Fecha inicio obras/Work started:
15.11.1999

Fecha finalización obras/Work completed:
20.07.2001

Fotografías/Photographs:
Juan Deltell Pastor

Fotografías interior/Photographs of interior:
Juan Marco Marco