Un espacio de doble altura que acoge una pequeña zona de estudio, iluminado por un ventanal alto recercado que se abre al monte Montgó, articula la zona de estar en planta baja y dormitorios en la superior, dentro del volumen prismático de planta cuadrangular.

Un volumen curvo de una planta que se cierra a Poniente para proteger los pequeños espacios del jardín y abrir a él el dormitorio principal.

Orientación de los elementos que propician zonas para diversas estancias según la estación del año.

Muros horadados que extienden los ejes ordenadores de los espacios interiores a puntos concretos del exterior: un estanque, un árbol, la montaña, el mar.

Muros blancos que determinan espacios interiores elementales con un mármol cálido y desigual que delimita los planos horizontales.
The living area on the ground floor and the bedrooms on the first floor of the prism-shaped volume with its square floor plan hinge on a double height space that holds a small study area, lit by a high, outlined window with a view of mount Montgó.

A curved, single storey volume closes the west side, sheltering the small spaces of the garden and opening the master bedroom onto it.

Elements are oriented in order to provide different areas for different times of the year.

The pierced walls extend the axes that organise the interior spaces to specific points of the exterior: a pond, a tree, the mountain, the sea.

White walls determine elementary interior spaces and a warm marble in varying tones delimits the horizontal planes.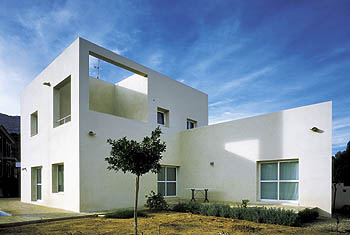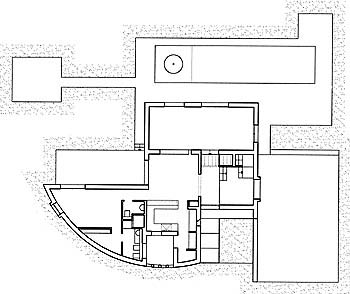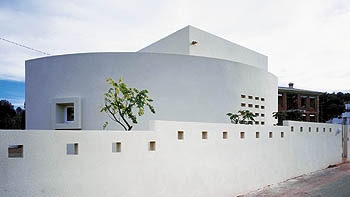 Situación/Location:
Denia, Alicante.
Aparejador/Quantity Surveyor:
Alfredo Paredes Agulló
Colaboracores/Assistants:
Francisco Fort Cubero, architect
Marc Potard
Alfonso Braulio Escribá
Taiki Nasu
Enrique Argente Solis
Constructor/Contractor:
Construcciones Gasquet. Denia
Fotógrafo/Photographs:
Joan Roig