La vivienda se sitúa en la urbanización Altea Hills de Altea. La parcela tiene forma irregular, fuerte pendiente y orientación al sur, coincidente con la vista a la Bahía de Altea. La edificación concentra los elementos inherentes a una vivienda, como son piscinas, zonas exteriores, etc, dejando el resto de la parcela en su paisaje natural.

La vivienda se plantea como una alternativa más sugerente a las parcelas con fuerte pendiente, se, trata de integrar la vivienda en la ladera con superposición de superficies planas (Alzados Laterales), forzando en la fachada principal la formación de voladizos que crean zonas de sombra, acentúan la linealidad de la edificación y ligereza en el apoyo sobre el terreno, en contraposición con lo usual en parcelas de similares características, que resuelven la situación acumulando plantas de obra muerta.

La edificación proyectada se desarrolla linealmente y perpendicular a la pendiente, lo que permite buenas vistas a todas las dependencias.

El acceso se realiza a la planta alta desde la calle posterior, y en ella se sitúan el garaje y el vestíbulo abierto al mar, que mediante escalera une todas las plantas.

En la planta baja se desarrolla todo el programa de la vivienda, incluso terrazas y piscina desbordante.

La planta semisótano se destina a habitaciones de invitados, almacén e instalaciones.
The house is in the Altea Hills development of Altea. The plot is an irregular shape on a steep slope and faces south, with a view over the Bay of Altea. The elements that are inherent to the house such as swimming pools, external areas etc. are concentrated around the building, leaving the rest of the plot in its natural state.

The house is intended as a more inviting alternative for steeply sloping plots. It is integrated into the slope by superimposing flat surfaces (lateral elevations) and forcing the main façade into projections that create areas of shade and accentuate the linearity of the building and the lightness of its contact with the ground, unlike the floor on floor of dead masonry that is usual on similar plots.

The building is designed lineally, perpendicular to the slope, giving all the rooms a good view.

The entrance leads from the street behind the house to the top floor, which has a garage and a hall overlooking the sea. From here, a staircase connects all the floors.

The ground floor holds the entire dwelling brief, including terraces and an overflowing swimming pool.

The guest rooms, storage and service installations are in the semi-basement.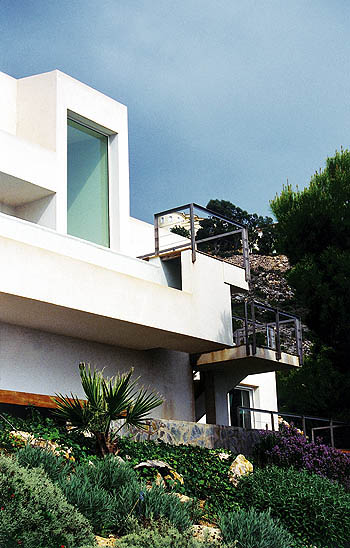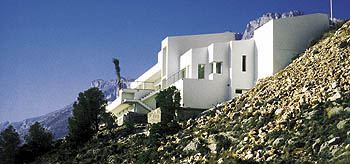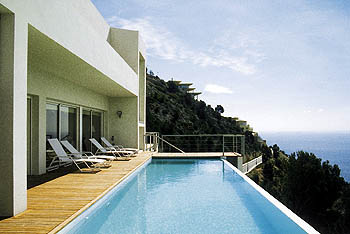 Situación/Location:
Urbanización Altea Hills. Altea, Alicante

Interiorista/Interior Design: Vittorio Simoni

Arquitecto Técnico/Quality Surveyor:
Vicente Guijarro

Comienzo de obra/Building started:
1997

Final de obra/Completion: 1999

Fotografías/Photograhs: Vittorio Simoni