no hay ciudad sin plaza. no hay ciudad sin calle.
La propuesta dit.s para el concurso de la ciutat de la pilota se vertebra a través de un espacio público elevado sobre el paisaje y una calle interior del edificio (también pista de juego) que se asienta sobre la cresta del terreno.
Abrirse a la orientación y a las vistas sobre l'Horta Nord, el mar y la intuida presencia de la ciudad de valencia, otorgar un carácter institucional, liberar el parking de la servidumbre estructural, eliminando las grandes playas de aparcamiento, y ofrecer un vacío compartido con el colegio y el polideportivo, son retos a los que permite aproximarse el proyecto.
Un lugar mas que un edificio. Un espacio social que mantiene la presencia en el juego del bar y que permite desarrollar la casi totalidad del programa con naturalidad y en una planta. El resultado es una miniciudad donde conviven los distintos deportes de pelota.
Una respuesta basada en un reto sensible y paisajístico, en un reto constructivo y en un reto funcional que desde una arquitectura permeble y arraigada en la cultura mediterránea del espacio público, el cuidado por la proporción del espacio y de la luz, y la introducción de la naturaleza en la arquitectura, propone un lugar que promocione la pilota valenciana.
no city is without a square. No city is without a street.
dit's proposal for the Ciutat de la Pilota competition is based on a public space raise above the landscape and a street inside the building (which is also a court) set on the crest of the plot.
Open up the side with views over the countryside, the sea and the intuited presence of the city of Valencia, give an institutional character, free the parking from being a structural burden by eliminating the vast parking lots, offer an empty space shared with teh school and teh sports centre: the project enables these challenges to be tackled.
A place rather than a building. A social space that keeps the bar in the game and allows almost all the brief to be distributed in a natural way on a single store, the result is a mini-city where the different pelota games live side by side.
The response is based on a landscape and sensitivity challenge, on a building challenge and a functional challenge. Trough a permeable architecturre rooted in the mediterranean culture of public space, attention to the proportions of the space and the light and bringing nature into the architecture, it proposes a place that will promote pilota valenciana.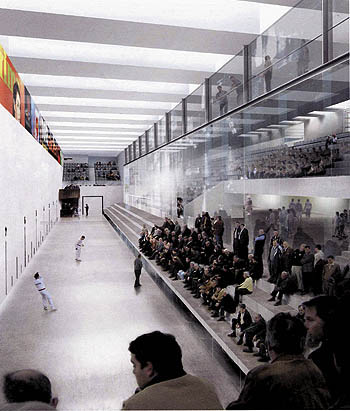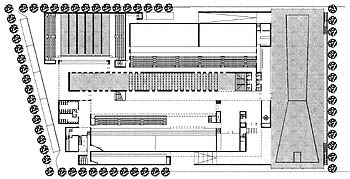 Colaborador/Collaborators:
Alberto peñín Ibáñez
Pablo Peñín Llobell
Asesores/Consultants:
Pondio Ingenieros
Higini Arau Estudi Acústic
Miguel Angel Picornell-Canal 9
Talleres Inox
VALNU Ingeniería instalaciones