Frente a la Albereda y rodeado de parque, surgirá el volumen del Teatro-Auditorio, tal como nacieron los teatros clásicos, adaptando el graderío a los desniveles del terreno.
Un volumen limpio, desnudo, destacará entre la vegetación y potenciará la dignidad de la Albereda. Por la noche, la iluminación interior de sus vestíbulos y entreplantas tamizadas por lamas, servirá de punto de atracción a los habitantes de Xátiva. Muchas horas antes de comenzar el espectáculo el público se apropiará del Teatro, bien comprando libros, paseando por los vestíbulos mientras contemplan las exposiciones, comiendo o cenando en la terraza del Bar donde, antes o después de la representación principal, es posible presenciar una pequeña actuación o, en las épocas de buen tiempo, subiendo al mirador para, desde allí, contemplar en las noches estrelladas, las más bellas vistas de Xátiva y su perfil montañoso.

Versatilidad y posibilidades técnicas
Un edificio que albergará todo tipo de posibilidades escénicas y actividades diversas: teatro, música, ópera, danza, proyecciones, congresos... Acústicamente, el Teatro-Auditorio que se propone responde a las proporciones rectangulares consideradas como idóneas.
Tres galerías técnicas atraviesan la Sala para manipulación de focos; desde la última galería se podrá descolgar un elemento divisorio para reducir el aforo.
Se calculan alrededor de 800 butacas para el aforo total, en caso de conciertos, quedando unas 600 butacas en el supuesto de que se reduzca el aforo para el uso como teatro, mediante dicho elemento divisorio, anteriormente mencionado.
La concepción del Teatro es a la italiana, proyectándose un foso de orquesta, que podrá ser utilizado alternativamente para orquesta o ampliación del aforo.
La singularidad de la Sala consiste en ser un conjunto único, de manera que se pueda llegar, desde cualquier acceso, a cualquier localidad. El graderío tiene dos niveles claramente diferenciados, con distintas pendientes para conseguir una buena visualización, que se unen mediante una escalera interior. De esta forma, la evacuación de la Sala se realiza con gran facilidad, ya que existen salidas a cualquiera de los niveles y se podrá acceder desde cualquier asiento a cualquier salida.

Ordenación de la parcela
Se mantienen dos calles laterales que continúan la alineación del tejido viario de la zona; la situada junto al Parque de la Pau mantendrá sus niveles y servirá de unión, con las distintas plataformas ajardinadas de accesos a la terraza del Bar, a la futura sede de las Sociedades Filarmónicas y al propio Teatro y zona de exposiciones al aire libre. Y la que está junto al Instituto de F.P. "La Costera", servirá de entrada a vehículos al Aparcamiento público, conservando todos los accesos y servicios actuales; Igualmente será la vía de evacuación del Teatro, a distintos niveles.

El Teatro queda adosado a la calle situada al este de la parcela para dejar, a distintas cotas, terrazas, jardines y espacios libres que sirvan de prolongación y acceso al Bar, a la entrada posterior de las oficinas del Teatro y a la sede de las Sociedades Musicales. El resto de las escaleras y escalinatas se desarrollan con suavidad natural, permitiendo pasear y recorrer la parcela, ofreciendo vistas del perfil del casco antiguo, la ciudadela y las montañas que rodean a esta bella ciudad.
Facing the Albereda boulevard, surrounded by a park, the Theatre-Auditorium will rise in the same manner as the theatres of classical times, with its seating following the slope of the ground.
A clean, bare block will stand out among the vegetation and enhance the dignity of the Albereda. At night, the light from its foyers and mezzanines, filtered by slats, will serve as a focal point for Xativa's inhabitants. The public will begin to fill the theatre many hours before the show starts, buying books, wandering around the exhibitions in the foyers, lunching or dining on the terrace of the bar, where small shows will be put on before or after the main performance, or, when the weather is good, going up to the balcony to see the best views of Xativa and the silhouette of its hills under the starry sky.

Versatility and technical possibilities
The building can accommodate all kinds of stage performances and other activities: theatre, music, opera, dance, films, slide shows, conferences, etc. Acoustically, the proposed theatre/concert hall has the rectangular proportions that are considered ideal.
Three lighting galleries cross the auditorium; a dividing curtain can be lowered from the last of these in order to reduce the seating space.
The total capacity for concerts will be about 800 stalls. When used as a theatre, this can be reduced to about 600 by dividing the auditorium as described.
The theatre is designed in the Italian style and includes an orchestra pit that can be used by the orchestra or, alternatively, to increase the seating capacity.
The unusual feature of the auditorium is its being a single space, so any seat can be reached from any entrance. It has two clearly differentiated levels of seating, at different gradients to ensure a good view, joined by an interior staircase. This will also make it easy to evacuate the auditorium, as exits are provided at all levels and any exit can be reached from any seat.

Site distribution
The project preserves two side streets that are a continuation of the neighbouring road layout. The one beside the Parque de la Pau will retain its gradients and, with the various garden terraces that lead to the bar terrace, will join up the future headquarters of the Philharmonic societies, the Theatre itself and the open-air exhibition area. The one beside La Costera technical college will be used by vehicles entering the public car park, keeping all its present entrances and services, and will serve as the emergency exit route from the theatre on different levels.

The Theatre is sited alongside the street on the east side of the plot, with terraces, gardens and open spaces on different levels leading to and acting as an extension of the bar, the back entrance to the Theatre offices and the Music Societies' headquarters. The remaining stairs and steps, placed at a gentle, natural angle, are designed to make it easy to walk around the site and admire the views of the old town, the castle and the hills that surround this beautiful town.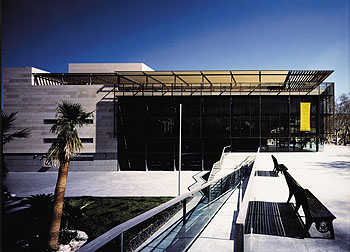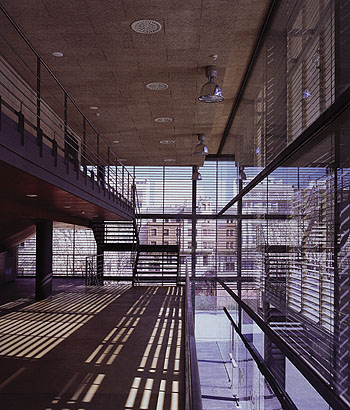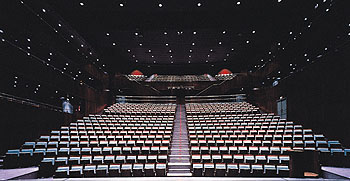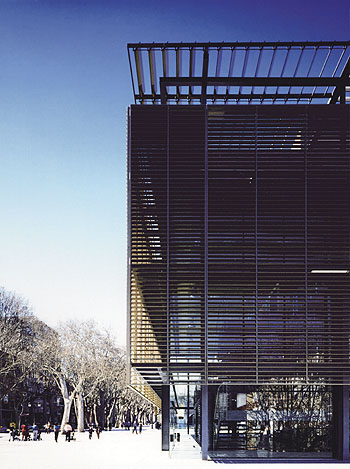 Promotor / Client:
Ayuntamiento de Xátiva / Xátiva Town Council
Colaboradores / Collaborators:
Eduardo Cardero, Marcos Ayala Calvo,
Mateo Ayala Calvo, Jorge Sánchez,
Paloma Uriel, Mª Concepción Calvo Campos,
Javier Bregante, Oscar Evade,
Arturo Fernández López de Uribe,
Carlos de las Heras Loa

Aparejadores / Surveyors:
Emilio Rodríguez
Javier Estellés

Empresa Constructora / Contractor:
UTE ELSAN/EDRIX

Superficie construida / Gross floor area:
10.200m2
Fecha de proyecto / Design:
1997
Fecha de terminación / Completion:
Septiembre 2001 / September 2001

Fotógrafo / Photographer:
Hisao Suzuki