Nos encontramos en un área residencial en fulminante desarrollo, en la periferia de la ciudad de Valencia, que no ofrece prácticamente ningún atractivo natural o urbano, donde la escasa superficie del solar, en relación a la amplitud de programa a desarrollar, y las condiciones urbanísticas, así como las climáticas, van a ser las premisas que fundamentalmente condicionen el proyecto.

Se trata de construir una clínica privada de fertilidad donde se practica una medicina en constante evolución que precisa una atención permanente al estudio y la investigación.

Se requiere un área de atención externa y un área de atención hospitalaria, además de los servicios complementarios: laboratorios, salas de estudio, administración, etc.

Resulta de extrema importancia el conseguir un ajustado nivel de privacidad y serenidad en un centro de estas características, debido a la especial condición que muestra el paciente, y en consecuencia se trata de que la organización del programa funcional resulte la adecuada, clara y con unas relaciones fluidas entre las diferentes áreas. A su vez tratamos de resolver unos espacios limpios y dinámicos, con el máximo aprovechamiento de las condiciones naturales del solar, todo ello en orden a dotar de una optimización máxima de las condiciones de uso, tanto para el personal sanitario como para el futuro paciente o usuario.
Para esponjar la ocupación y participar de los objetivos expuestos, se sitúa un patio acristalado en el interior de las dos primeras plantas que, además de cualificarlas espacialmente, va a servir de elemento articulador de las diferentes áreas. Este vacío aparece como fachada de las dos plantas superiores.
Esta situación permite un mayor paso de la luz y ventilación naturales y a la vez relaciona visualmente las estancias ya que, al servir siempre a espacios de circulación, se producen vistas cruzadas que pueden traspasarlo en todos los sentidos, lo cual proporciona además mayor amplitud a los espacios.

Como objetivo básico se ha pretendido ubicar un edificio que aporte interés al entorno, en diálogo con él, con las orientaciones y las vistas mas abiertas que ofrece el emplazamiento. A su vez, y dado que se ubica en un contexto con mayoría de edificación residencial, se consigue la protección conveniente en cuanto a vistas y posibles interferencias con los edificios contiguos envolviendo el conjunto de la edificación con una trama de aluminio a modo de filtro que matiza la relación física con el exterior.
The location is in a mushrooming residential area on the outskirts of the city of Valencia that is practically devoid of any natural or urban charms. This, the small size of the plot in relation to the extensive brief and the urban and climate conditions were the basic premises that influenced the design.

The brief was for a private fertility clinic, a constantly evolving branch of medicine that requires permanent study and research to keep up to date.

An out-patient and an in-patient area were required, as well as complementary services such as laboratories, reading rooms, administration, etc.

In a centre of this type, given the special nature of the patients, it is extremely important to achieve an adequate degree of privacy and tranquillity. Consequently, the functional brief needed to be distributed appropriately, in a clear way, with a fluid relationship between the different areas. At the same time, we tried to design clear, dynamic spaces that would make the best possible use of the natural conditions of the plot in order to optimise the working conditions, both for the staff and for the future patients or end users.

To lighten or 'spongify' the occupancy and help to achieve these aims, a glazed courtyard was placed in the interior of the first two floors. As well as imparting a spatial quality, it also serves to articulate the different areas. This vacuum continues upwards into the façade of the two top floors.


It allows more natural light and ventilation to enter and also relates the different areas visually because, being bordered entirely by circulation areas, it provides cross views in all directions. This also gives a feeling of greater space.

The basic aim was a building that would add interest to the surroundings and establish a dialogue with them, using the most open placing and views that the site afforded. Equally, given its location in a context of largely residential development, appropriate protection of lines of sight and possible interference with the adjoining buildings was achieved by wrapping the volumes in a filter-like aluminium mesh that tones down the physical relationship with the exterior.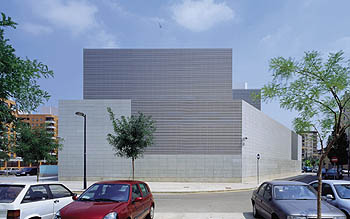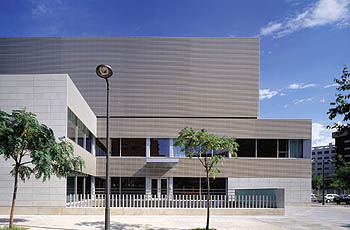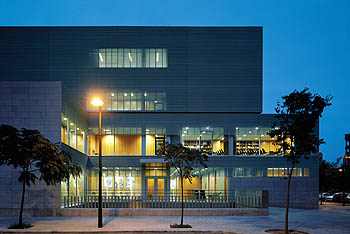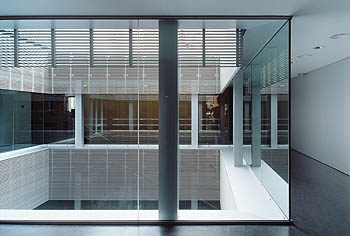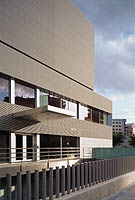 Proyecto / Project:
Julio-Octubre 1998 / July - October 1998

Ejecución / Work:
Enero 2000-Abril 2002 / January 2000 - April 2002

Emplazamiento / Location:
C/Policía Local s/n.Plan Parcial "Campanar Sur". Valencia.

Promotor / Client:
INSTITUTO VALENCIANO DE INFERTILIDAD S.L.

Dirección de obra / Executive team:
Gracia García-Solera Vera, interiorismo / interiors:
Domingo Sepulcre
estructura / structures:
Rafael Duet Redón, aparejador / surveyor
Federico Bort Gozalbes, aparejador / surveyor

Empresa Constructora / Contractor:
O.H.L S.A
Carpintería mad./metal/ Wood & metal joinery:
Blasco S.L

Fotógrafo / Photographer:
Roland Halbe