La intervención se realiza sobre las instalaciones del antiguo Ateneo Musical del Puerto situado en el barrio del Cabanyal de Valencia, un inmueble en estado de ruina que ha hecho inviable su conservación. El nuevo edificio está compuesto de un centro cívico, una sala polivalente para música, teatro y espectáculos públicos, con capacidad para 400 espectadores, y un área de servicios.
La práctica totalidad del perímetro del solar sobre el que se interviene está configurado por muros medianeros, siendo imposible establecer una relación directa con el exterior.
La característica más acusada de la intervención es la propuesta de un muro de doble hoja que contiene los elementos de circulación y permite introducir luz natural a través de él. La tensión del proyecto se produce entre los espacios de comunicación alojados en el intersticio entre los dos muros y los espacios públicos que ocupan los vacíos creados en el interior. El vacío del foyer, espacio de encuentro entre el centro cívico y la sala, está iluminado cenitalmente y tamizado con un velo de listones de madera que se desliza hasta el suelo.
La solución de la sala se basa en aquella que los técnicos en acústica tienen por mejor: auditorio de planta rectangular, con dimensiones próximas al doble cuadrado en su relación largo-ancho, con techos sensiblemente planos y alturas que garanticen un volumen aproximado de diez metros cúbicos por espectador.
El único elemento que se mantiene del antiguo edificio es la fachada recayente sobre la plaza del Rosario. La fachada se inspira en el modelo clásico del arco del triunfo, característica que se acentúa con la introducción de una puerta de una hoja corredera de madera (10 x 3 m), de toda la dimensión del arco central. El mantenimiento de este elemento se estimaba necesario para preservar el carácter del espacio urbano más emblemático del barrio.
The work was carried out in the Cabanyal district of Valencia, on the site of the old Ateneu Musical del Puerto. This building was in a state of ruin that made it unfeasible to save it. The new building comprises a civic centre, a multi-purpose hall for music, theatre and public spectacles to accommodate 400 spectators and a services area.
Practically the entire perimeter of the site is bounded by party walls, making it impossible to establish a direct relationship with the exterior.
The most notable feature of the design is the double wall that contains the circulation areas and enables natural light to enter. The tension in this project is set up between the communication spaces in the gap between the two walls and the public spaces in the voids created in the interior. The void in the foyer, a meeting space between the civic centre and the hall, is lit from above and filtered by a veil of wooden slats that glides to the floor.
The design of the hall is based on the solutions that experts in acoustics consider the best: a rectangular auditorium of a length to width proportion approaching a double square, with appreciably flat ceilings and heights that ensure a volume of approximately ten cubic metres per spectator.
The only part of the old building to be retained is the façade on the Plaza del Rosario. This is inspired by the classical triumphal arch model, a feature which has been accentuated by placing a sliding wooden door (10 x 3 m) across the entire central arch. It was considered necessary to retain the façade in order to preserve the character of the most emblematic urban space of this district.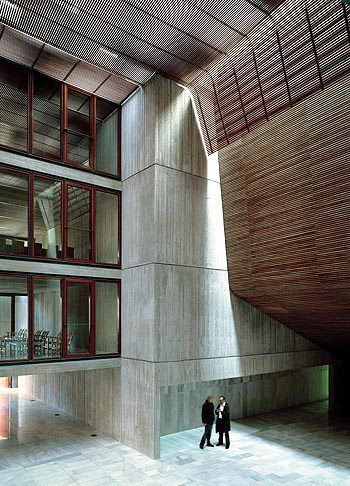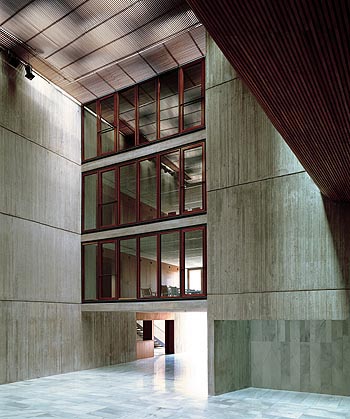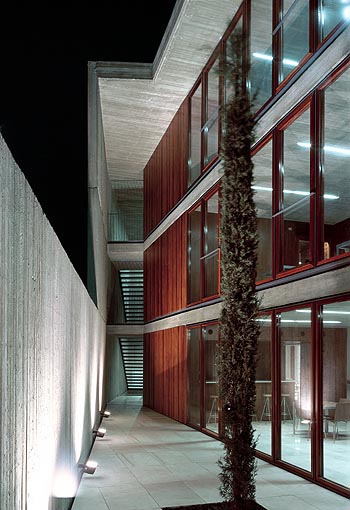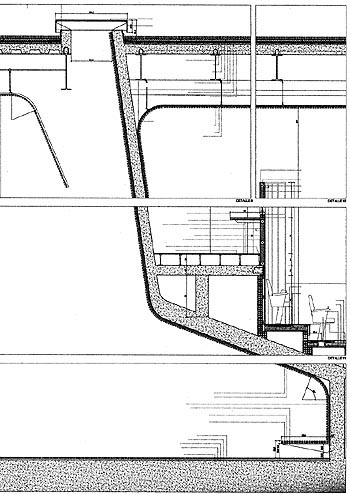 Sección constructiva/Constructive section:
1. vidrio laminar 10+10+10 con butiral de polivinilo transparente/10+10+10 laminated glass with clear polyvinyl butyral
2. lucernario a base de palastro 15mm. y angular L 40.4/Skylight, 15 mm. steel plate and 40 x 4 mm L section
3. grava (árido 15-22 cm.)/15-22 cm gravel
4. lámina impermeabilizante no adherida Esterdan plus 30p elastomero bicapa/ Waterproof membrane, not adhered, Esterdan plus 30p two-layer elastomer
5. refuerzos con lámina impermeabilizante protegida, adherida, Esterdan plus 40/gp/Reinforcements with protected dpm, adhered, Esterdan plus 40/gp
6. tendido 2 cm. mortero cemento fratasado/2cm floated cement mortar
7. capa separadora geotextil antipunzonante Danofelt 150 (solapes 20cm.)/Geotextile felt, Danofelt 150 (20 cm overlaps)
8. poliestireno extruido/Extruded polystyrene
9. forjado colaborante chapa grecada Perfrisa pl 76/383 e=1mm/Composite decking, corrugated metal, 1 mm thick Perfrisa pl 76/383
10. IPE 500/IPE 500
11. techo lineal en aluminio Luxalon tipo 30b revestido con listón de madera laminada/Aluminium ceiling, Luxalon 30b type, laminated wood cladding
12. trasdosado de panel acústico Panover 40/Acoustic panel, Panover 40
13. elementos de fijación fija Sinard/Fixing elements, Sinard
14. pasamanos de madera rechapada en haya (100x300mm.)/100 x 300 mm beech veneer handrail
15. rastrel de madera (60x70mm.)/60 x 70 mm wood batten
16. tablero contrachapado (2 cm.)/2 cm plywood
17. poliestireno extruido (6cm.)/6 cm extruded polystyrene
18. carpintería de madera/Wood frame
19. tablero de madera contrachapada (68x4cm.)/68 x 4 cm plywood
20. T 60.7/60x7 T section
21. UPN 200/UPN 200
22. suelo técnico/Raised access floor
23. pavimento de madera de haya maciza (22mm)/Solid beech flooring, 22 mm thick
24. rastrel de madera (3x7cm.)/30 x 70 mm wood sleeper
25. membrana antihumedad/Damp-proof membrane
26. losa de homigón (6 cm.) mallazo 150.150.5mm./6 cm concrete slab, welded wire mesh 150x150x5 mm
27. bardo cerámico/Hollow brick slab
28. difusor de suelo/Floor grating
29. perno Fisher fb 10/15/Bolt, Fisher fb 10/15
30. soporte banco atornillado a muro de hormigón/Bench bracket screwed to concrete wall
31. rastrel de madera de iroko (70x20mm) atornillado a soporte metálico/Iroko wood sections (70 x 20 mm) screwed to bracket
32. perfiles de madera de iroko (30x40mm) atornillados a rastrel de madera/Iroko wood sections (30 x 40 mm) screwed to wood sleeper
33. mármol blanco macael (e=2 cm.)/White macael marble, 2 cm thick
34. mortero de agarre 2 cm/2 cm key mortar
35. capa de arena 2cm./2 cm sand
36. impermeabilización "Vandex super" 1kg/m2/Damp-proof membrane, vandex super 1 Kg/m2
37. losa de cimentación/Foundation slab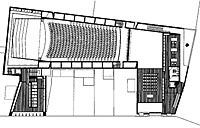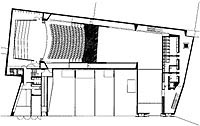 Situación/Location:
Plaza del Rosario, nº 3. El Cabanyal - Canyamelar, Valencia

Colaboradores/Assistants:
Arquitectos/Architects:
David Zaragaza Aznar
Pablo Fuertes Pérez
Antonio García Blay

Aparejador/Technical Surveyor:
Rafael Bellver García

Estructura/Structure:
SEG, Sondeos, Estructura y Geotécnia

Instalaciones/Installations:
ICA S. L.; Consulting de Ingeniería

Promotor/Client:
AYUNTAMIENTO DE VALENCIA
AUMSA (Actuaciones Urbanas de Valencia

Contratista/Contractor:
OHL - Obrascón Huarte Laín, S. A
Francisco Noguera, Jefe de obra/Site manager

Fotografía/Photographer:
Duccio Malagamba