El Palau de la Música de Valencia, obra de D. José Mª García de Paredes, se sitúa entre el Paseo de la Alameda y los Jardines del Turia. El Auditorio se dispuso sobre una plataforma que avanza hacia el río; esta característica, única en todo el cauce, le otorga al lugar un carácter emblemático representativo de la actividad cultural de la ciudad. La personalidad de la arquitectura existente ha determinado una intervención que se plantea toda ella enterrada y dispuesta en el lado sureste del edificio, ordenando las diferentes áreas que componen el programa de la ampliación alrededor de patios ajardinados y con su cubierta superior también ajardinada con el fin de no alterar visualmente la configuración del lugar.

El edificio se desarrolla en dos niveles bajo la rasante del Paseo de la Alameda. El acceso a la ampliación se produce a través de un patio en pendiente con tres palmeras; una vez en su interior todos los espacios de circulación confluyen en un gran espacio público que se concibe como lugar de encuentro de las diferentes partes del proyecto. La orientación elegida permite que durante la mañana, horario en el que se concentra la mayor actividad, los rayos del sol penetren directamente en su interior conformando un espacio luminoso y amable.
The Valencia Auditorium (Palau de la Música), a work by José Mª García de Paredes, is situated between the Paseo de la Alameda and the Turia Gardens. The Auditorium stands on a platform that projects outwards towards the riverbed gardens; this characteristic, unique along their course, gives the place an emblematic value as a symbol of the cultural activity of the city. The personality of the existing architecture determined an intervention built completely underground, located on the southeastern side of the building. The different areas of the expansion required by the brief were organized around patio gardens and a roof garden so as not to alter the visual appearance of the place.
The building is installed on two levels below the grade line of the Paseo de la Alameda. Access to the expansion is via a sloping patio planted with three palm trees; once in its interior, all circulation spaces converge in a large public space conceived as a meeting place for the different parts of the project. The orientation chosen allows the rays of the sun to penetrate directly into its interior in the morning, the time of greatest activity, creating a luminous and pleasant space.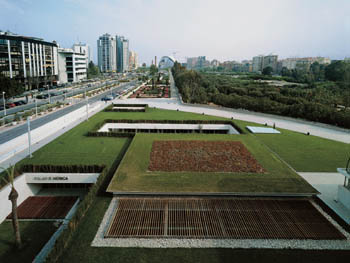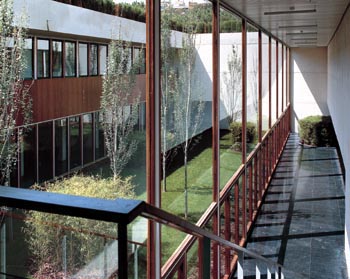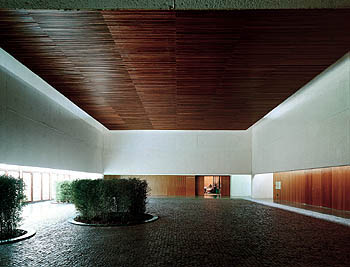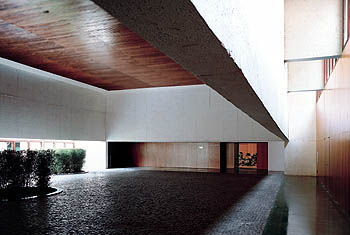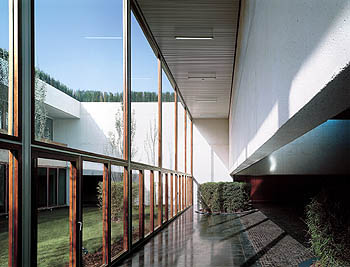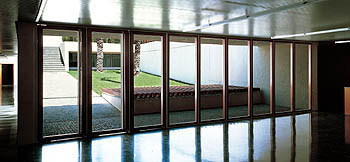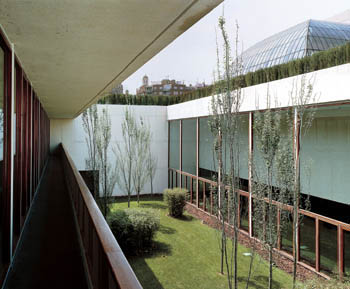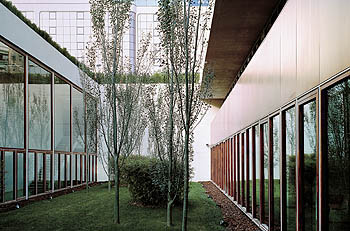 Situación/Location:
Paseo de la Alameda, nº 30, Valencia

Promotor/Developer
Ayuntamiento de Valencia/Valencia City Council

Colaboradores/Colaborators
Arancha Muñoz Criado, arquitecto/architect

Antonio García Blay, arquitecto/architect
Pablo Fuertes Pérez, arquitecto/architect
David Zaragaza Aznar, arquitecto/architect
ICA. Consulting de ingeniería/engineering consultants
Carlos Miragall Guillém ICCP/civil engineer

Fotógrafo/Photographer
Duccio Malagamba
MRW Zeppeline (foto aérea/aerial view)