Se plantea este proyecto para una persona sola cuyo deseo era disfrutar de una vivienda actual, sin concesiones a las modas al uso. "Soy médico, y si venís a mí, no me decís cómo os debo de curar. Haced mi casa como creáis. Los arquitectos sois vosotros. Quiero vivir en una casa del siglo 21".

El concepto básico de este proyecto es el del cubo vaciado, el de los espacios creados en el interior de la roca original obtenidos por sustracción a ella. Como una geoda habitada, jugando con la geometría y el espacio creamos un organismo en el que se plantea un recorrido arquitectónico lúdico.

Desde el misterioso y sutil doble espacio de acceso, descubrimos el vacío central a doble altura, fluyendo horizontal y verticalmente, inundado de luz. Una ligera escalera nos lleva a la pasarela que une los ámbitos superiores, desde los que llegamos a la terraza exterior donde se vuelve a captar el conjunto.

Definida y aristada como un bloque duro y preciso, sin concesiones, no duda en afirmar su patrón. Nada de alusiones, nada de ilusiones. Casi nada. Se esconde en sí misma y busca su esencia en la relación de sus espacios interiores y exteriores reflejados en el oasis del patio. Es una casa árabe.
This project was built for a single person whose wish was to enjoy a contemporary home without concessions to current fashions. "I'm a doctor and if you come to see me you don't tell me how I should heal you. You create my house the way you think best. You are the architects. I just want to live in a 21st century house."
An emptied cube is the basic concept of this project. The spatial concept is formed by creating spaces inside the original rock, subtracting them from it. Like a lived-in geode, playing with geometry and space, an organism with an interesting spatial sequence is created.
From the subtle, mysterious double entrance space, the empty double-height centre is discovered, streaming horizontally and vertically and flooded with light. A light staircase leads to the walkway that unites the upper spaces and gives access to the terrace. Here the architectural whole is grasped again.
As a solid, precise block, without concessions, the house does not hesitate to talk about its origins. No allusions, no illusions. Nearly none. It hides within itself and looks for its essence in the relations of the inner and outer spaces, reflected in the oasis of the courtyard. It is an Arab house.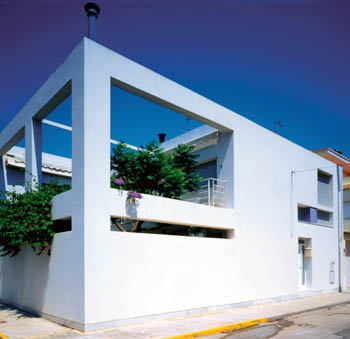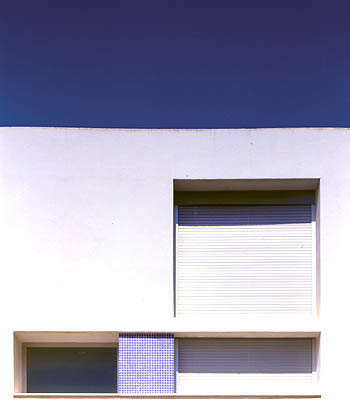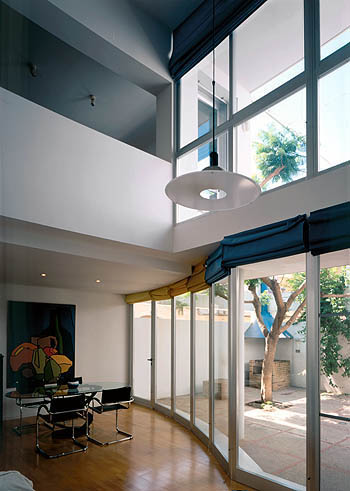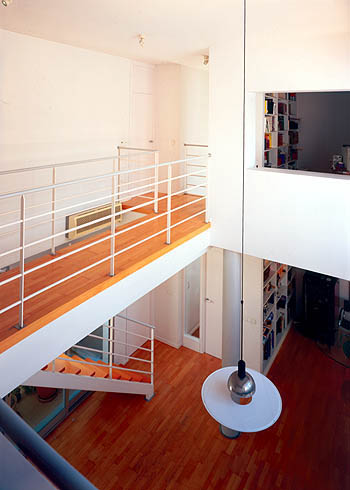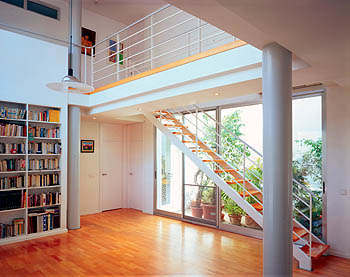 Situación/Location:
C/Forn s/n. Massalfassar-Valencia

Promotor/Developer:
Isabel Gimeno Soro

Aparejador/Surveyor:
Miguel Monteagudo

Constructor/Contractor:
Tapisa S.A.

Fotógrafo/Photographer:
Joan Roig