Este edificio industrial para la imprenta Gráficas Vernetta se sitúa en el parque tecnológico de paterna y se compone de un único volumen en planta baja donde se desarrollan todos los usos del mismo y un semisótano de aparcamiento.

El acceso se manifiesta mediante un patio abierto al cielo y exterior, que es el espacio principal del proyecto. Como un corte de Lucio Fontana sobre el tapiz edificado, se escinde el volumen en dos, coincidiendo con su desarrollo funcional, dejando al norte la zona de impresión-almacén y al sur la administración-técnica. Ambas zonas se vuelcan sobre dicho patio, configurando una serie de fachadas interiores provocando un interesante juego de reflejos y transparencias.

Este espacio se cubre con una celosía de lamas horizontales orientables de acero lacado que además de configurar un espacio lúdico exterior, permite un correcto sombreo y funcionamiento climático. La idea de ámbito de uso y disfrute se refuerza mediante la definición del plano del suelo con un juego de texturas de madera, de elemento verde y una lámina de agua, recreando un verdadero paisaje propio interior.

Se busca resolver con el menor número de elementos posibles la formalización exterior de la nave: Chapa ondulada de acero lacado, opaca y microperforada, grandes piezas de vidrio y acero, junto a las placas de hormigón estructural, confieren al edificio una imagen contemporánea y sutil, sincera y de marcada horizontalidad, haciendo más humana la escala de un edificio de estas características.
This industrial building for a printing company, Gráficas Vernetta, is located in the technology park in Paterna. It is a single block comprising a ground floor that accommodates all its uses and a semi-basement car park.
The access takes the form of an open exterior courtyard, the main space in the design. Like a Lucio Fontana cut on the built canvas the block splits in two, coinciding with its functional layout, leaving the printing and store area to the north and the technical and administrative area to the south. Both overlook the courtyard, creating a series of interior façades that give rise to an interesting play on reflections and transparencies.
This space is covered by a screen of horizontal lacquered steel slats which, as well as shaping a playful exterior space, can be turned to provide good shade and climate conditions. The idea of a space to use and enjoy is reinforced by defining the ground level through a play on wood textures, greenery and a sheet of water, re-creating a true interior landscape.
The exterior formalisation of the unit is solved with as few elements as possible: Corrugated lacquered steel plate, opaque and micro-perforated, large sheets of glass and steel and the structural concrete slabs give this building a subtle, contemporary look, sincere and markedly horizontal, making the scale of a building of this nature more human.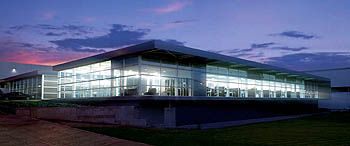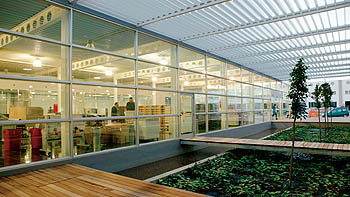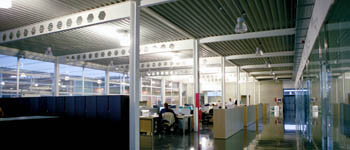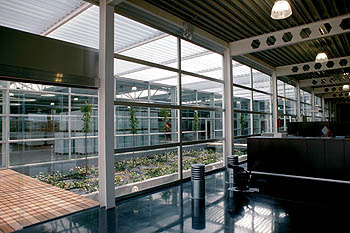 Promotor/Developer:
Gráficas Vernetta

Arquitecto técnico/Technical architect:
Miguel Monteagudo Cuevas

Arquitectos colaboradores/Collaborating architects: Margarita Zorrilla
Julio Vila Cortell

Constructora/Contractor:
Construcciones y Proyectos Siena S.A.

Ingeniería/Engineers:
IRCO - grupo jg
AIDICO
GIA S.L.

Fotógrafo/Photographer:
Miguel Ángel Valero