El proyecto se desarrolla sobre un gran solar triangular de suave pendiente y presidido en su fondo por la amplia pinada del hospital cardiovascular de San Vicente. El planeamiento prevé la partición en dos del solar para la realización de dos proyectos independientes: un bloque de viviendas de seis plantas y una plaza-jardín. El encargo consiste en el proyecto y construcción del bloque de viviendas al margen de lo que ocurre en el solar vecino.

Nuestra propuesta supone, por el contrario, considerar los dos solares, los dos programas, como un único proyecto y plantear, libres ya de dualidades, retranqueos y servidumbres de vecindarios, una sola actuación que permita desarrollar un proyecto conjunto de mayor calidad urbana y uso más compartido.

El resultado es una intervención que consiste en un parque completo que asciende suavemente hacia el norte, hacia la pinada que le da fondo, sobre el cual se deposita, ligeramente, una construcción apaisada que alberga las viviendas privadas y los usos colectivos. El proyecto así planteado permite una altura mínima de edificación respetando la presencia que hasta hoy ha tenido la masa vegetal y favoreciendo una integración absoluta entre público y privado sin solución de continuidad.

Se confía en el trazado de las circulaciones, las relaciones entre partes, la mezcla con el medio natural y el tratamiento material, como garantes del confort ambiental y posibilidad de apropiación que todo espacio público requiere.

Pasear arriba y abajo, jugar a la petanca, el correteo de los niños, estar junto a esta tapia en invierno o en aquel patio en verano, conocerse, descansar, dejar pasar el tiempo, vivir... son los materiales ocultos que guiaron la mano de quienes proyectamos y dirigimos las obras de este proyecto que busca, desde la discreción, generar un ámbito de vida que permita a esta desarrollarse.
The project is laid out on a large, gently sloping plot, crowned at one end by the broad pine wood of San Vicente cardio-vascular hospital. The town plan required the plot to be divided in two for two separate projects: a six-storey block of flats and a square/garden. The commission consisted in designing and building the block of flats without considering whatever might be happening in the adjoining plot.
Our proposal, however, meant considering both plots, both briefs, as a single project and suggesting a single operation, free of dualities, setting-back and neighbours' rights, allowing a joint project of better urban quality and greater shared use to be developed.
The result is a complete park, rising slowly northwards towards the pinewood that provides its backdrop, in which an oblong building housing the private flats and the shared facilities has been lightly set down. This approach to the project allows a minimum building height, conserving the existing appearance of the expanse of vegetation and encouraging an absolute, unbroken integration of the public and private domains.
The layout of the circulation areas, the relations between the parts, the blending into the natural environment and the treatment of materials are entrusted with guaranteeing the comfortable surroundings and the possibility of appropriation that every public space requires.
Walking up and down, playing bowls, children running around, being beside this wall in winter or in that courtyard in summer, meeting people, resting, allowing time to flow by, living... These are the secret materials that guided us as we designed and supervised the work on this project which, quietly, tries to create a sphere of life that will allow life to blossom.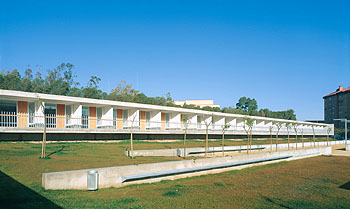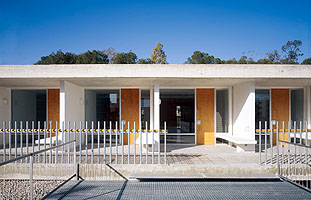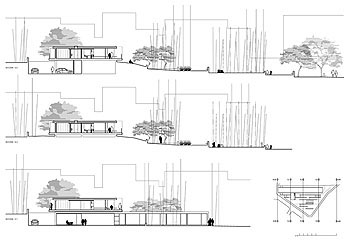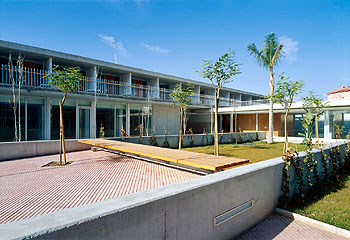 Situación/Location:
C/ Petrer, San Vicente del Raspeig. Alicante

Promotor/Developer:
Instituto Valenciano de Vivienda, s.a.

Empresa Constructora/Contractor:
Intersa Levante

Colaboradores/Collaborators:
Pilar Fructuoso, arquitecto/architect
Marcos Gallud, aparejador/surveyor
Javier Mateu, aparejador/surveyor

Fotógrafo/Photographer:
Roland Halbe