El presente proyecto es el resultado de la accion de proyectar arquitectonicamente en un área de intersección de líneas virtuales que derivan de las normativas urbanísticas que afectan al solar.

La línea del deslinde marítimo terrestre, las separaciones al espacio público y las separaciones a vecinos impuestas por el P.G.O.U. de Benicasim determinan lo angosto del volúmen construido sobre rasante.

La existencia en el solar de una construcción anterior posibilita la generosa amplitud del volúmen enterrado y el descenso de la sección del edificio hasta la poderosa cornisa de rodeno que ha defendido la costa de Benicasim en este punto antes de la génesis de la maravillosa playa "Dels terrers".

El prisma triangular generado por la envolvente urbanística adopta una duplicidad en el tratamiento de sus tres facetas laterales: las que enfrentan con el vecino y la calle son fachadas introvertidas, cerradas y muy opacas. Se resuelven con la misma piedra de rodeno que la cornisa del mar. Piedras de rodeno de 5 centímetros de espesor colocadas en fachada ventilada.

La fachada del mar, por el contrario debe abrirse. Es una jacena estructural de hormigón de dos plantas que esconde su tectónica dimensión tras un serio orden de texto racionalista, al que sólo se le permite en su estricta proporción la ligereza del color, derivado del tratamiento desenfadado de unas superficies de vidrio que convierten la fachada en un icono reconocible desde la escala lejana del vecino Mediterráneo.

Interiormente el programa es el de una vivienda amplia, muy mediatizada por la geometría y la prodigiosa situación, con un extraordinario y generoso espacio servidor en el subsuelo, iluminado desde el jardín y por el que, dejándose caer,... Se alcanza el mar.
This project is the result of the action of designing architecturally in an area of intersection of the virtual lines derived from the town planning regulations affecting the site.
The line dividing the shore from the land and the set-backs from public space and neighbouring plots imposed by the Benicasim General Plan define the narrowness of the building at ground level.
The fact that there was a previous building on the site allowed the excavated volume to be very spacious and made it possible to lower the building's section as far as the powerful Rodeno stone cornice that defended the coast of Benicasim at this point until the superb Dels Terrers beach came into being.
The triangular prism generated by the urban surroundings is reflected in the treatment of the three side faces: those that face the neighbouring plot and the street are introverted, closed-off and very opaque. They are in the same Rodeno stone as the sea cornice. The 5 cm thick Rodeno stone is placed on the ventilated façade.
The sea façade, on the other hand, needs to open out. It is a two-storey structural concrete beam that conceals its tectonic dimension behind a serious textbook Rationalist order. Its strict proportions are only permitted the lightness of colour that springs from the uninhibited treatment of the glazed surfaces which make the façade a recognisable icon from the distant scale of the neighbouring Mediterranean.
Internally, the brief is a commodious house, highly influenced by geometry and by its phenomenal position. The extraordinary, generously-dimensioned underground utility space, lit from the garden, leads down to the sea.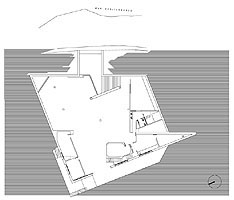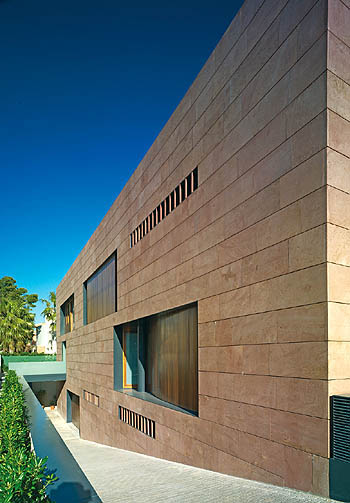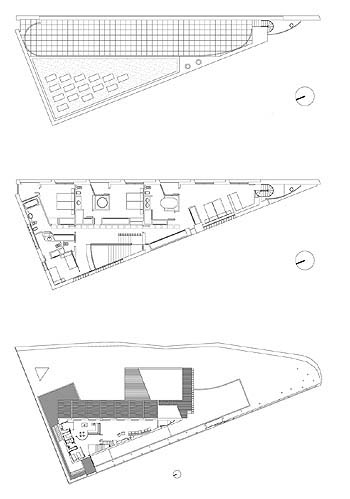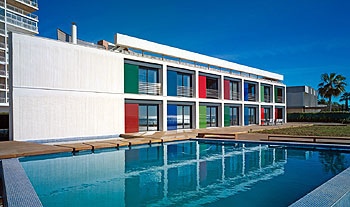 Situación/Location:
Avda. Ferrandis Salvador, Beicasim. Castellón
Colaboradores/Assistants:
Nunzio Presti, arquitecto/architect
Javier Rius Tur, delineación/draught sman
María Teresa Forner López, estudiante arquitecturas/architecture student
Colaboradores ejecución/Construction assistant:
Tomás José Lafuente Ripollés, arquitecto técnico/technical architect
Fotógrafo/Photographer:
Joan Roig