El proyecto del Nuevo Acceso Urbano al Puerto de Alicante parte del análisis de cada una de las actividades portuarias de Alicante. Una ciudad con especial vocación hacia el mar, donde el puerto ha sido y es de vital importancia para su desarrollo.

El Nuevo Acceso plantea dos conceptos: integración y exclusión.

Integración desde lo urbano, donde la nueva infraestructura potencia la comunicación ciudad-actividad portuaria. Exclusión desde la restricción del acceso sólo a personas autorizadas.

Ambos conceptos se formalizan desde el recuerdo de las antiguas puertas de acceso que se configuran en la ciudad como elementos relevantes dentro de su planificación estableciéndose con el tiempo, en algunos casos, en monumentos.

La integración como parámetro director del paisaje urbano:

La nueva composición arquitectónica planteada para el Nuevo Acceso define un paisaje-remate para una de las avenidas más importantes del entorno alicantino.

La exclusión como parámetro de seguridad:

El Nuevo Acceso ocupa todo el ancho de la avenida limitando el paso y utiliza elementos arquitectónicos que evocan a los utilizados en las antiguas puertas de acceso a las ciudades donde las rejas y fosos impiden tanto el libre acceso como la aproximación. Formalmente se configura como un prisma que corta la avenida. Un prisma adosado a seis láminas de agua a modo de símil con un foso.

Como obstáculo de circulación se plantea una valla móvil, a modo de rastrillo, el cual en determinados momentos pueda cerrar el puerto.

El Nuevo Acceso pretende establecerse como un gran contenedor de chapa de acero corten dentro del cual se localizan dispositivos de control que se definen como su mercancía, a modo de contenedor y contenido.
Analysing each and every one of the port activities of Alicante was the starting point for designing the New Entrance from the city to the port. The city has a specially seaward bent, as the port was and is vitally important for its development.
The New Entrance suggests two concepts: integration and exclusion.
Integration from the urban side, where the new infrastructure strengthens the city's communications with the port. Exclusion in that access is restricted to authorised persons.
Both concepts are formalised through the memory of the old entrance gates, which have become important elements of the city's layout and some of them, in time, part of its heritage.
Integration as a parameter directing the urban landscape:
The new architectural composition designed for the New Entrance defines a landscape that puts the finishing touch to one of the city's main avenues.
Exclusion as a security parameter:
The New Entrance occupies the entire width of the Avenue, barring passage, and uses architectural elements that evoke those used in the old gates of walled cities, where portcullises and moats prevented not only entry but even approach. Formally, it is a prism that sections the avenue. A prism between six sheets of water resembling a moat.
As an obstacle to traffic, a movable gate, almost like a portcullis, can close off the port at certain times.
The New Entrance is intended to set up a large container of plate weathering steel containing control devices that are defined as its cargo, like a container and its contents.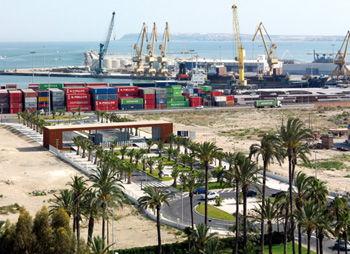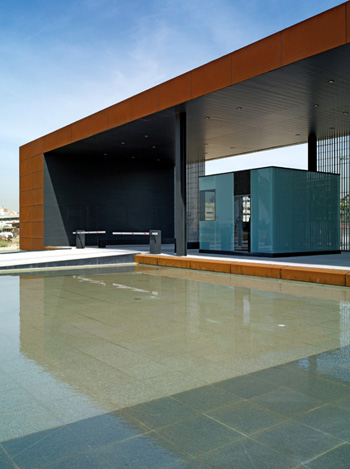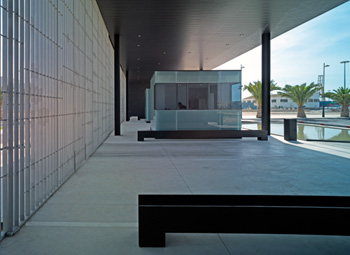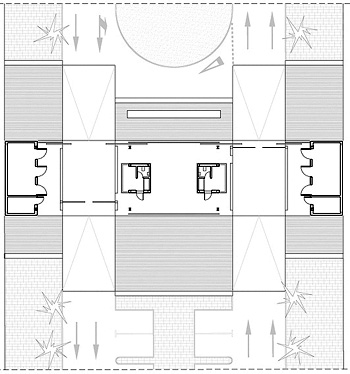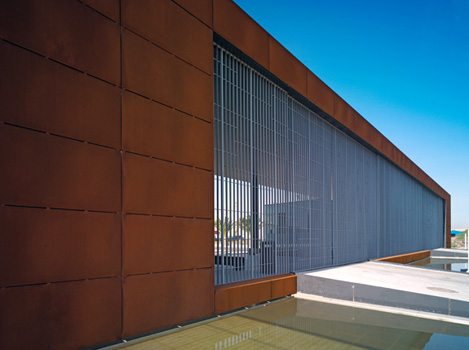 Situación/Location:
Prolongación de la Avda. Óscar Esplá. Avda. del Faro. Alicante/Continuation of Avda. Oscar Esplá beyond Avda. del Faro, Alicante

Promotor/Developer:
Autoridad Portuaria de Alicante/Alicante Port Authority

Colaboradores/Collaborators:
José Mª Germán Cecilia
Verónica Seoane Lugli
Almudena Espinosa Fernández
Javier Jiménez Benito

Constructor/Contractor:
UTE ECISA - Midascón

Fotógrafo/Photographer:
Joan Roig