1. Antecedentes

El programa propuesto consiste en la instalación de un conjunto de 48 viviendas tuteladas para mayores, con una superficie útil máxima de 40 m2 por vivienda, que alberga en el conjunto un programa mínimo residencial, disponiendo de comedor-estar, cocina, dormitorio y baño, y unos servicios comunes que alberguen dos áreas, una administrativa y atención, con una superficie aproximada de 34 m2 ,y otra de relación, con una superficie de 116 m2.
Por otra parte, directamente relacionada con las viviendas, pero con autonomía propia, se proyecta un centro de día para 40 personas que a su vez, comprende un área de administración con 22 m2, un área de servicios generales con 88 m2 y un área de atención especializada de 190 m2.
1. Background

The brief consisted of 48 sheltered housing units for the elderly, with a maximum net floor space of 40 m2 per unit comprising a minimal residential brief of living/dining room, kitchen, bedroom and bathroom, and shared services to hold two areas: an administration and care area measuring approximately 34 m2 and a communal area measuring 116 m2.
Directly related to the housing, although autonomous, the project also included a day centre for 40 people containing its own 22 m2 administration area, an 88 m2 general services area and a 190 m2 specialist care area.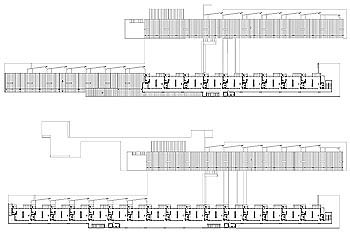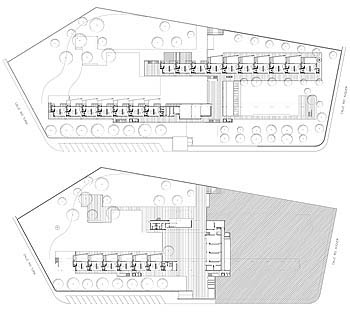 Situación/Location:
C/ rio Vinalopó, c/ rio Turia, c/ rio Jucar. Castalla (Alicante)
Promotor/Developer:
Instituto Valenciano de la Vivienda, S.A.
Colaboradores/
Collaborators:
Pablo García Mora- arquitecto/architect
Aitana Payá Pérez- estudiante arquitectura/architecture student
Angel Luis Rocamora Ruiz- aparejador y estudiante arquitectura /surveyor and architecture student
Dirección de ejecución de obras y seguridad/ Project construction and safety management:
Luis de Diego Fort - arquitecto técnico/ Technical architect
Cálculo de estructura/ Structural Calculations:
OTE, S.L Jose Luis Pérez Molina, I.T.O.P. y arquitecto técnico/ B. Eng. Civil Eng and tech. arch.
Diseño y dirección de obras de instalaciones/ Service Design and installation management:
Gaspar Valencia García - ingeniero técnico industrial/Industrial Technical Engineer (B. Eng. Ind. Eng.)
Contratista de las obras/ Contractor:
INTERSA LEVANTE S.A.
Fotografías/ Photographs:
Joan Roig
2. Justificación de la solución adoptada

La parcela del proyecto se sitúa en el borde sur del casco urbano, orientada en su lado mayor en sentido este-oeste disponiendo de un desnivel en esta orientación de aproximadamente 3 m., teniendo en cuenta, que la orientación sur, la más idónea para implantaciones residenciales, coincide con una magnificas vistas de la lejana montaña Maigmó. Se ha optado por un esquema que permita que todas las viviendas gocen de esta orientación y vistas, que las máximas viviendas posibles tengan acceso a pie llano, y que tanto los servicios comunes como los espacios libres se dispongan de forma que permita la composición del conjunto como un todo unitario, y que sin embargo tiene unos recorridos que conectan los diferentes lugares de relación entre lo construido y no construido.
Para ello se hace una primera operación que consiste en reconvertir la plataforma inclinada este-oeste del solar en dos planos horizontales, con un desnivel de una planta, en su punto medio aproximadamente.
Sobre esas dos plataformas se colocan dos bloques paralelos, orientados norte sur, uno de una planta y otro, recayente a la c/ Río Vinalopó, con 3 plantas, escalonado, dejando libre la planta baja correspondiente a la plataforma más elevada, y de esa forma salvar las vistas de las viviendas, y evitar el efecto barrera del bloque.
Entre estos dos bloques se ubica en planta baja el centro de día, de forma que las tres áreas que lo componen configuren una unidad autónoma, directamente relacionada con el acceso.
Los elementos comunes de las viviendas se ubican en planta primera, relacionadas con ellas y a su vez con el centro de día.
Las viviendas se configuran según un esquema de bandas, servicios-dormitorios comedor todas ellas volcadas al sur, concentrado en la banda de servicios el correspondiente a dos de ellas, con una intención de planta libre, buscando ventilaciones cruzadas y accediendo a ellas mediante corredores abiertos que miran al norte donde se encuentran las vistas del casco urbano y castillo de Castalla.
La disposición de los elementos comunes de las viviendas, como los del centro de día, se han proyectado de forma que tengan siempre una relación pasante norte-sur, ó este-oeste, buscando ventilaciones transversales, y una relación más directa con el entorno en el que se ubican.
2. Justification for the response adopted

The plot is located on the south edge of the village. Its longer side runs east-west, with an approximately 3 m change in level over its length. The best direction for residential development is south-facing, to take advantage of the magnificent views of the Maigmó mountain in the distance.. The scheme chosen allows all the housing to enjoy this orientation and view, as many as possible to have barrier-free access and both the shared services and open spaces to be distributed in a way that allows a unitary composition of the complex, which nonetheless includes itineraries connecting the various places where the built and unbuilt parts relate to each other.
The first operation was to turn the east-west sloping plane into two horizontal planes with a one-storey difference in level at approximately the mid-point.
Two parallel blocks were sited facing north-south on these two platforms. One is one storey high and the other, facing onto Rio Vinalopó street, is 3 storeys high and staggered. The ground floor on the higher level is left open, preserving the view from the flats and preventing the block from causing a barrier effect.
The day centre is located at ground floor level between these two blocks, so that its three areas constitute an autonomous unit directly related to the entrance.
The shared facilities for the flats are located on the first floor, connected to the flats and also to the day centre.
The layout of the flats follows a banding scheme of services - bedroom - living/dining room, all facing south, with the services band concentrating those of two flats. It has an open-plan air, seeking cross-ventilation. The flats are reached by open galleries that face north, with views of the village and Castalla castle.
The layout of the shared facilities for the flats and of those of the day centre were designed so that they always have through communication, north-south or east-west, seeking cross-ventilation, and a more direct relationship with the surroundings in which they are placed.