…En su vertiente institucional, el edificio de un Ayuntamiento es símbolo y albergue de la comunidad de ciudadanos de un municipio. Su valor simbólico queda reflejado en los invariables arquitectónicos que identifican el destino del edificio, esto es salón de plenos, balcón.
La organización general del edificio tiene como objeto orientar el mayor número posible de estancias publicas hacia el norte se pretende evitar la radiación solar directa sobre las superficies acristaladas para mitigar las altas temperaturas que se alcanzan en verano, optándose por una luz reflejada y matizada por un patio. Se dispone un patio lineal de este a oeste.

…Respuesta a escala urbana: se ha reducido la volumetría a un sólido de tres plantas al que se le extrae un cuerpo en la fachada norte para facilitar la transición de alturas entre la línea de cornisa de las viviendas existentes y la nueva línea establecida por el edificio publico. Se realizan huecos en el sólido a escala propia del edificio público y del tamaño de la plaza publica. La fachada sur se articula con huecos menores en disposición neutra.
El interior se traza a escala domestica a excepción de la escalera y el patio lineal.
...As an institution, a Town Hall is the symbol and refuge of the community of citizens of that place. Its symbolic value is reflected in the architectural constants that identify the building's purpose, in other words the council chamber and the balcony.
. The general layout of the building is designed to place the greatest possible number of public rooms facing north. The aim is to avoid direct sunlight on the glazed surfaces, to mitigate the high temperatures reached in summer, and have the light reflected and toned down by a courtyard. A linear courtyard runs from east to west.
... Urban scale response: The volumetrics are limited to a three-storey solid from which a section has been removed on the north façade to ease the change in height between the cornice line of the existing residential buildings and the new line created by the public building. Openings on an appropriate scale for this public building and for the size of the public square have been made in this solid. The south façade is articulated by a neutral arrangement of smaller openings.
Except for the staircase and the linear courtyard, the interior is laid out on a domestic scale.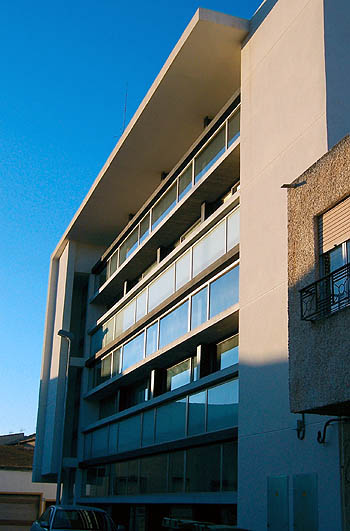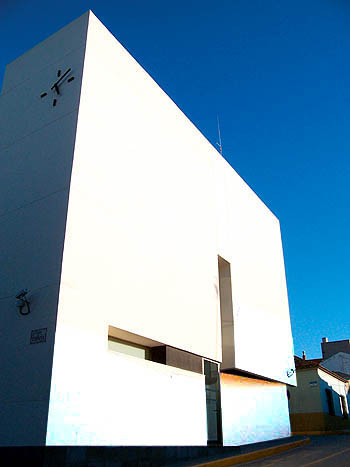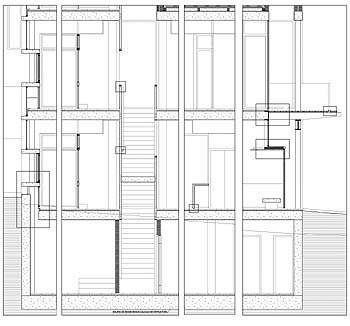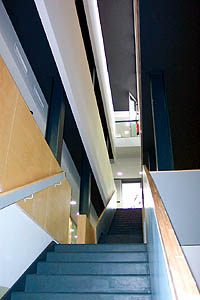 Promotor/Developer:
Excelentísimo Ayuntamiento de Algorfa/Algorfa town council

Dirección de ejecución de obras y seguridad/Projetc construction and safety management:
Luis de Diego Fort. Arquitecto técnico/Technical architect

Cálculo de estructura/Structural engineering:
OTE, S.L. José Luis Pérez Molina, I.T.O.P. y Arquitecto técnico/[B. Eng. Civil Eng.] and tech. arch.

Diseño y dirección de obras de instalaciones/Service design and installation management:
Gaspar Valencia García. I.T. Industrial/Industrial technical engineer [B.Eng. Ind. Eng.]

Contratista de las obras/Contractor:
P.A.M, S.L. - PAVIMENTOS ASFÁLTICOS DEL MEDITERRÁNEO

Jefe de obra/Site manager:
Jerónimo López García

Fotografías/Photographs:
Autor/Autor