El edificio se sitúa en una parcela, con fachada a la calle Camí de Cabanyes, enclavada en el jardín de la actual Casa de Cultura en el lugar que ocupaban las cocheras de la casa señorial al que aquel pertenecía. Este jardín se relaciona visualmente a su vez con el Parque Municipal constituyendo el conjunto público más relevante de la población.

En este contexto pretende responder a tres posibles miradas: desde el jardín, desde la Casa de Cultura y desde la calle.

No ser visto desde el jardín y el parque, para ello se resuelve en una sola planta sin competir con el volumen contiguo de la Casa de Cultura ni con las edificaciones colindantes y se retranquea de su linde posterior creando un patio-jardín que, dada la transparencia de los cerramientos acristalados, permite la lectura sin solución de continuidad del jardín y disuelve la relación interior-exterior.

Hermético desde la Casa de Cultura evitando el efecto escaparate. Los sucesivos muros ciegos de hormigón sugieren los accesos sin mostrarlos y esconden el interior.

En relación con la calle quiere conservar su carácter urbano, tanto en su morfología como por su implantación, fundiéndose literalmente con ella convirtiendo la acera que rodea al jardín en rampa de acceso al edificio.

La organización funcional se desarrolla en tres bandas paralelas:

La primera de ellas, en contacto con la calle, alberga las dependencias de servicio tales como los despachos, aseos, barra-cocina y patio de servicio.

La segunda pone en relación visual directa el jardín, al que vierte, con el patio ajardinado posterior. En ella se sitúa la sala principal.

La tercera banda la constituyen las dos salas restantes, que se separan por los muros de hormigón de la Casa de Cultura y tienen salidas directas al jardín anterior y trasero respectivamente.

Estas tres bandas son atravesadas por el paso que comunica los accesos y se dimensiona como espacio común de relación.

Los materiales empleados responden al criterio de sencillez y economía que viene impuesto desde los planteamientos de proyecto y presupuestarios, así la estructura se convierte en cerramiento con los muros de hormigón que en su intradós se revisten con tableros de madera. Los paramentos, tanto exteriores como interiores, de fábrica se acaban en mortero monocapa. La carpintería de los grandes acristalamientos, por criterios de uso y mantenimiento, se realiza con perfiles simples de acero inoxidable montados en taller y el resto con perfiles de aluminio anodizado inox. Se matiza la continuidad del plano del pavimento que del terrazo en interior se convierte en baldosas de hormigón en el jardín y rejilla para césped en el patio posterior.
The building is located on a plot that fronts onto Camí de Cabanyes street, in the garden of the Casa de Cultura, on the site of the carriage house of the big house to which the garden belonged. The garden, in turn, is visually related to the Municipal Park. Together they comprise the most notable public area in town.
In this context, the building seeks to respond to three possible views: from the garden, from the Casa de Cultura and from the street.
Not to be seen from the garden and the park, it is laid out in a single storey that does not compete with the nearby Casa de Cultura or other neighbouring buildings and stands back from the rear edge of the plot, creating a garden courtyard that can be read as an uninterrupted continuum with the garden, given the transparency of its glass envelope, dissolving the antonymy of interior-exterior.
From the Casa de Cultura it is hermetic, avoiding the shop-window effect. The successive blank walls of concrete suggest the entrances without showing them and hide the interior.
In relation to the street it wants to retain its urban character, both in its morphology and its siting. It literally blends into it, turning the pavement surrounding the garden into its access ramp.
The functional scheme is laid out in three parallel strips:
The first, in contact with the street, houses services such as offices, toilets, bar-kitchen and service entrance.
The second sets up a direct visual relationship between the garden, onto which it opens, and the garden courtyard behind. It houses the main hall.
The third strip is made up of the two remaining halls, which are separated from the Casa de Cultura by the concrete walls and have direct entrances onto the front and rear gardens respectively.
These three strips are crossed by the passage between the entrances, which is sized as a shared meeting space.
The materials employed respond to the criteria of simplicity and economy imposed by the approach to the project and the budget, so the structure becomes wall as the inner face of the concrete walls is lined with wood panelling. The masonry faces, both interior and exterior, are finished with single-layer mortar. For reasons of both use and maintenance, the joinery of the large windows is constructed with simple workshop-assembled stainless steel sections and the remainder with anodised stainless aluminium sections. The continuity of the flooring plane is nuanced: from terrazzo in the interior it changes to concrete slabs in the garden and lawn mesh in the rear courtyard.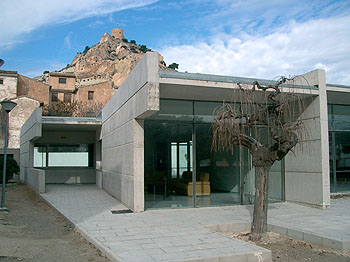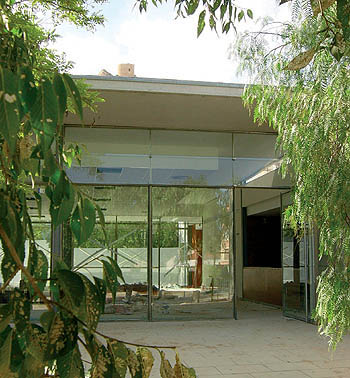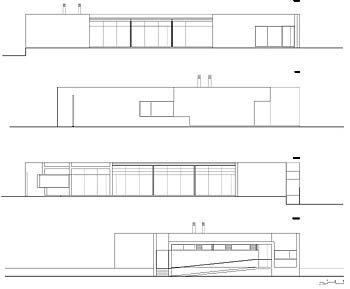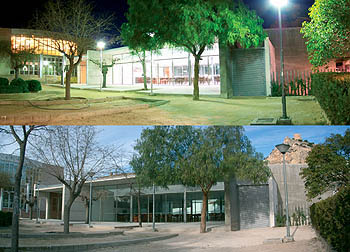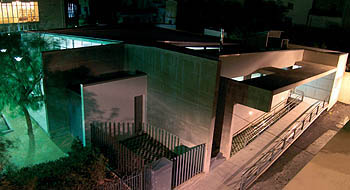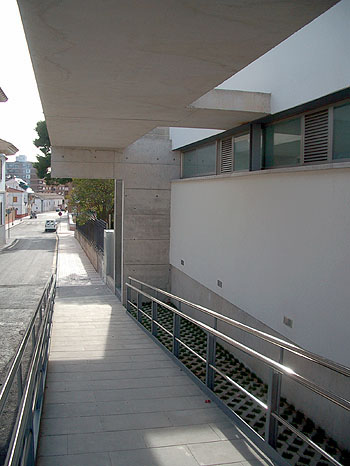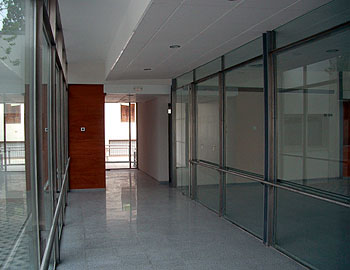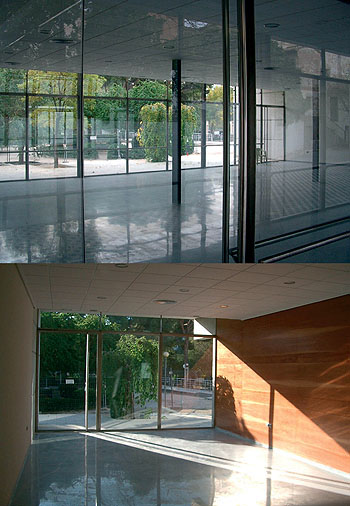 Promotor/Developer:
Ayuntamiento de Castalla. Alicante/Castalla Town Council. Alicante
Aparejador/Surveyor:
Ángel Luis Rocamora Ruiz
Constructor/Contractor:
Dopema S.L.
Superficie construida/Gross floor area:
498,62 m2
Fotografías/Photographs:
Autor/Author