Personas a las que siempre hemos visto deambular, de repente nos acogen como huéspedes y comparten su casa. Entablamos una relación íntima y diferente. Nos cuentan cómo viven, qué les preocupa... Nos advierten de los problemas del solar, y de lo que pretenden. Nos ayudan a entender.

Un condicionante funcional: La casa debe albergar en la planta baja un programa básico de vivienda. El resto... lo dicta el lugar.

El solar se orienta hacia el Norte y se sitúa frente a una de las zonas verdes y de relación más emblemáticas de la localidad.

El programa que se nos pide no es muy extenso, lo que nos permite esponjar el volumen y practicar un gran vaciado lateral al que vuelca toda la vivienda, prolongando aquí el carácter lúdico y de relación que se da en la gran zona verde. Este espacio exterior se desglosa en cuatro terrazas enlazadas que vuelcan unas sobre otras y ponen en relación cada una de las estancias de la casa con el parque, al tiempo que organizan una circulación exterior paralela.

La casa se abre a la luz de levante y busca las vistas en escorzo sobre el parque dando la espalda a la medianera vecina. Se deja atravesar por la luz de sur abriéndose paso por los huecos a doble y triple altura. Y refleja la luz de poniente en la pared blanca que construimos.

Buscamos el diálogo con las construcciones que siempre han estado ahí por medio de la escala y de los huecos y pretendemos que la tradición de "la vida en los portales" se dé ahora en nuestros espacios exteriores: ahora dentro, ahora fuera, ahora dentro pero fuera.

Intervenir en este lugar ha sido intervenir también en nuestra memoria. Cuántas veces pasamos indiferentes. Ahora todo es distinto.
People we had always seen walking around suddenly welcomed us as guests and shared their house with us. We struck up a different relationship, a close one. They told us how they lived, what their concerns were. They warned us of the problems of the site and what they were aiming for. They helped us to understand.
There was only one functional constraint: the ground floor was to accommodate a basic family home brief. The rest was dictated by the place.
The plot faces north onto one of the best-known green spaces and recreation areas in the vicinity.
The not very extensive brief allowed us to hollow out the block and create a large lateral space onto which all the rooms face, a prolongation of the social and recreational nature of the large green space. This exterior space is divided into four linked terraces that spill onto each other and relate each of the rooms of the house to the park while organising a parallel external circulation area.
The house is open to the light from the east and seeks slanting views over the park, turning its back on the nearby boundary. It is crossed by the southern light that enters through double and triple height openings. The western light is reflected by the white wall we have built.
We used scale and openings to seek a dialogue with the buildings that have always been there and aimed to continue the sociable tradition of 'living in the doorway' in our exterior spaces: sometimes inside, sometimes outside, sometimes inside but outside.
Working on this place, we also worked on our memories. We had often passed by, taking no interest. Now everything is different.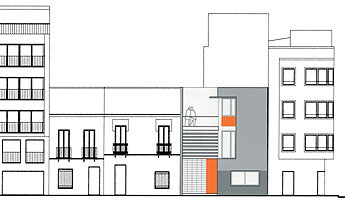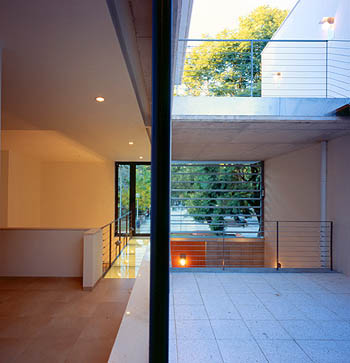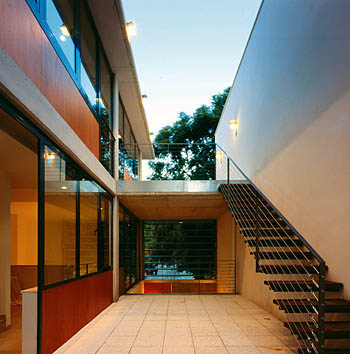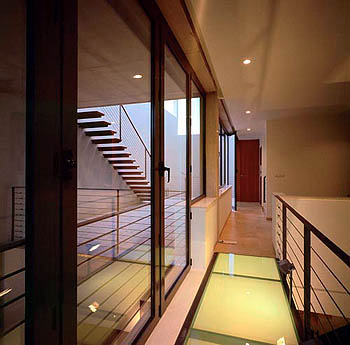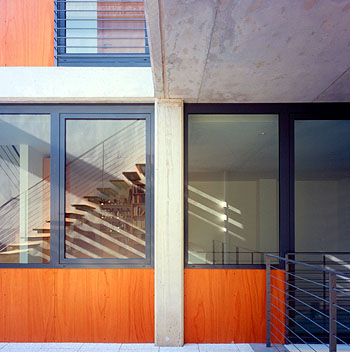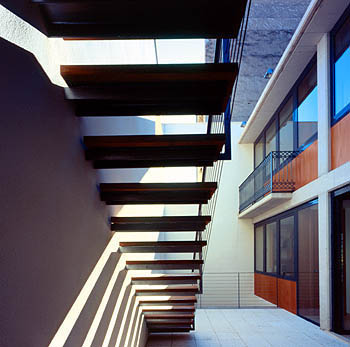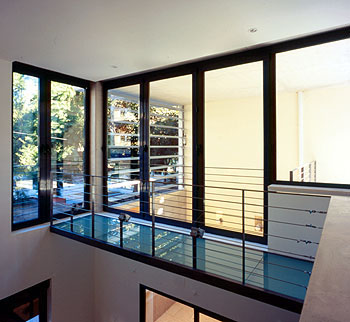 Situación/Location:
Novelda, Alicante.
Promotores/Developers:
Juan José Peris Sánchez y Remedios Martínez Sirvent
Aparejadora/Surveyor:
Ana Rico Torregrosa
Estructura/Structure:
Mariano Mompeán Morales, Ingeniero de Caminos/ Civil Engineer
Constructor/Contractor:José Juan Pastor Crespo, estructuras y construcciones.
Fotógrafo/Photographer:
David Frutos Ruiz