Las condiciones del solar y los requerimientos de privacidad y soleamiento propician una respuesta clara por parte del edificio, que se eleva sobre el suelo, retirándose de la fachada oeste y busca luces y vistas siempre hacia el sur, directamente en fachada o a través de un patio interior, en torno al cual se organizan las circulaciones tanto verticales como horizontales.
El programa se desarrolla en dos plantas:


–La inferior, en semisótano, alberga el garaje, un cuarto de instalaciones, un estudio y un aseo.


–La planta baja, elevada 1.50 m sobre el nivel de la acera, acoge una vivienda unifamiliar con un programa convencional de salón-comedor, cocina, tres dormitorios y dos baños.


Los materiales se usan por planos, con cortes precisos y aristas definidas:


–aplacados de piedra en los paramentos exteriores


–guarnecidos en los techos


–madera y yeso en las divisiones interiores


–aluminio y vidrio para controlar la relación con el exterior


–pavimento uniforme que se prolonga desde los espacios interiores hasta los exteriores


La regulación climática se consigue con elementos sencillos y eficaces:


–vuelos a sur y oeste para evitar el soleamiento en verano


–celosía de lamas regulables de aluminio para regular la iluminación y ventilación requeridas y preservar la privacidad


–un techo corredizo de policarbonato celular que permite cubrir el patio interior, sin renunciar a las condiciones de iluminación natural
The site conditions and the requirements of privacy and sun are conducive to a clear response: the building rises above the ground, draws back on the west side and seeks all its light and views southwards, directly on the façade or through the internal courtyard, while the circulation areas, both vertical and horizontal, are grouped around this courtyard.
The brief is laid out on two storeys:
–The lower floor, a semi-basement, contains the garage, a utility room, a study and a toilet.
–The ground floor, raised 1.5 m above the pavement level, accommodates the classic family home requirements of living-dining room, kitchen, three bedrooms and two bathrooms.
The materials are employed by planes, with precise breaks and well-defined arrises:
–stone cladding on the exterior faces
–plastered soffits
–wood and plaster for the internal partitions
–aluminium and glass to control the relationship with the exterior
–uniform flooring extending from the interior to the exterior spaces.
Climate control is managed by simple, effective methods:
–projections to south and west for shade from the summer sun
–screen of adjustable aluminium slats to regulate the illumination and ventilation as required and ensure privacy
–a sliding cellular polycarbonate roof that enables the internal courtyard to be covered without sacrificing its natural light.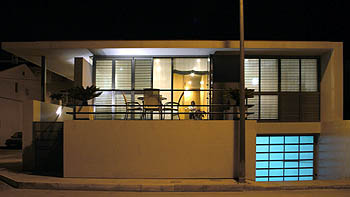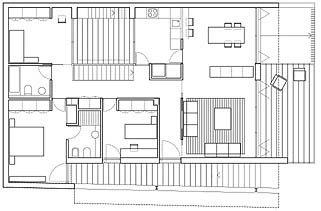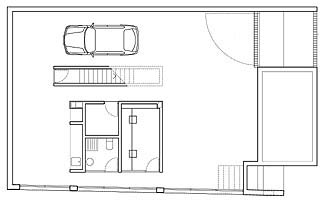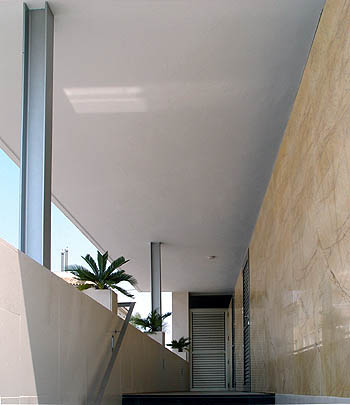 Promotor/Developer:
Francisco Arenas García
Aparejadores/Surveyors:
Juan López, J. Manuel López
Constructor/Contractor:
Jesús Rodríguez Mazón
Fotografías/Photographs
Autor/ Autor