El colegio se sitúa sobre una parcela cuadrangular básicamente plana, en la que se albergaba con anterioridad el antiguo Colegio de San Antón hoy demolido.

La presencia del jardín municipal en el lado norte de la parcela no dejaba dudas acerca de por dónde se debía de producir la entrada al colegio, a la par que sugería la posibilidad de una planta diáfana y transparente en este lado para producir una continuidad entre el parque y los patios interiores del colegio. Por tanto se eleva a la planta primera la pieza que reúne los espacios comunes y a ella se conectan tanto la escuela de primaria, como la escuela infantil. Ambas se unen en el otro extremo a través de piezas comunes como el polideportivo, el comedor y la biblioteca.

El edificio construye, por el lado Este, todo el frente de las medianeras existente, cerrando así esa situación de provisionalidad hacia el espacio que ocuparía nuestra edificación.

Para las condiciones de calidad interior de las aulas, trabajamos por un lado con el aprovechamiento riguroso de la orientación de sur y, por otra parte, con las ventilaciones cruzadas que garantizaran un confort térmico pasivo, suficiente para éstas latitudes.

De todas estas consideraciones surgen los pequeños patios entre aulas como espacios de transición entre los grandes patios y el interior, como mecanismos para aprovechar y controlar la luz que entra en las aulas, la luz de sur por una ventana baja, a ras de suelo, evitando una incidencia directa, y por una ventana alta en el lado opuesto, la luz difusa del norte además de la de sur reflejada en el paño blanco del aula contigua.
The school is in Pinoso, on a square, basically flat, 7013 m2 plot with boundaries on Pintor Murillo street, Pablo Iglesias avenue and La Romana street where the now demolished San Antón school used to be.
The presence of the municipal garden on the north side of the site left no doubt about where the entrance to the school should be placed and also suggested the possibility of a transparent, unobstructed floor plan on that side to create continuity between the park and the internal courtyards of the school. The part that holds the shared spaces was therefore raised to the first floor and both the primary school and the nursery school were connected to it. The two are joined at the other end by shared facilities such as the sports centre, the dining room and the library.
On the east side, the building covers the entire existing party wall side, ending its temporariness with regard to this building space.
For the interior quality of the classrooms, we worked on the one hand on making rigorous use of the south-facing direction and on the other, with cross-ventilation to ensure sufficient passive thermal comfort for these climes.
The small courtyards between classrooms arose out of all these considerations, as transitional spaces between the large courtyards and the interior and as mechanisms for using and controlling the light that enters the classrooms: southern light through a low window at ground level, avoiding direct sunlight, and diffuse northern light, as well as the southern light reflected off the white wall of the adjoining classroom, through a high window on the opposite side.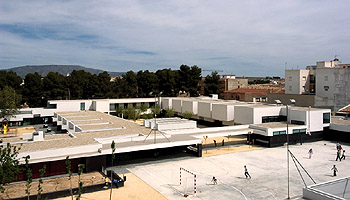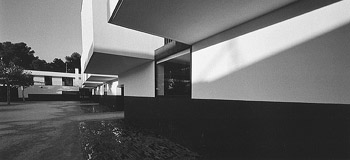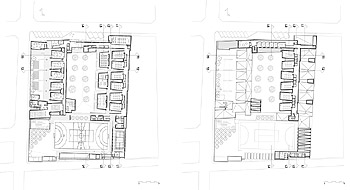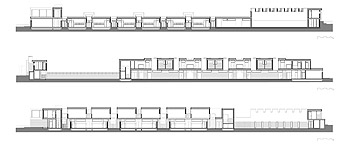 Situación/Locatión:
C/ Pintor Murillo, Avda. de Pablo Iglesias y C/ La Romana. Pinoso
Promotor/Developer:
CIEGSA (Construcciones e Infraestructuras Educativas de la Generalitat Valenciana) / (Valencian Regional Government Educational Building and Infrastructure Company)
Colaboradores/Collaborators:
Beatriz Tarazona
José Manuel Pelegrín
Carlos Gallego
Miguel Pelluch
Arquitécto Técnico/Technical architect:
Roberto Climent Terol
Empresa Constructora/Contractor:
UTE Dragados-Ecisa
Fotógrafo/Photographer:
Juan de la Cruz Megías
En cuanto al aspecto material del edificio, se concreta hacia la ciudad, en una voluntad de sobriedad exterior a través de volúmenes abstractos que van construyendo el diálogo entre paños de pavimento y zócalos de un material sólido y noble de color negro, con sencillos paños altos de color blanco, resolviendo cambios de altura, encuentros y transiciones.
Sin embargo el interior muestra al usuario toda la riqueza de los diversos espacios de transición como patios y terrazas, las diferentes formas de incorporar la luz a través de ventanas bajas o altas, de celosías o lucernarios, al mismo tiempo que se introduce la vibración entre colores vivos para pavimentos con zócalos interiores y diverso material iconográfico.
As for the material aspect of the building, towards the town it takes concrete form in a willed external sobriety, using abstract volumes that gradually construct a dialogue between stretches of paving and skirting in a solid, fine black material and simple stretches of white wall, solving changes in height, intersections and transitions.
The interior, however, shows the user all the richness of the different transitional spaces such as courtyards and terraces and the different ways that light is brought in through low or high windows, screenwalls, or skylights, while also introducing the vibrancy of strong colours for the interior floors and skirtings and for the signage.