La parcela está situada en el núcleo urbano de San Vicente del Raspeig, en un entorno carente de atractivo, por lo que el edificio necesita relacionarse con la plaza tanto para revalorizar el entorno como para demostrar todo su potencial urbano.

Entendemos que el edificio debe aparecer como una pieza singular, con diferentes reglas de juego. Como una declaración de principios el edificio se separa de su vecino y se apropia visual y físicamente del único interés del entorno: la zona verde pública. Con este gesto se intenta revalorizar el entorno de la actuación, que en la actualidad constituye un espacio desértico sin ninguna amabilidad. Nos planteamos desde un principio un elemento que diera calidez a la zona, un espacio donde se produzca una interacción social, una plaza generadora de vida, que sea el reflejo del interior de la biblioteca, con la que conforma un todo. La plaza surge como el primer gesto de la biblioteca, como la primera invitación de la cultura. El espacio público de la plaza se convierte en privado, casi sin darnos cuenta... la plaza entra en el edificio, de la misma manera que el edificio se convierte en plaza.

El edificio se concibe como una envoltura espacial helicoidal que se relaciona con el exterior y crece como una gran rampa. La forma helicoidal recupera la carga simbólica del recorrido ascendente, camino hacia el conocimiento.
The site is in the town of San Vicente del Raspeig, in unattractive surroundings, so the building needs to relate to the square both to enhance its environs and to demonstrate all its urban potential.
In our view, it needs to be seen as a unique building that obeys different rules. As though declaring its principles, it moves away from its neighbour and visually and physically appropriates the only point of interest around: the public green space. This gesture attempts to improve the surroundings, which are currently a wasteland with no redeeming feature. From the start, we were looking for an element to bring warmth to the area, a space where social interaction could take place, a square that would generate life, that would be a reflection of the inside of the library, together forming a whole. The square came into being as the first gesture of the library, as the first invitation of culture. The public space of the square becomes private, almost without our realising, as the square enters the building, in the same way as the building becomes the square.
The building was conceived as a helical spatial wrapping that relates to the exterior and grows like a great ramp. The helical shape picks up the symbolic charge of the upward path, the road to knowledge.
The building, which is extroverted on the square, becomes introverted on the upper and lower stories, where it only communicates with the surroundings that are not hostile to it and seeks a joyous interior, full of light and of changing views and interconnections between all the spaces.
Like a giant extractor, it sucks in pedestrians and leads them almost unconsciously into its interior.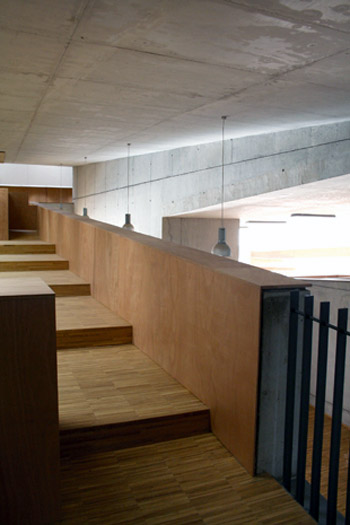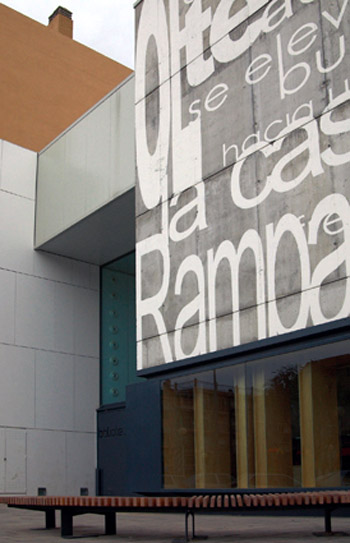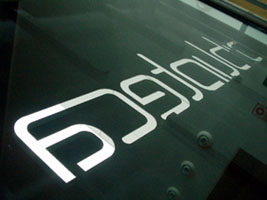 Situación/Location:
Calles Blasco Ibañez, Labradores y Pza Hort. San Vicente del Raspeig/Corner of Calle Blasco Ibañez, Calle Labradores and Plaza Hort. Sant Vicent del Raspeig
Promotor/Developer
Excmo. Ayuntamiento de San Vicente Del Raspeig/Sant Vicent del Raspeig Town Council
Equipo redactor/Design team:
Jose Vicente Lillo Llopis, Jose Luis Campos Rosique, Daniel Solbes Ponsoda, Francisco Leiva Ivorra, Alicia Parra López, Elena Velasco Roman
Equipo director de obra/Executive team:
Jose Vicente Lillo Llopis, arquitecto/architect
Jose Luis Campos Rosique, arquitecto/architect
Elisa Rodríguez Fernández, arquitecto técnico/technical architect
Luis de Diego Fort, arquitecto técnico/technical architect
Manuel Ramos Martín, ingeniero técnico industrial/industrial technical engineer
Jose Sirvent Segura, ingeniero técnico industrial/industrial technical engineer
Equipo colaborador/Assistant team:
David Fuente, Sarah Sperber, María Gadea, Sandra Schneider, Raul Gras, Daniel Cano, Katerina Zemanova, Carlos Company, Iago Pérez
Supervisión municipal/Municipal supervision:
José María Chofre-Gil, arquitecto/architect
Constructor/Contractor
Ferrovial-Agroman
Fotografías/Photographs:
Alberto Vicente
Jesús Sánchez
Autores/Authors
El edificio pasa de ser extrovertido en la plaza, a introvertido en las plantas superiores e inferiores, comunicándose sólo con el entorno que no le es hostil, buscando un interior alegre, lleno de luz y de vistas cambiantes e interconexiones entre todos los espacios.
Como un gran aspirador... atrapa al peatón y casi sin darse cuenta lo conduce a su interior.
Es un edificio que se configura mediante un muro y un plano inclinado que nace desde la medianera y gira de forma helicoidal desde el espacio museístico hasta la biblioteca. La hendidura que crea el pliegue del muro con la medianera genera el acceso. Desde el exterior se observa la actividad más pública y participativa del edificio y mediante una plataforma continuación de la plaza, se invita al peatón a entrar. Al pasar junto al edificio, éste te absorbe en una espiral de libros, la luz te acompaña en tu ascenso y a medida que vas penetrando en él te acoge y te protege, los espacios mas urbanos se relajan, se ensimisman y dejan paso a un lugar más íntimo, donde el silencio te atrapa.
El esquema de funcionamiento del edificio sitúa los espacios de uso volcados al vacío central y emplea el muro perimetral, como Gran zócalo de almacenamiento de libros, revistas, puestos informáticos, BOE... etc... discurriendo las circulaciones junto a él, bajo la luz natural de los lucernarios, que jalonan siempre las circulaciones... constituyendo éstas también espacios de uso.
The building is formed from a wall and a sloping plane that starts at the boundary line and revolves in a helix from the museum space to the library. The cleft created by the fold of the wall and the boundary line generates the entrance. The more public and participatory activity of the building can be observed from the exterior and a platform extension of the square invites pedestrians to enter. As you pass by the building it absorbs you into a spiral of books, the light accompanies your ascent, welcoming and protecting you as you go deeper in, and the more urban spaces relax, become self-absorbed and give way to a more private place where the silence takes hold of you.
The scheme of the building has the spaces for use facing onto the central void and uses the perimeter wall as a great plinth to store books, magazines, journals, computer workstations, etc., with the circulation areas running alongside it, under the natural light from the skylights. These constantly punctuate the circulation areas, which are also spaces for use.