La casa se emplaza en territorio austero y seco, en un terreno colonizado por el raspeig.

Pensamos en dos cuerpos posados en el suelo, uno sería las habitaciones, y el otro, una pieza de hormigón que penetraría en la ladera y albergaría la piscina.

Para hacer habitable la terraza que se crea en la parte superior de esos dos cuerpos maclados, creamos un pliegue de distintas pieles sustentadas por una estructura acero que nos proporcionaría las zonas de día que queríamos en la vivienda.

Creemos en la terraza como arquetipo, como forma de vida mediterránea de instalación a la intemperie en tiempo benigno, al que le acompaña un fuerte componente de artificialidad como en el penthouse o el belbedere, esa terraza tenía que ser el espacio más amplio de la casa, para poder acoger visitas, fiestas o actividades cotidianas como comer, tomar el sol o bañarse.

Para poder satisfacer lo más adecuadamente todas esas actividades, apostamos por crear un espacio diverso con un solo gesto de la envolvente que nos permitiría resguardarnos de la lluvia, el soleamiento, las miradas de los vecinos, el viento y el frío (si consideramos el salón como apéndice de la terraza y no al contrario).

Accedemos a la casa a nivel del terreno donde se encuentran las habitaciones cerradas y conclusas, como la bodega de un barco con iluminación a través de vidrios traslúcidos e indirectos por el hueco de la escalera.

Usamos el vaso de la piscina como un paisaje más en la parte inferior a través de una ventana en la bañera de la suite, y como lámina que refresca el espacio en la parte superior, actuando como lámpara tanto en la terraza como en la habitación.

La planta superior es una planta libre que se abre al paisaje.

La envolvente, formada por paredes y techo, roba el aire del exterior para incorporarlo al interior del salón ganando amplitud y localizando cocina y aseo para dar servicio a todo ese nivel.

Combinamos dos estructuras, una pesada y de hormigón en el nivel del terreno y otra aérea y ligera en el nivel de la terraza que se remata con un frente formado por bandas longitudinales de tablero de resina en color rojo carmín, esta careta filtra la luz dibujando en el suelo ventanas de luz en la sombra.
The house is sited in a dry, austere landscape, on land colonised by the raspeig.
We thought about two blocks set down on the ground: one would be the bedrooms, the other would be a concrete shape going back into the hillside and would hold the swimming pool.
To make the terrace on top of these twin blocks habitable, we created a folded surface composed of different skins supported by a steel structure to form the day areas we wanted for the house.
We believe in the terrace as an archetype, as a Mediterranean way of living outdoors in mild weather, which is accompanied by a strong element of artificiality as in a penthouse or belvedere. The terrace had to be the largest space in the house so that it could accommodate visitors, parties or daily activities such as eating, sunbathing or bathing.
To satisfy all these requirements in the most appropriate way, we decided to create a diverse space with a single gesture of the wrapping that would give shelter from the rain, the sun, the eyes of the neighbours, the wind and the cold (if we consider the living-room an appendix of the terrace rather than vice-versa).
The entrance is at ground level, where the enclosed, closed rooms are sited, like the hold of a ship, lit through translucent glass and indirectly by the stairwell.
We used the swimming pool like another landscape in the lower part, seen through a window in the en-suite bathroom, and as a sheet of water to cool the space above, acting as a lantern both for the terrace and for the bedroom.
The upper storey is open-plan and opens onto the landscape.
The wrapping, made up of walls and ceiling, steals the air from outside and draws it into the living-room, where it spreads out and finds the kitchen and toilet to serve all this storey.
We combined two structures, one heavy, made of concrete, at ground level and the other airy and light at the terrace level, finished by a frontage of longitudinal bands of resin board in a carmine red colour, a mask that filters the light and draws windows of light in the shade on the floor.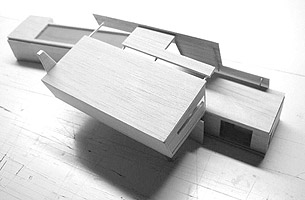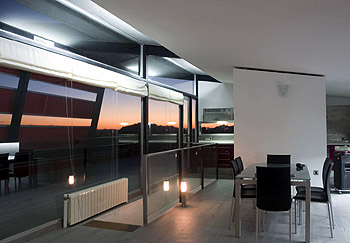 Situación/Location:
Partida de Boqueres P.51 Polígono 5. Sant Vicent del Raspeig
Promotor/Developer:
José Manuel Ramos Fuentes
Colaboradores/Collaborators
Jorge Juan García, maqueta/model
Victor Hernández Iñiguez, aparejador/surveyor
Luis Miguel García Martinez, aparejador/surveyor
Constructora principal/Main contractors:
BENITO VIZCAYA SL
Fotógrafo/Photographer:
Raül Climent i Rojano