SUPERFICIE Y CARACTERÍSTICAS DEL LOCAL

El local está situado en la planta baja de un edificio de viviendas construido recientemente en la zona más importante, comercialmente hablando, del casco urbano de Elda, provincia de Alicante.

La superficie de actuación es de 100,00 m2 en planta baja y 50,00 m2 en entreplanta.

MEMORIA DESCRIPTIVA DE LA OBRA

Se ha diseñado un local para la firma "Yeito Nativo", que se ubicará en el centro de la ciudad de Elda, en la calle Gran Avenida, sin duda la calle más importante en el ámbito comercial de este casco urbano.

El hecho de contar con fachadas a dos calles, la localización de la entrada y el acceso a una planta superior, son elementos prefijados y claramente señalados por los condicionantes propios del local, y por una claro posicionamiento del cliente.
THE PREMISES
The premises are located in the ground floor of a recently-build block of flats in the main shopping area of the town centre of Elda, in the province of Alicante.
The surface area is 100 m2 on the ground floor and 50 m2 on the mezzanine.
THE SHOP
A shop has been designed for the Yeito Nativo clothing company, for a location in the centre of Elda, in the Gran Avenida, unquestionably the main street in the shopping area of this town.
Façades on two streets, the location of the entrance and access to the upper floor are pre-set elements that were clearly signalled by the constraints of the premises themselves and by the client's clear position on the subject.
Because of the product display requirements and to make the most of the display space, corridors have been placed perpendicular to the main façade with black steel units moving on overhead rails to make the display flexible, sometimes grouping them and sometimes placing them apart in order to generate different models and constantly changing spaces.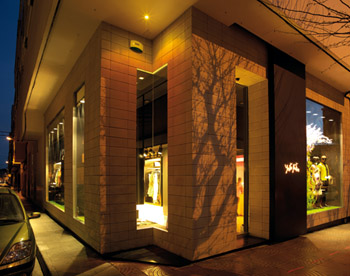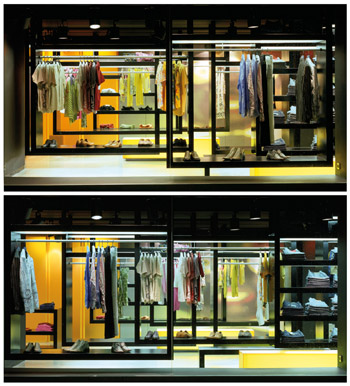 Situación/Location:
Gran Avenida, 72. Elda
Promotor/Developer:
"Yeito Nativo"
Colaboradores/Collaborators:
Pablo Jeremías Juan Gutiérrez
Ángel Sánchez Rico
Jorge Grau López
Carmen García Jiménez
Constructor/Contractor
Sector obra S.L.
Fotógrafos/Photographers:
Joan Roig
Jesús Alonso
Debido a la demanda de producto expuesto y a una rentabilización del espacio de exposición se introducen unos pasillos perpendiculares a la fachada principal, muebles de acero negro suspendidos de unas guías metálicas que se desplazan flexibilizando la exposición, agrupándola en ocasiones, dispersándola en otras con el fin de generar modelos distintos, espacios en continua transformación.
Negro neutro es el color de exposición y metacrilato retro-iluminado las piezas clave del itinerario: probadores, mostrador y muebles de apoyo.
La iluminación discurre paralela a las guías de las que los muebles itinerantes se suspenden, estos a su vez están auto-iluminados con fondos de blanco opal. La entreplanta traduce las sombras de producto almacenado a través del tejido calicot negro tensado entre bastidores.
Hormigón continuo conforma el suelo del local y bloques de hormigón prefabricado apilados con junta seca y tratamiento de resinas de protección especial para exteriores, la puerta de entrada es de acero calado de veinte centímetros de grosor y de cinco metros de altura que desliza paralela a la fachada con diseño especial de rodamientos.
Neutral black is the display colour and back-lit methacrylate marks the key points on the itinerary: changing rooms, counter and auxiliary furniture.
The lighting runs parallel to the rails from which the itinerant units are suspended and these, in turn, are self-lit by opal white backs. The mezzanine conveys the shadows of the stored products through black calico stretched on frames.
The floor is formed from cast concrete and blocks of pre-fabricated concrete are butt laid with dry joints and treated with special protective resins for exterior use. The entrance door is fretted steel, twenty centimetres thick and five metres high, sliding parallel to the façade on specially designed ball-bearings.