El lugar se vació y la luz recorrió todo el espacio, luz blanca transformada en verde, luz verde transformada en blanca, el muro verde parte en dos el aire interior, las paredes se transformaron en contenedores de ideas, recuerdos, memorias ... y un gusano de patas negras y cuerpo blanco, sinuoso, creador se instaló flotando sobre el lugar generando a su vez mas ideas, mas recuerdos...

Surge de la necesidad de generar un espacio único pero que a su vez permita cierta intimidad sonora entre zonas y departamentos. En general el espacio interior generado es muy abierto (para tener un máximo de luz natural) pero con la aplicación de separadores como la "cortina verde"el espacio tiene cierta intimidad "sonora".

La Cortina verde es el elemento principal de separación. Es una piel separadora conformada con paneles móviles de polimetil metacrilato PMMA, un materia plástico de 2 tipos de transparencias de color verde.

Los usos y ambientes generados derivan de las acciones que se realizarán en la Oficina;
The place was emptied and the light spread throughout the space, white light turned to green, green light turned to white, the green wall divided the interior air in two, the walls became containers of ideas, reminders, memories ... and a sinuous, creative worm with a white body and black legs took up residence, floating above the place and in turn generating more ideas, more memories ...
It came from the need to generate a single space that would still allow a certain acoustic privacy between areas and departments: in general, a very open interior space is created (to achieve a maximum of natural light) but introducing separators such as the 'green curtain' gives the space a certain 'sonorous' privacy.
The green curtain is the main separating element. It is a dividing skin made up of mobile panels of PMMA (polymethyl metacrylate), a plastic material with two types of transparency in a green colour.
The uses and ambiences generated arise out of the actions that take place in the office: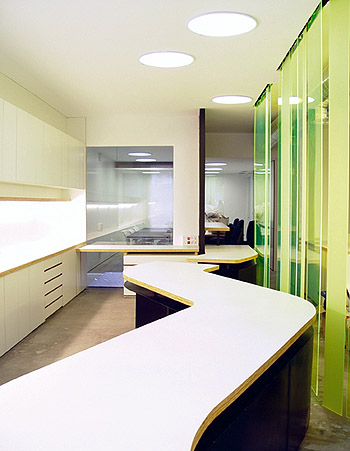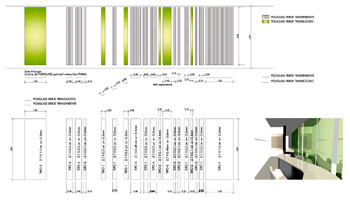 Situación/Location:
Avenida de la Estación nº 16, 1ºD. Alicante
Promotor/Developer:
Puntual S.L marketing & comunicación
Constructor/Contractor
Pepe Sánchez
Fotografías/Photographs
Autores/Project Designers