Se trata de reformar un pequeño local comercial de 2 plantas situado en un edificio de viviendas de los años 70, en un área urbana con cierta degradación pero en proceso de mejora de su calidad ambiental debido a la reciente incorporación en su proximidad de la Sede del Colegio de Arquitectos.

Por tanto, como tarea primordial se fija aportar ese nivel de calidad requerido para impulsar operaciones similares que devuelvan a la zona la actividad urbana y dignidad que precisa.

El local presenta una forma trapezoidal con 3 fachadas, siendo el cuarto lado, el más irregular, medianero con el portal de las viviendas.

La propiedad solicita concentrar el programa de uso permanente en planta baja, mediante un área de atención al público, 2 despachos y archivos, de manera que la entreplanta quede reservada a usos esporádicos (sala de juntas, despacho auxiliar, aseos, archivo e instalaciones).

Para ello, en primer lugar regularizamos el espacio en planta situando el núcleo de comunicaciones paralelo a la fachada principal, dejando los espacios sobrantes destinados a servicios y archivos.

Mediante una sencilla operación geométrica resolvemos la organización del programa en planta: una cruz formada por un mueble contenedor y un paramento de vidrio, que gira ortogonalmente su posición en la entreplanta, respecto de la planta baja, resuelven en cada nivel el programa requerido.

Procuramos un espacio básicamente diáfano, que aporte las condiciones adecuadas de relación con el usuario, de funcionalidad y también de grado de privacidad que se exigen en este tipo de entidades.

En consecuencia decidimos envolver el espacio disponible mediante unos acristalamientos resueltos a base de vidrios traslúcidos y transparentes, que nos permitirán un grado suficiente de privacidad y también una relación medida con el espacio exterior. En esta ocasión se potencia la presencia de la vegetación de la Plaza Gabriel Miró, que se hará visible desde el interior, tanto desde la planta baja como desde la entreplanta, a través de las tiras de vidrio transparente estratégicamente situadas.

Cuidamos la elección de materiales, su ajuste y su disposición para, en coherencia con su situación urbana, conseguir un espacio que ayude a identificar esta institución.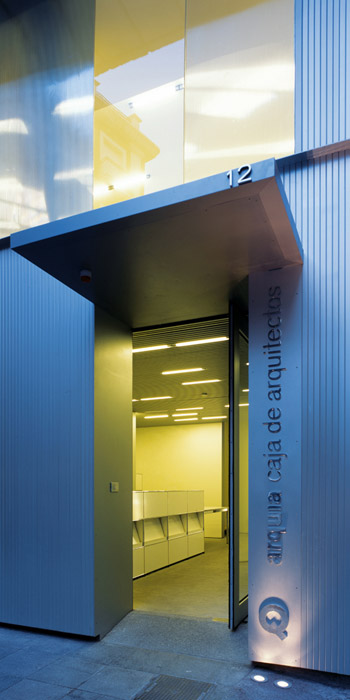 The commercial premises to be refurbished for the Architects Savings Bank are small and are located on 2 floors in a block of flats built in the 1970s, in a somewhat run-down urban area where the environmental quality is improving following the recent establishment in the vicinity of the local College of Architect headquarters.
Consequently, it was decided that the paramount task was to achieve a level of quality that would encourage similar operations to reinvigorate and upgrade the area.
The premises are trapezoidal and present 3 frontages. The fourth side, the most irregular, is the party wall with the entrance hall of the block of flats.
The owner asked for the permanent use areas to be placed on the ground floor, namely a customer service area, 2 offices and filing facilities, reserving the mezzanine for sporadic use (board room, additional office, toilets, filing room and plant room).
The first step was to make the ground floor space more regular by placing the stairs and lift parallel to the main façade, using the left-over spaces for building services and filing.
A simple geometrical figure organises the floor plan: a cross formed by a cupboard unit and a glass partition solves the layout of the brief on each floor. On the mezzanine it is set at a right angle to its ground-floor position.
The idea is an essentially open space which provides suitable conditions for attending to customers, for functionality and also for the degree of privacy required in a banking establishment.
It was therefore decided to wrap the available space in translucent and transparent glazing, to give both a sufficient degree of privacy and a measure of relation with the exterior. Here, it highlights the vegetation in Plaza Gabriel Miró, which can be seen from the interior, on both storeys, through the strategically placed bands of transparent glass.
The choice, fit and arrangement of the materials were made with great care, in keeping with its urban location, to achieve a space that would help to identify the bank.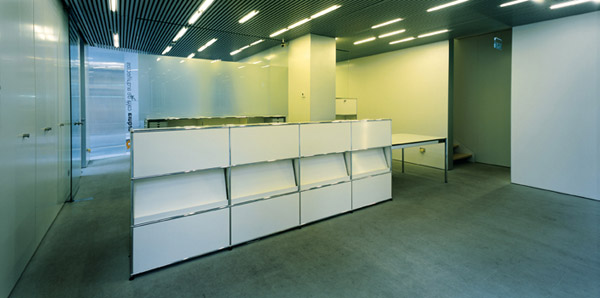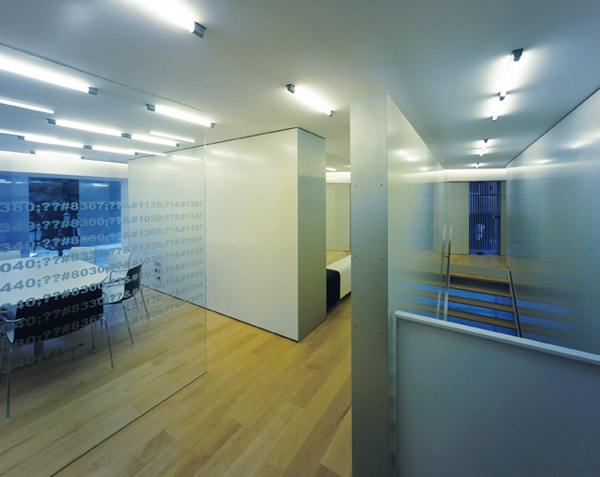 Detalle/Detall 3
1. Pavimento actual de acera/Existing pavement
2. Perfil en "U" de aluminio 40x60x4 mm/Aluminium channel section, 40x60x4 mm
3. Vidrio stadip 6+6, vidrio exterior acabado diente de sierra/Laminated security glass, Stadip 6+6, exterior glass with ribbed finish
4. Rodapié de acero esmaltado en blanco, en pilares circulares, 10 mm de espesor, curvado/Skirting board, curved white-lacquered steel 10 mm thick around circular pillars
5. Pavimento interior de planta baja, piedra natural bateig azul, apomazada, 30 mm de espesor/Paving, ground floor interior, Bateig blue natural stone, sanded, 30 mm thick
6. Capa de nivelación, gravín/arena + mortero de agarre/Pea gravel/sand bed + key mortar
7. Pilar circular de hormigón existente, enlucido de yeso 15 mm/Existing circular concrete pillar, 15 mm gypsum plaster
8. Remate de granito bajo vuelo de chapa de acero inox./Granite trim under projecting stainless steel plate
9. Falso techo Luxalón, lamas de aluminio lacadas/Suspended ceiling, Luxalón, lacquered aluminium slats
10. Junquillo de madera (46x44 mm) + pletina de aluminio anodizado (52x6 mm)/Wood beading 46x44 mm + anodised aluminium plate 52x6 mm
11. Parquet de madera de arce pegado a base inferior/Maple wood parquet glued to base
12. Forjado actual/Existing floor slab
13. Cornisa actual de hormigón armado/Existing reinforced concrete cornice
14. Chapa grecada de aluminio anodizado en fachada, atornillada a rastreles/Profiled sheet of anodised aluminium on façade, screwed to battens
15. Enfoscado maestreado de mortero de cemento 15 mm/Rodded cement mortar render, 15 cm
16. Tabique de ladrillo hueco de 1/2 pié, 12 cm/Wall, '1/2 foot' cellular bricks, 12 cm
17. Rastreles de acero galvanizado para sujeción de chapas de aluminio de fachada, 30x30x2 mm/Galvanised steel battens, 30x30x2 mm, to hold aluminium sheeting on façade
18. Tablero DM lacado en blanco, 19 mm, puerta de armario/MD board, lacquered white, 19 mm, cupboard door
19. Tablero DM lacado en blanco, 10 mm, fondo de armario/MD board, lacquered white, 10 mm, cupboard back
20. Rastrel de madera de pino/Pine wood batten
21. Panel de cartón-yeso/Plasterboard panels
22. Perfil tubular de acero galvanizado, embebido en cornisa, 80x50x3 mm/Hollow section, 80x50x3 mm galvanised steel, inserted into cornice
23. Chapa de acero inoxidable, atornillada a forjado actual, 10 mm de espesor/Stainless steel plate, 10 mm thick, bolted to existing floor slab
24. Pavimento actual/Existing flooring
25. Perfil omega para montaje de placas de cartón yeso/Omega ceiling section for plasterboard panel
26. Perfil angular de aluminio anodizado 100x50x6 mm, remate de chapa grecada/L section, 100x50x6 mm anodised aluminium, edging profiled aluminium sheet
27. Falso techo de placa de escayola lisa/Suspended ceiling, plain plaster panels
28. Rastreles para sustentación de chapas de aluminio de fachada/Battens for fixing aluminium sheeting on façade
Detalle/Detall 1
1. Pavimento interior de planta baja, piedra natural bateig azul, apomazada, 30 mm de espesor/Paving, ground floor interior, Bateig blue natural stone, sanded, 30 mm thick
2. Capa de nivelación, gravín/arena + mortero de agarre/Pea gravel/sand bed + key mortar
3. Enlucido de yeso + pintura plástica lisa negra/Gypsum plaster + smooth black acrylic paint
4. Parquet de madera de arce pegado a base inferior/Maple wood parquet glued to base
5. Forjado actual/Existing floor slab
6. Rastreles de madera de pino/Pine wood battens
7. Junquillo de madera de pino para sujeción de mampara/Pine wood beading forming housing for glass screen
8. Cimentación auxiliar de muros nuevos/Additional foundation for new walls
9. Tablero DM lacado en blanco, panelado de paramentos/MD board lacquered white, panelling partition
10. Muro de panal, sustentación de forjado actual/Perforated brick wall supporting existing floor
11. Barandilla a base de perfil angular 40x40x5 mm de acero inoxidable/Rail made of 40x40x5 mm stainless steel L sections
12. Tubo fluorescete, casa Modular, modelo Guider/Fluorescent strip light, Modular brand, Guider model
13. Subestructura de falso techo Luxalón/Suspended ceiling sub-structure, Luxalón
14. Riostra, refuerzo de forjado actual en hueco de escalera y plataforma/Reinforcement for existing floor slab at stairwell and landing
15. HEB 100, anclado a placa de acero, refuerzo de tabique de entreplanta/HEB 100, anchored to steel plate, reinforcing mezzanine partition wall
16. Mampara de vidrio stadip 6+6 acabado con vinilo translúcido/Laminated security glass screen, Stadip 6+6 with translucent vinyl finish
17. Ladrillo hueco de 7 cm/7 cm cellular brick
18. Chapa maciza de aluminio anodizado de 8 mm de espesor para remate de testero de tabiques/Solid anodised aluminium plate, 8 mm thick, edging end of partition wall
19. Placa de anclaje 150x150x15 mm recibida en forjado/Anchoring plate 150x150x15 mm fixed to floor slab