Antes que nada, se hace una reflexión sobre como construir una casa para unos amigos que tienen dos hijos, un programa familiar convencional pero mayoritario en nuestros tiempos.

La casa se desarrolla sobre una parcela de 1300 m2. con una pendiente acusada (hasta 6 m. de diferencia de cota) que mediante vistas lejanas divisa la costa norte de Alicante. La pendiente, la orientación cambiada y las vistas unido a la idea de cómo habitar de forma contemporánea, se convertirán en los puntos sobre los que pivota las ideas que definen la casa. Se hace una reflexión sobre como construir una casa para unos amigos que tienen dos hijos, es decir una casa para la familia.

Se vive en una planta, ( c.+60.8 ) donde se ubica prácticamente la totalidad del programa familiar, excepto una pieza por debajo dedicada al lavado y planchado de la ropa y una por encima que es una atalaya y que tendrá un uso flexible: estudio, cine, juegos,...

La casa tiene dos caras, desde fuera se percibe relativamente cerrada, y con grandes desarrollos de fachada, parece muy grande. Una vez que se ha entrado, al estar todo el interior vaciado, cambia la percepción del tamaño y se hace permeable.



Se dispone en forma de U a un mismo nivel sobre la pendiente del terreno; uno de sus brazos se apoya en la parte superior de la parcela y el resto sobrevuela el desnivel. Esta disposición permite recoger el movimiento del sol en el interior de la U. Estos frente interiores, muy transparentes, permiten que la casa se mire a sí misma estableciendo múltiples relaciones visuales. Este espacio interior se convierte en un patio abierto a sureste del que participa todo el espacio público de la casa, pero siempre de forma tangencial. El patio, al tener un tamaño similar al resto de espacios interiores que lo rodean, se entiende casi como una pieza interior más.
A pesar de no ceñirse literalmente a la pendiente del terreno se encaja en el mismo con naturalidad.
La relación de la casa con el terreno se establece mediante plataformas que nos dejan en el jardín desde distintos puntos, tiene múltiples puertas e infinitos recorridos dentro-fuera.
El espacio interior se entiende como un espacio único, el espacio público se enrosca en torno al patio como una serpiente, desde éste se accede a cada una de las piezas del programa. Cada una de estas piezas: la cocina, los dormitorios de los niños y el de padres, se abren a una orientación diferente mediante un único hueco que define cada fachada. Todas las piezas de la casa se dimensionan de forma similar desapareciendo las jerarquías entre los diferentes usos; los baños se convierten en pequeños gimnasios, los dormitorios en lugares de juego y estudio, la biblioteca en sala de cine,... Se incorporan unos a otros y a su vez con los espacios públicos de la casa creando un espacio fluctuante y reversible.
La pieza multiusos de arriba, incorporada a este sistema espacial flexible, se abre a la cubierta entendida como un jardín más tranquilo.
Respondiendo a las dos caras que se hablaba al principio, la casa se construye enfatizando esa condición. La U externa se hace enteramente de hormigón y la interna más blanda y más rota, se reviste de madera. Los huecos exteriores se resuelven con carpinterías de aluminio y recercados de madera. La tabiquería de ladrillo cerámico enlucido de yeso, vidrios limpios y puertas lacadas resuelven las particiones interiores. Los techos son losas macizas de hormigón y los suelos continuos de madera contienen todas las instalaciones: fontanería, redes eléctricas, voz, datos, y suelo radiante.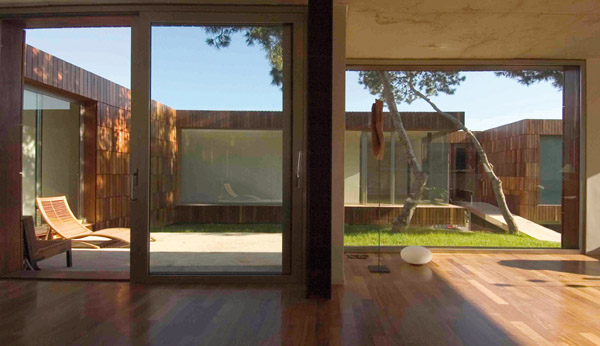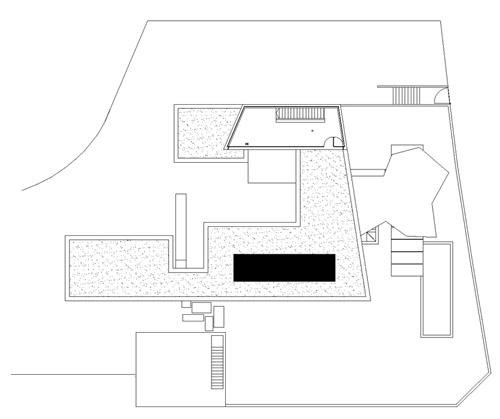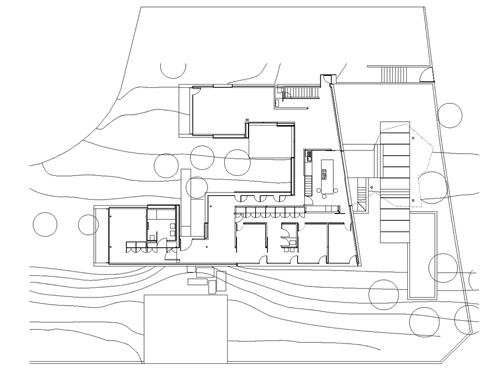 The first thing is to reflect on how to build a house for friends who have two children, a typical brief for most family homes nowadays.
The 1300 m2 plot is on a steep slope (up to 6 m difference in level) and has distant views of the coast in the north of Alicante province. The slope, the changed exposure and the views, together with the idea of how to live in a contemporary way, became the points around which the ideas which define the house pivot. Reflect on how to build a house for friends who have two children, in other words, a house for the family ...
They live on one floor (level +60.8) where practically the entire family brief is laid out, except for one room below, for the laundry and ironing, and one above, a watchtower that can be used flexibly: studio, cinema, games, etc.
The house has two sides. From the exterior it seems quite closed-off and its long stretches of façade make it look very big. Once inside, the perception of its size and permeability changes, as the entire interior has been hollowed out.
It is laid out in a single-storey U shape, with one of the wings resting on the upper part of the plot and the rest projecting over the slope. This arrangement brings the movement of the sun into the interior of the U. The faces on this interior side are very transparent, so the house looks at itself, setting up multiple visual relationships. The internal space becomes a courtyard which is open towards the southeast and is shared by all the public spaces of the house, although always tangentially. As the courtyard is of a similar size to the rest of the interior spaces around it, it is seen as almost just another room.
Although it does not follow the gradient of the plot literally, it fits into it in a natural manner.
Platforms leading to the garden from different points, with many doors and infinite indoor-outdoor routes, establish the relationship between the house and the land.
The interior is seen as a single space. The public spaces wind snake-like around the courtyard, from which each of the rooms can be reached. Each of these (kitchen, children's bedrooms, parents' bedroom) faces in a different direction through a single opening, defining each of the façades. All the rooms are of similar size, so hierarchies of different uses disappear: the bathrooms become small gyms, the bedrooms play and study rooms, the library a cinema, etc. They join each other and the public spaces of the house to create a fluctuating, reversible space.
The multipurpose room on the floor above is part of this flexible spatial system. It opens onto the roof, which is seen as a quieter garden.
The construction of the house emphasises the two faces mentioned above. The external side of the U is made entirely of concrete while the internal side, softer and more broken up, is clad in wood. The openings to the exterior have aluminium frames in wood surrounds. The interior partitions are plastered brick walls, clear glazing and lacquered doors. The roofs are solid concrete slabs and the continuous timber floors contain all the service installations: plumbing, electrical, voice and data cabling and radiant floor heating.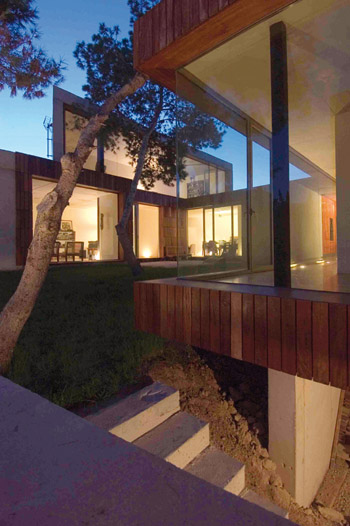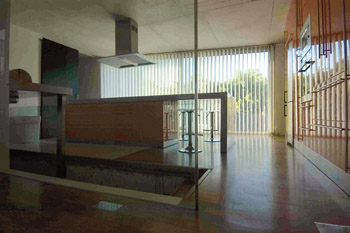 1. Cubierta transitable: Capa de protección, canto rodado 16/32 e=50mm. Fieltro geotextil filtrante. Aislamiento térmico en planchas de poliestireno E=40cm. Lámina impermeabilizante. Capa de regularización de mortero de cemento. Capa difusor de vapor. Capa de soporte de mortero de áridos ligeros 1%. Losa de hormigón armado E=250mm/Usable roof: Ballast, rounded gravel 16/32 t=50mm. Geotextile filter felt. Thermal insulation, polystyrene sheets t=40cm. Waterproof membrane. Cement mortar levelling screed. Vapour diffusion layer. Structural mortar screed with 1% lightweight aggregates. Reinforced concrete slab, t=250mm
2. Cerramiento: Muro armado E=20cms. Cámara de aire ventilada E=35mm. Fabrica de LH7. Enlucido de yeso maestreado y pintado/Wall: Reinforced concrete, t=20cm. Ventilated cavity t=35mm. Cellular brick, 7 cm. Gypsum skim, rodded and painted
3. Suelo: Tabla de madera de Iroko E=20mm. Capa regularizadora de hormigón de 3.5cm. Capa de aislamiento y tubos de suelo radiante E=45mm. Capa de arena y cemento E=70mm. Cajas de electricidad E=3cm/Floor: Boards, iroko wood, t=20mm. Concrete screed, 3.5cm. Insulation and radiant floor piping, t=45mm. Sand and cement, t=70mm. Junction boxes, t=3cm
4. Escalera: Tabica y huella revestidas de madera de Iroko E=20mm. Estructura viga zanca de hormigón armado/Stairs: Riser and tread faced in iroko wood, t=20mm. String beam structure, reinforced concrete
5. Tabique: Fabrica de ladrillo LH7. Enlucido de yeso y pintura lisa a una cara. Revestimiento de pintura acabado rugoso a una cara/Partition wall: Cellular brick, 7 cm. Gypsum skim and smooth paint on one side. Rough-textured paint on one side
6. Suelo: Tabla de madera de Iroko E=20mm. Capa regularizadora de hormigón de 3.5cm. Capa de aislamiento y tubos de suelo radiante E=45mm. Cajas de electricidad E=3cm/Floor: Boards, iroko wood, t=20mm. Concrete screed, 3.5cm. Insulation and radiant floor piping, t=45mm. Junction boxes, t=3cm
7. Remate hueco: Tabla de madera de Iroko E=30mm. Rastrell de madera de pino E=20mm/Surround: Boards, iroko wood, t=30mm. Batten, pinewood, t=20mm
8. Cerramiento: Vidrio fijo transparente 5+5 y ventana abatible/Closure: Fixed light, double glazed 5+5 transparent, and opening window
9. Cubierta transitable: Capa de protección, canto rodado 16/32 e=50mm. Fieltro Geotextil filtrante. Aislamiento térmico en planchas de poliestireno E=40cm. Lámina impermeabilizante. Capa de regularización de mortero de cemento. Capa difusora de vapor. Capa de soporte de mortero de áridos ligeros 1%. Losa de hormigón armado E=250mm/Usable roof: Ballast, rounded gravel 16/32 t=50mm. Geotextile filter felt. Thermal insulation, polystyrene sheets t=40cm. Waterproof membrane. Cement mortar screed. Vapour diffusion layer. Structural mortar screed with 1% lightweight aggregates. Reinforced concrete slab, t=250mm
10. Tabiques: Fabrica de ladrillo LH9. Enlucido de yeso y pintura lisa a dos caras/Partition walls: Cellular brick, 9 cm. Gypsum skim and smooth paint on two sides
11. Escalera: Tabica y huella revestidas de madera de Iroki E=20mm. Rastreles de madera de pino 35x35mm. Estructura viga zanca de hormigón armado/Stairs: Riser and tread faced in iroko wood, t=20mm. Battens, pinewood, 35x35 mm. String beam structure, reinforced concrete
12. Remate hueco: Tabla de madera de Iroko E=30mm. Rastrel de madera de pino E=20mm/Surround: Boards, iroko wood, t=30mm. Batten, pinewood, t=20mm
13. Cerramiento: Vidrio fijo transparente 6+5/Closure: Fixed light, double glazed 6+5 transparent
14. Tabique: Fábrica de ladrillo LH9. Enlucido de yeso y pintura lisa a una cara/Partition wall: Cellular brick, 9 cm. Gypsum skim and smooth paint on one side
15. Tabique: Fábrica de ladrillo LH9. Enlucido de yeso y pintura lisa a una cara. Rastreles de madera de fijación de revestimiento. Tablero madera. Mueble de cocina/Partition wall: Cellular brick, 9 cm. Gypsum skim and smooth paint on one side. Wooden battens for fixing panelling. Wood panel. Kitchen unit
16. Cerramiento: Vidrio fijo transparente 6+6 y ventana abatible/Closure: Fixed light double glazed 6+6 transparent and opening window
17. Soporte de acero 2 UPN120 soldados hormigonados interiormente/Support, steel, 2 UPN120s welded together and filled with concrete
18. Suelo: Acabado de hormigón pulido 7cm. Lámina impermeabilizante. Solera de hormigón armado E=150mm. Lámina drenante/Floor: Polished concrete finish 7cm. Damp-proof membrane. Groundslab, reinforced concrete, t=150 mm. Drainage membrane
19. Cerramiento: Muro de hormigón armado E=250mm. Lámina drenante/Wall: Reinforced concrete, t=250mm. Drainage membrane
20. Cimentación: Zapata de hormigón armado. Capa de hormigón de limpieza E=100mm. Lámina drenante/Foundation: Footing, reinforced concrete. Blinding layer, concrete, t=100mm. Drainage membrane