Frente al campus de la Universidad Jaume I de Castellón se está consolidando en el llamado polígono de Río Seco un nuevo barrio residencial destinado fundamentalmente a los estudiantes. Uno de los aspectos que caracteriza su edificación es la adecuación a un trazado urbano que se despliega de forma radial tomando como foco el acceso de dicha Universidad, este trazado genera situaciones especialmente particulares en las parcelas próximas al centro. Ante la dificultad de aplicar literalmente las soluciones más habituales en el mercado, se convocó en 1999 un concurso de ideas.
A new residential neighbourhood, mainly intended for students, is filling up opposite Jaume I University in Castellón, in an area known as the Río Seco estate. One of the characteristics of these buildings is their adaptation to a radial street layout, with the main entrance to the University as its focal point. This layout creates particularly unusual situations in the plots closest to the centre. Because of the difficulty of applying the usual commercial solutions literally, an ideas competition was convened in 1999.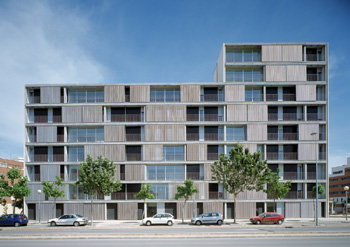 La solución arquitectónica propuesta pretende establecer un acuerdo entre: la geometría del solar, la condición urbana de la pieza, el aprovechamiento óptimo de la edificabilidad y la calidad espacial y arquitectónica de las viviendas.
The proposed architectural solution aimed to achieve agreement between the shape of the site, the urban condition of the piece, optimum use of the permitted floor area and the spatial and architectural quality of the housing.
El plan parcial plantea un bloque en esquina en forma de V de 12m de profundidad. Se propone liberar el mayor espacio abierto destinado a espacio público, para ello se reduce el volumen a 8m de profundidad y se descompone en dos piezas que deslizan y que no llegan a encontrarse, evitando así la presencia del bloque en la esquina. La pérdida de edificabilidad, se recuperará mediante dos torreones en los extremos opuestos de los bloques que ponen énfasis en la singularidad de la posición de la manzana en la trama urbana, resultante de su situación junto al nodo central del conjunto y de su proximidad al acceso del campus de la universidad.

El área entre los dos bloques, se entiende como un espacio público ajardinado a modo de plaza que da acceso a los locales comerciales y a las viviendas y les permite abrirse a un espacio controlado y libre de tráfico. La concentración de usos y la dimensión de este espacio permiten entenderlo como un área de encuentro social de las viviendas.

La irrenunciable calidad espacial y arquitectónica de las viviendas propuestas, residirá en el sistema de relaciones establecido con los espacios exteriores y en la estructura y proporción de los espacios interiores.

La decisión fundamental en la organización interior de las viviendas es la ubicación del sistema estructural en fachada a modo de pórticos con vigas planas y pilares apantallados de hormigón, con unas luces para el entrevigado de 6.00 metros. Dicho sistema permite el desarrollo con total libertad de la organización interior. La vivienda se ordena con una banda de servicios con un ancho estricto de 2.35 metros y una relación muy controlada con el exterior que quedará controlada mediante un espacio longitudinal continuo en toda la fachada a modo de galería, cerrado por persianas correderas, que permitirán regular como un diafragma tanto el grado de privacidad como la difícil orientación de las piezas oeste resultante de las condiciones urbanísticas antes expuestas.
The area plan suggests a 12 m deep V-shaped corner block. To free up the greatest possible open public space, the building depth was reduced to 8 m, and to avoid the corner block, it was broken up into two volumes that slide apart without touching each other. The loss of permitted floor area was made up by placing two towers at opposite ends of the blocks, which emphasise the singularity of the position of the street block in the urban grid, next to the central node of the development and near the campus entrance.
The area between the two volumes is seen as a public space with a garden, like a square, giving access to the shops and flats and allowing them to open onto a controlled, traffic-free space. The concentration of uses and the dimensions of this space enable it to be viewed as a social meeting place for the housing.
The non-negotiable spatial and architectural quality of the flats proposed lies in the system of relationships with the exterior spaces and in the structure and proportion of the interior spaces.
The fundamental decision in the interior layout of the flats was to place the structural system on the façade, in the form of portico-like flat concrete joists and broad concrete pillars with the joists spanning 6 m bays. This gives total freedom in deciding the interior layout. The organisation of the flats has a service strip, exactly 2.35 m wide, which has a highly-controlled relationship with the exterior. It is controlled by a continuous gallery-like space all along the façade, closed off by sliding shutters that make it possible, like a diaphragm, to regulate both the degree of privacy and the sun entering the western-facing rooms, a difficult orientation which is due to the urban situation explained above.