Vivienda unifamiliar entre medianeras, en zona de nueva expansión en la parte norte de la población, con el paisaje del parque natural de la Sierra de Espadán envolviendola.

Las ordenanzas municipales exigen un retranqueo de 5m.

Los promotores, necesitaban una casa en la que la luz natural fuese la protagonista.

El programa. La vivienda se distribuye en tres plantas, planta sótano, baja y primera. La planta sótano se destina a aparcamiento e instalaciones. En la planta baja, zona de día, con la cocina, el salón, el comedor, un baño, un dormitorio y una terraza exterior. En la planta primera están los dormitorios, más los baños y el estudio abierto a la doble altura. La planta de cubierta es un solárium y planta de instalaciones.
A family house between party walls in a new expansion area on the north side of the village, surrounded by the landscape of the Sierra de Espadán nature park.

The municipal regulations require a 5 m setback.

The clients needed a house where natural light plays a leading role.

The brief. The house is laid out on three storeys: basement, ground floor and first floor. The basement contains the garage and service installations. The ground floor has the day area, with a kitchen, living room, dining room, bathroom, one bedroom and an external terrace. The bedrooms, the bathrooms and the study, which is open to the double height area, are on the first floor. The roof storey is a solarium and service installations floor.

The circulation areas are continuous throughout the house, with double itineraries allowing different variations.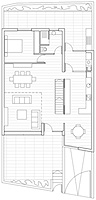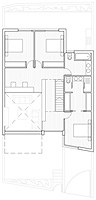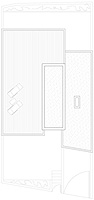 Las circulaciones son continuas en toda la casa, con duplicidad de recorridos permitiendo diferentes variantes.
Volumétricamente, la vivienda se organiza en tres partes diferenciadas que se corresponden con el salón comedor proyectado a doble altura, una parte central que acoge la circulación vertical de la vivienda y un tercer cuerpo destinado a cocina y dormitorio principal. Su disposición atiende a la normativa vigente pero rompe la alineación a calle para provocar un movimiento en la fachada que genera mayor superficie de terraza, resaltar el acceso y que el cuerpo del dormitorio principal y la cocina se "asomen" a la Sierra de Espadan con huecos que rompen la esquina. Esta disposición de volúmenes transmite en fachada la organización interna de la vivienda.
Un sistema levadizo automático permite cubrir la terraza de acceso con lamas de aluminio graduables y orientables. Una persiana de aluminio con lamas protege el hueco a doble altura y controla la luminosidad en el interior de la vivienda. Es una fachada transformable con elementos que se desplazan en vertical y horizontal, permitiendo que los espacios anejos cambien de función.
Materialidad. Se usan pocos materiales. La pizarra del exterior acompaña al visitante hasta la puerta de acceso, en el interior el suelo de la planta baja en material cerámico en formato 30x60 que se extiende por todas las estancias sin interrupción y en planta primera, a la que se accede mediante escalera con peldaños volados de madera de Ipe, con la tarima flotante de madera en la zona de noche. En fachadas, volúmenes blancos separados por una franja de madera de Ipe que integra la puerta de acceso. Grandes paños acristalados en el salón abren hacia el paisaje, aumentando la sensación de amplitud de la vivienda.
In terms of volumes, the house is organised into three differentiated parts: one is the double height sitting/dining room, another is the central area that contains the stairs and the third part is the kitchen and master bedroom. It is laid out in accordance with current regulations but the street alignment is broken up in order to create a movement on the façade that generates a greater area of terrace, to highlight the entrance and to allow the master bedroom and kitchen area to look out on to the Sierra de Espadan mountains through openings that break off the corner. This arrangement of volumes transmits the internal organisation of the building to the façade.
An automatic raising system gives the entrance terrace a covering of adjustable aluminium slats. A blind with aluminium slats protects the double height opening and regulates the light inside the house. This is a transformable façade, with elements that move vertically and horizontally so that the adjoining spaces can change their function.
Materiality. Few materials are used. The slate on the exterior reaches as far as the front door. In the interior, the ground floor is paved with 30x 60 format tiles that extend uninterruptedly throughout all the rooms and the first floor, which is reached by a floating staircase with ipe wood steps, has floating wood flooring in the night area. On the facades, white volumes are separated by a band of ipe wood that includes the front door. Great stretches of glazing open the living room to the landscape, increasing the sense of space in the house.