La forma del edificio está condicionada por la posición del edificio en el solar, las edificaciones construidas y su carácter de punto de referencia dentro del conjunto de las instalaciones. La fusión entre el cubo y la diagonal, configuran la imagen del edificio.
The shape of the building is influenced by its position on the site, the existing buildings and its being a reference point in the complex. A fusion between a cube and a diagonal shapes the image of the building.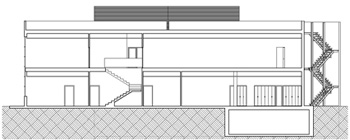 El edificio alberga las nuevas oficinas de la Cooperativa Agrícola Sant Isidro de Benicarló. En planta baja se ubica la zona de atención al público, los puestos de trabajo, así como el despacho de dirección. Parte del espacio de la planta está ocupado por unas oficinas de la sucursal bancaria perteneciente a la propia Cooperativa, Caixa Benicarló. La planta superior alberga un salón de actos, una sala multifuncional y la sala del Consejo Rector.
Exteriormente el edificio está compuesto por dos cuerpos, uno rectangular revestido por una fachada ventilada a base de paneles de aluminio, panel Galaxy, con un muro cortina en esquina que da luz al despacho de dirección en planta baja y a la sala del consejo rector en la planta alta. El otro cuerpo es cúbico y se reviste con una chapa grecada de aluminio perforado, sirviendo esta como tamiz de la luz que penetra en toda la sala multifuncional.
En el interior una pared curva separa la zona de oficinas y atención al público de la zona de la sucursal bancaria. Esta pared esta revestida de paneles de madera y se lleva hasta el final del edificio. En los espacios resultantes de la intersección de los dos cuerpos se sitúan los aseos y cuartos de instalaciones.
The building houses the new offices of the San Isidro agricultural cooperative in Benicarló. The reception area, workstations and manager's office are on the ground floor. Part of the space on that floor is occupied by a branch of the cooperative's own savings bank, Caixa Benicarló. The upper storey holds an assembly hall, a multipurpose room and the board room.
Externally, the building is made up of two blocks. One is rectangular and is clad in a ventilated façade based on aluminium panels, Galaxy panel, with a curtain wall at the corner that gives light to the manager's office on the ground floor and to the boardroom on the upper floor. The other block is cube-shaped and its cladding, a profiled sheet of perforated aluminium, sifts the light which enters all over the multipurpose room.
Inside, a curved wall separates the reception and office area from the savings bank area. This wall is covered in wood panelling and runs the length of the building. The toilets and plant rooms are placed in the spaces created by the intersection of the two blocks.