Uno de los objetivos centrales de esta vivienda se basaba en el compromiso entre el arquitecto y los propietarios por conseguir el máximo de luz natural en un solar entre medianeras generando unos espacios atractivos y amplios que posibilitaran encuentros y vivencias cotidianas lo más ricas y polifacéticas posibles.

El proyecto se organiza a partir de una de las medianeras que, conceptualmente, se pliega hasta casi tocar la opuesta generando los dos espacios con mayor carácter de la vivienda: uno, el espacio interior en planta primera que sirve de comedor-estar ligado a la cocina; y dos, un espacio exterior en planta segunda que sirve de terraza relacionado con un espacio interior polivalente.
One of the main objectives in this house was the architect's and the owners' commitment to achieving as much natural light as possible in a plot between party walls, creating large, attractive spaces that would make daily meetings and events as rich and multifaceted as possible.

The starting point for the design was one of the party walls. Conceptually, it folds in until it almost touches the opposite one, generating the two spaces with most character in the house: one is the interior space on the first floor that acts as a living/dining room, connected to the kitchen; and the other is an exterior space on the second floor that acts as a balcony, connected to the multipurpose space indoors.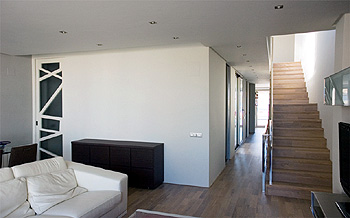 Ambos espacios interiores, en planta primera y segunda, están íntimamente relacionados gracias al hueco rasgado que los conecta espacialmente. La luz que penetra y baña el paño interior del espacio inferior sirve para descomprimir el espacio y dotarlo de mayor amplitud y riqueza espacial. Igualmente, el resto de espacios de la casa se relacionan visual y conceptualmente mediante un patio central que introduce luz al corazón de la vivienda y amplía los vínculos con el exterior.
Al mismo tiempo, horizontalmente, la casa intenta escapar de la rigidez que podrían imponerle las medianeras. Así, el espacio de relación en planta primera (comedor-estar-salón) se expande hacia la terraza cubierta, de tal modo, que llega a considerarse parte del mismo. Consiguiendo que el límite del espacio interior resulte menos preciso, más poroso, difuminando el exterior e interior.
Finalmente, en la parte posterior, el volumen de servicio en planta baja y la terraza del dormitorio principal vienen a subrayar la idea de expansión de la casa en horizontal ampliando sus fronteras visuales y perceptivas.
The two interior spaces, on the first and second floors, are closely related by the slanting opening that connects them spatially. The light that enters and bathes the interior stretch of wall of the lower space serves to decompress the space and give it greater breadth and spatial richness. Equally, the rest of the spaces in the house are related visually and conceptually by a central well that brings light into the heart of the house and broadens its links with the exterior.
At the same time, horizontally, the house attempts to escape from the rigidity that the party walls could impose on it. The social space on the first floor (dining/sitting/living room) therefore expands towards the covered balcony in such a way that it can even be considered part of it. The effect achieved is that the limit of the interior space becomes less precise, more porous, blurring exterior and interior.
Finally, at the rear, the utility block on the ground floor and the balcony of the main bedroom underline the idea that the house is expanding horizontally, extending its visual and perceptive frontiers.